93rd Tour de France - ProT
France, July 1-23, 2006
Main Page Results Overall standings Intermediate timing Stage Details Live report Previous Stage Next Stage
Stage 19 - Saturday, July 22: Le Creusot - Montceau-les-Mines ITT, 57 km
Fabulous Floyd takes the maillot jaune
Podium positions decided as Gonchar takes two out of two
By Anthony Tan, Hedwig Kröner and Brecht Decaluwé in Montceau-les-Mines
Floyd Landis (Phonak)
Photo ©: AFP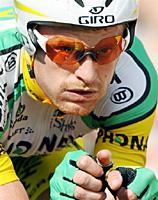 The final test of the 2006 Tour de France saw no real surprises. Evergreen TT train from Ukraine, Serguei Gonchar, once again asserted his dominance in the race of truth, notching his second time trial victory, while a resurgent Floyd Landis continued his fairytale comeback from two days ago, his third place 1'29 faster than overnight leader Oscar Pereiro, and more than enough to place him back into the maillot jaune.
"Well, I was confident," said Landis, "But when the yellow jersey is on the line, I knew he'd be inspired and that it wasn't going to be easy.
"Pereiro did an exceptional time trial; I was also a little concerned about the four-hour time trial I did two days ago. That took a lot of energy out of me, so I hoped I would be okay," he said.
With just the traditional afternoon procession to Paris' Champs-Elysées remaining, it's more than likely a maillot jaune for keeps. But first, a comment from today's stage winner, who said that despite being one of the favourites, he didn't expect to be so good.
"I wasn't very convinced this morning," said Gonchar on his chances. "But everybody in the team wanted to do a good chrono because we could improve our position in the teams classification. I wanted to surprise myself and I think I did that today."
Asked how he managed to turn around his below-par performance in the Alps so swiftly, the sprightly 36 year-old replied: "It's a mystery to me as well."
Floyd Landis (Phonak)
Photo ©: Sirotti

"I was ill in the Alps and I had to take antibiotics. But this morning, our team manager told us that we had to fight for the teams classification, so that's what I did."
It was always going to be an uphill battle for Pereiro to keep the maillot jaune, but at the first time check after 16.5 kilometres, the 28 year-old Spaniard was only 10 seconds down on Landis. He was allowed to lose another 19 seconds more, and while he resisted, Pereiro eventually succumbed to the strawberry-haired blonde by one and a half minutes. Nevertheless, second step on the Paris podium is most certainly nothing to sneeze at, and everything to write home about.
Another surprised at his own performance was Gonchar's team-mate Andreas Klöden, and so he should be. 2'29 down on Pereiro at the start of the day, the 31 year-old T-Mobile man rode the race of his life to finish second on the stage, just 41 seconds down on Gonchar.
Oscar Pereiro (Caisse d'Epargne)
Photo ©: Sirotti

More importantly, however, Klöden moved into third place overall by almost two minutes over the man he displaced, Team CSC's Carlos Sastre, who cracked on the road to Montceau-les-Mines and lost nearly five minutes to the stage winner.
"I'm overwhelmed!" he exclaimed with joy. "After the difficulties I had this spring and the setbacks in the Alps, it's great to perform so well in the last time trial. My team always believed in me; they motivated me yesterday, and this morning, they told me I could do it.
"I actually asked my directeur-sportif Valerio Piva not to give me any times during the first 25 kilometres, as that would have only driven me crazy," said Klöden. "When he started giving me the times, I was already one and a half minutes' ahead of Sastre.
"Of course, that motivated me a lot, and I had Serguei's times as well to gauge myself. In the end, I had Cadel Evans in front of me, so that psyched me again. It certainly was one of my best time trials ever."
Andreas Klöden (T-Mobile)
Photo ©: Jon Devich
Apart from first and second places as well as third and fourth positions on GC being reversed, the rest of the top ten remained unchanged - Cadel Evans (Davitamon-Lotto), Denis Menchov (Rabobank), Cyril Dessel (AG2R-Prevoyance), Christophe Moreau (AG2R-Prevoyance), Haimar Zubeldia (Euskaltel-Euskadi) and Michael Rogers (T-Mobile) all held their fifth to tenth spots on the Classement Général.
A little further down the leaderboard, youngsters Damiano Cunego (Lampre-Fondital) and Marcus Fothen (Gerolsteiner) were duking it out to see who would become the best young rider of the 93rd Tour de France. Since his fantastic ride to L'Alpe d'Huez where he finished second to Fränk Schleck, 'Kid' Cunego has been riding like a man reborn, and today provided proof of that, holding off Fothen by half a minute to keep his maillot blanc.
"I'm delighted - this is the best time trial I've ever done," he said.
"I had some doubts this morning, but it's true that at the end of the Tour, the legs count more than being a specialist in the time trial.
Damiano Cunego (Lampre)
Photo ©: Roberto Bettini

"I dreamed about Fothen last night!" remarked Cunego with a smile. "I deeply wanted to win this jersey; this time trial is a good test for the future. This experience at the Tour shows me that the best result can come with serenity instead of pressure."
Lamented Fothen, "I think I gave it all I had... I didn't expect that Cunego would ride so fast; I don't know if anybody did. That was a great performance from him."
Floyd Landis may be saying the Tour's not over till it's over; understandably, it's a little premature to ask him how it feels to win the world's biggest bike race and begin a new chapter in the history of La Grande Boucle. Though barring disaster, a little after half-past five tomorrow afternoon, he'll need to have an answer to these questions. And plenty more.
"I wished and hoped that some day I'd have the opportunity to be the leader of a team and to get the jersey," said Landis on his time riding with seven-time Tour winner Lance Armstrong. "I know that it takes a lot of hard work and a lot of sacrifices from a lot of people. Then, on top of that, some luck. So I feel lucky."
How it unfolded
By Tim Maloney
Sebastian Lang (Gerolsteiner)
Photo ©: Jon Devich

The penultimate stage of the 2006 Tour De France was a rolling time test over a course that is similar to one that Jan Ullrich won in 1998 from Montceau-les-Mines to Le Creusot. Ullrich beat Bobby Julich by 1'01 eight years ago, with the late Marco Pantani third. The long TT was where riders had little chance to recover and was a great test for which riders still had energy at the end of a long and difficult, wide open Tour.
The weather was hot and very humid eight years ago, as it was today, with temperatures expected to rise into the mid-thirties. 141 riders would exit the start house on Saturday for the long, tough time trial. Davitamon-Lotto's Wim Vansevenant was the first man off at 11:15 and set the fastest time, but the first serious time was from Phonak rider big Bert Grabsch, who set an excellent time, 1h11'28 for an average speed of 47.85 km/h, but first it was 40 year-old 2000 Olympic TT champ Slava Ekimov (Discovery) who bested Grabsch by 0'02, then CSC's Dave Zabriskie powered home six seconds under Eki's time to take the lead. But Dave Z wasn't long in the hot seat as German Seppel Lang in his elegant white German National Champion's jersey flew home in Montceau-les-Mines in 1h11'03, 0'17 faster than Zabriskie.
Serguei Gonchar (T-Mobile)
Photo ©: Roberto Bettini

Out on the parcours of Stage 19, a Ukrainian TGV was out of control as stage 7 winner, T-Mobile's Sergei Gonchar, was fastest at all the time checks. Finally he humped and pumped his 55X11 over the finish line with the tremendous time of 1h07'45, an average speed of 50.48 km/h.
Gerolsteiner's Marcus Fothen finished in 1'12'00 and many expected him to take the maillot blanc of best young rider, but tough little Italian Damiano Cunego (Lampre) wasn't having it. Clad in his white skinsuit, Cunego not only held off Fothen, who had beaten him by 5'00 in the stage 7 TT, but the young Italian had the best time trial of his career: 1'11'29 for for an eventual 10th best time. He would now finish his first Tour De France
Floyd Landis (Phonak) started off at 16:19 and went out hard, passing through the first time check in Montchanin-le-Haut (16.5km) in 19'46, already pulling 10 seconds back on Pereiro and setting the new best time.
Floyd Landis (Phonak)
Photo ©: Jon Devich

In Montcenis after 34.4km, Andreas Klöden had a fast 41'52, then Landis powered across the mid race time check in 41'45, now the second fastest time. Landis was 0'26 behind Gonchar's and the Phonak man had also lost some time to Klöden, who had closed within 0'07 of him. But maillot jaune Pereiro had already lost time to Landis, who was now maillot jaune virtuel, 0'15 ahead of the Caisse d'Epargne man.
CSC's second placed on GC Carlos Sastre came through Montcenis in 44'05 for 16th fastest and was 2'13 behind Klöden and just about to lose his podium place. Maillot jaune Pereiro was hanging tough and motivated by his precious tunic of race leadership. The Caisse d'Epargne rider was at 42'42 after 34.5 km and had already lost 0'57 to Landis and was 1'00 slower than Klöden, but had a 2'29 margin on the German and was looking good to finish as runner-up in Paris.
Andreas Kloden (T-Mobile)
Photo ©: AFP

At the third time check in Villa-Sirot after 51.5km, Gonchar's was still fastest at 1h02'36. Klöden had ridden through in 1h03'22, 0'47 slower than his T-Mobile teammate and then caught his three minute man Cadel Evans in the last kilometre. After a fast start, Landis had faded over the second half of the long TT and was third fastest at 51km in 1h03'44, and the American then finished his race against the clock in 1'08'56, enough to take over the maillot jaune and take command of the 93rd Tour De France.
CSC's Carlos Sastre tried with all he had in the long ITT, but the Spanish climber crossed the line in 1h12'27 for 20th, falling to 4th place. Maillot jaune Pereiro was still riding with class and force, and had the best TT performance of his career to finish in 1h10'25 for 4th, and his superb effort held off Klöden for second place. Chapeau to T-Mobile's Sergei Gonchar's for dominating both time trials at this year's Tour De France as he won Stage 7 in Rennes and Stage 19 in Montceau-les-Mines. Good rides also on Stage 19 from David Zabriskie (CSC) in 6th, Discovery Channel's 40 year old hard man Viatcheslav Ekimov in 7th, best young rider Damiano Cunego (Lampre) in 10th, and comeback rider of Le Tour, David Millar (SDV) in 11th.
Today was the fifth time in recent history that the maillot jaune changed hands after the final time trial at the Tour De France. In 1978 Hinault took charge, then 1987 when Roche beat Delgado and 1989 and 1990 when LeMond beat Fignon and then Chiappucci to win Le Grande Boucle.
Oscar Pereiro (Caisse d'Epargne)
Photo ©: Sirotti

With only Stage 20's 152km separating the Tour peloton from the final parties in Paris, Floyd Landis looks like he has his first Tour De France win all but locked up, while gutsy runner-up Oscar Pereiro Sio at 0'59 and smooth operator Andreas Klöden (T-Mobile) at 1'29 will round out the podium at the finish. Team CSC's Carlos Sastre tried valiantly to fill the shoes of Ivan Basso, but the Spanish climber just wasn't strong enough against the watch and fell off the podium after Stage 19. 5th place Davitamon-Lotto's Aussie Cadel Evans leaped like a 'roo up the GC ladder after his 8th place last season and can still improve his Tour performances in the years to come.
Rabobank's rockin' Russian Denis Menchov ended up a respectable sixth and had a stage win, but more was expected at this Tour from the defacto winner of the '05 Vuelta. Once again, AG2R-Prevoyance showed they are the best French team even though they don't have the biggest budget, placing two French riders in the top 10 with audacious unknown Cyril Dessel in 7th and old warhorse Christophe Moreau in 8th. Steady, smart riding got Haimar Zubeldia (Euskaltel) back into the top 10 in 9th place, while Aussie World TT champ Mick Rogers (T-Mobile) had his best ever Tour finish to round out the top 10.
Floyd Landis (Phonak)
Photo ©: Sirotti

12th place Damiano Cunego (Lampre) will take the maillot blanc of best young rider back home to Italy after his first Tour, closing strongly with good climbing and a strong TT in the third week and showing he's got potential to come back to Le Tour and move up the GC ladder in the future. Props to CSC's Christian Vandevelde. The likeable American from Lemont, Ill. Was in the form of his life and despite doing yeoman's work all Tour long, he still finished this Tour in 24th place.
Finishing 13th, Gerolsteiner's Levi Leipheimer was a disappointment at the 2006 Tour and even if the American could get back the 6-plus minutes he lost in Stage 7's TT, the would have still finished just inside the top 10. With José Azevedo in 19th place, Yaroslav Popovych in 25th and George Hincapie in 32nd, it's decidedly back to the drawing board for Discovery Channel's sports director Johan Bruyneel, as for the first time in almost a decade, the Belgian will not direct the winning rider and team at the Tour De France. But barring any unforeseen circumstances, tomorrow afternoon on the Champs-Elysees, the remaining riders, team staff and hundreds of thousands of the assembled masses will hear the Star Spangled Banner play as Floyd Landis is crowned Tour De France champion.
Stage 20 - Sunday, July 23: Antony (Parc de Sceaux)-Paris Champs-Elysées / 154.5 km
It's fun, fun, fun on the final stage as the maillot jaune and his team celebrate on the way to the Champs-Elysées for the final 50km criterium around the French capital, then the pomp and circumstances to crown the new Tour champ. With Boonen gone, it must be maillot vert Robbie 'Aussie Oi Oi Oi' McEwen as the winner.
Photography
For a thumbnail gallery of these images, click here
Images by Jonathan Devich/epicimages.us
Images by Roberto Bettini/www.bettiniphoto.net
Images by Fotoreporter Sirotti
Images by AFP Photo
Results
1 Serguei Gonchar (Ukr) T-Mobile                                       1.07.45 (50.48 km/h)
2 Andreas Klöden (Ger) T-Mobile                                           0.41
3 Floyd Landis (USA) Phonak                                               1.11
4 Oscar Pereiro (Spa) Caisse d'Epargne-Illes Balears                      2.40
5 Sebastian Lang (Ger) Gerolsteiner                                       3.18
6 David Zabriskie (USA) Team CSC                                          3.35
7 Viatscheslav Ekimov (Rus) Discovery Channel                             3.41
8 Cadel Evans (Aus) Davitamon-Lotto                                           
9 Bert Grabsch (Ger) Phonak                                               3.43
10 Damiano Cunego (Ita) Lampre-Fondital                                   3.44
11 David Millar (GBr) Saunier Duval                                       4.01
12 Joost Posthuma (Ned) Rabobank                                          4.03
13 Marcus Fothen (Ger) Gerolsteiner                                       4.15
14 Jens Voigt (Ger) Team CSC                                              4.16
15 Gustav Larsson (Swe) Francaise Des Jeux                                4.21
16 Sylvain Chavanel (Fra) Cofidis                                         4.32
17 Denis Menchov (Rus) Rabobank                                           4.33
18 Nicolas Portal (Fra) Caisse d'Epargne-Illes Balears                    4.35
19 Michael Rogers (Aus) T-Mobile                                              
20 Carlos Sastre (Spa) Team CSC                                           4.42
21 Stuart O'Grady (Aus) Team CSC                                          4.46
22 Christian Vandevelde (USA) Team CSC                                    4.52
23 Koos Moerenhout (Ned) Phonak                                           4.53
24 Vladimir Karpets (Rus) Caisse d'Epargne-Illes Balears                  4.57
25 Yaroslav Popovych (Ukr) Discovery Channel                              4.58
26 Marzio Bruseghin (Ita) Lampre-Fondital                                 4.59
27 Pavel Padrnos (Cze) Discovery Channel                                  5.05
28 Haimar Zubeldia (Spa) Euskaltel-Euskadi                                5.30
29 George Hincapie (USA) Discovery Channel                                    
30 Christophe Moreau (Fra) AG2R-Prevoyance                                5.33
31 Frank Schleck (Lux) Team CSC                                           5.39
32 José Azevedo (Por) Discovery Channel                                   5.48
33 Cyril Dessel (Fra) AG2R-Prevoyance                                     5.58
34 Levi Leipheimer (USA) Gerolsteiner                                     6.02
35 Thomas Voeckler (Fra) Bouygues Telecom                                 6.18
36 Pierrick Fedrigo (Fra) Bouygues Telecom                                6.20
37 Johan Vansummeren (Bel) Davitamon-Lotto                                    
38 Eddy Mazzoleni (Ita) T-Mobile                                          6.29
39 Benoît Vaugrenard (Fra) Francaise Des Jeux                             6.32
40 Nicolas Jalabert (Fra) Phonak                                          6.33
41 Ralf Grabsch (Ger) Milram                                              6.35
42 Didier Rous (Fra) Bouygues Telecom                                     6.43
43 Georg Totschnig (Aut) Gerolsteiner                                     6.44
44 Philippe Gilbert (Bel) Francaise Des Jeux                              6.59
45 Pietro Caucchioli (Ita) Crédit Agricole                                7.07
46 Matej Mugerli (Slo) Liquigas                                           7.09
47 Thomas Lövkvist (Swe) Francaise Des Jeux                               7.15
48 Tadej Valjavec (Slo) Lampre-Fondital                                   7.16
49 Matthias Kessler (Ger) T-Mobile                                        7.18
50 Michael Albasini (Swi) Liquigas                                        7.22
51 Alessandro Ballan (Ita) Lampre-Fondital                                7.31
52 Patrik Sinkewitz (Ger) T-Mobile                                        7.32
53 Giuseppe Guerini (Ita) T-Mobile                                        7.33
54 Michael Boogerd (Ned) Rabobank                                         7.35
55 Christian Knees (Ger) Milram                                               
56 Bradley Wiggins (GBr) Cofidis                                              
57 Sandy Casar (Fra) Francaise Des Jeux                                   7.37
58 Axel Merckx (Bel) Phonak                                               7.42
59 Xabier Zandio (Spa) Caisse d'Epargne-Illes Balears                     7.45
60 Christophe Mengin (Fra) Francaise Des Jeux                             7.46
61 Filippo Pozzato (Ita) Quick-Step-Innergetic                            7.52
62 Eduardo Gonzalo (Spa) Agritubel                                        7.53
63 Anthony Geslin (Fra) Bouygues Telecom                                  7.55
64 Fabian Wegmann (Ger) Gerolsteiner                                      7.58
65 David De La Fuente (Spa) Saunier Duval                                     
66 Alexandre Moos (Swi) Phonak                                            8.00
67 Björn Schröder (Ger) Milram                                            8.06
68 Stéphane Auge (Fra) Cofidis                                            8.08
69 Samuel Dumoulin (Fra) AG2R-Prevoyance                                      
70 Aitor Hernandez (Spa) Euskaltel-Euskadi                                8.17
71 Thor Hushovd (Nor) Crédit Agricole                                     8.20
72 Walter Beneteau (Fra) Bouygues Telecom                                 8.21
73 Patxi Vila (Spa) Lampre-Fondital                                       8.24
74 Carlos Da Cruz (Fra) Francaise Des Jeux                                8.26
75 José Luis Rubiera (Spa) Discovery Channel                              8.27
76 Egoi Martinez (Spa) Discovery Channel                                  8.28
77 David Arroyo (Spa) Caisse d'Epargne-Illes Balears                      8.30
78 Juan Antonio Flecha (Spa) Rabobank                                     8.31
79 Alexandre Botcharov (Rus) Crédit Agricole                              8.32
80 Laurent Lefevre (Fra) Bouygues Telecom                                 8.35
81 Bernhard Eisel (Aut) Francaise Des Jeux                                8.39
82 Francisco Ventoso (Spa) Saunier Duval                                  8.46
83 Christophe Laurent (Fra) Agritubel                                         
84 Ronny Scholz (Ger) Gerolsteiner                                            
85 Michael Rasmussen (Den) Rabobank                                       8.51
86 Gorka Verdugo (Spa) Euskaltel-Euskadi                                  8.52
87 Christopher Horner (USA) Davitamon-Lotto                               8.56
88 Iker Camano (Spa) Euskaltel-Euskadi                                        
89 Bram Tankink (Ned) Quick-Step-Innergetic                               8.58
90 Robbie McEwen (Aus) Davitamon-Lotto                                        
91 José Luis Arrieta (Spa) AG2R-Prevoyance                                9.00
92 Kjell Carlström (Fin) Liquigas                                             
93 Cédric Vasseur (Fra) Quick-Step-Innergetic                             9.06
94 Mikel Astarloza (Spa) AG2R-Prevoyance                                  9.11
95 Pieter Weening (Ned) Rabobank                                          9.16
96 Moises Duenas (Spa) Agritubel                                          9.23
97 Stefano Garzelli (Ita) Liquigas                                        9.25
98 Manuel Quinziato (Ita) Liquigas                                        9.26
99 Matthieu Sprick (Fra) Bouygues Telecom                                 9.27
100 Jérôme Pineau (Fra) Bouygues Telecom                                  9.28
101 Sylvain Calzati (Fra) AG2R-Prevoyance                                 9.33
102 Victor Hugo Pena (Col) Phonak                                         9.39
103 Christophe Le Mevel (Fra) Crédit Agricole                                 
104 Jose Vicente Garcia Acosta (Spa) Caisse d'Epargne-Illes Balears           
105 Salvatore Commesso (Ita) Lampre-Fondital                              9.41
106 Cédric Coutouly (Fra) Agritubel                                       9.45
107 Peter Wrolich (Aut) Gerolsteiner                                      9.53
108 Ivan Ramiro Parra (Col) Cofidis                                           
109 Christophe Brandt (Bel) Davitamon-Lotto                                   
110 Arnaud Coyot (Fra) Cofidis                                            9.54
111 Riccardo Ricco (Ita) Saunier Duval                                    9.56
112 Marco Velo (Ita) Milram                                              10.01
113 Patrice Halgand (Fra) Crédit Agricole                                10.11
114 Julian Dean (NZl) Crédit Agricole                                    10.12
115 Juan Manuel Garate (Spa) Quick-Step-Innergetic                       10.16
116 Erik Zabel (Ger) Milram                                              10.17
117 Anthony Charteau (Fra) Crédit Agricole                               10.23
118 David Moncoutié (Fra) Cofidis                                        10.26
119 Inigo Landaluze (Spa) Euskaltel-Euskadi                              10.29
120 Christophe Rinero (Fra) Saunier Duval                                10.34
121 Daniele Righi (Ita) Lampre-Fondital                                       
122 Luca Paolini (Ita) Liquigas                                          10.36
123 Mario Aerts (Bel) Davitamon-Lotto                                         
124 Inaki Isasi (Spa) Euskaltel-Euskadi                                  10.37
125 Gilberto Simoni (Ita) Saunier Duval                                  10.47
126 Simon Gerrans (Aus) AG2R-Prevoyance                                  10.48
127 Gert Steegmans (Bel) Davitamon-Lotto                                 11.00
128 Stephane Goubert (Fra) AG2R-Prevoyance                               11.02
129 Paolo Tiralongo (Ita) Lampre-Fondital                                11.15
130 Patrick Calcagni (Swi) Liquigas                                           
131 Wim Vansevenant (Bel) Davitamon-Lotto                                11.26
132 Sébastien Hinault (Fra) Crédit Agricole                              11.35
133 Matteo Tosatto (Ita) Quick-Step-Innergetic                           11.53
134 Cristian Moreni (Ita) Cofidis                                        11.55
135 Florent Brard (Fra) Caisse d'Epargne-Illes Balears                   11.57
136 Unai Etxebarria (Ven) Euskaltel-Euskadi                                   
137 Ruben Lobato (Spa) Saunier Duval                                     12.29
138 Jimmy Casper (Fra) Cofidis                                           13.37
139 Manuel Calvente (Spa) Agritubel                                      13.48
140 Benoît Salmon (Fra) Agritubel                                        14.01
 
Outside time limit
 
TC Robert Hunter (RSA) Phonak                                                 
 
Points
 
1 Serguei Gonchar (Ukr) T-Mobile                                            15 pts
2 Andreas Klöden (Ger) T-Mobile                                             12
3 Floyd Landis (USA) Phonak                                                 10
4 Oscar Pereiro (Spa) Caisse d'Epargne-Illes Balears                         8
5 Sebastian Lang (Ger) Gerolsteiner                                          6
6 David Zabriskie (USA) Team CSC                                             5
7 Viatscheslav Ekimov (Rus) Discovery Channel                                4
8 Cadel Evans (Aus) Davitamon-Lotto                                          3
9 Bert Grabsch (Ger) Phonak                                                  2
10 Damiano Cunego (Ita) Lampre-Fondital                                      1
 
Young rider
 
1 Damiano Cunego (Ita) Lampre-Fondital                                 1.11.29
2 Joost Posthuma (Ned) Rabobank                                           0.19
3 Marcus Fothen (Ger) Gerolsteiner                                        0.31
4 Johan Vansummeren (Bel) Davitamon-Lotto                                 2.36
5 Benoît Vaugrenard (Fra) Francaise Des Jeux                              2.48
6 Philippe Gilbert (Bel) Francaise Des Jeux                               3.15
7 Matej Mugerli (Slo) Liquigas                                            3.25
8 Thomas Lövkvist (Swe) Francaise Des Jeux                                3.31
9 Christian Knees (Ger) Milram                                            3.51
10 Filippo Pozzato (Ita) Quick-Step-Innergetic                            4.08
11 Eduardo Gonzalo (Spa) Agritubel                                        4.09
12 David De La Fuente (Spa) Saunier Duval                                 4.14
13 Aitor Hernandez (Spa) Euskaltel-Euskadi                                4.33
14 Bernhard Eisel (Aut) Francaise Des Jeux                                4.55
15 Francisco Ventoso (Spa) Saunier Duval                                  5.02
16 Pieter Weening (Ned) Rabobank                                          5.32
17 Moises Duenas (Spa) Agritubel                                          5.39
18 Matthieu Sprick (Fra) Bouygues Telecom                                 5.43
19 Riccardo Ricco (Ita) Saunier Duval                                     6.12
 
Teams
 
1 T-Mobile Team                                                        3.28.31
2 Phonak Hearing Systems                                                  4.31
3 Caisse D'Epargne-Illes Balears                                          6.56
4 Team CSC                                                                7.17
5 Gerolsteiner                                                            8.19
6 Discovery Channel Team                                                  8.28
7 Lampre-Fondital                                                        10.43
8 Rabobank                                                               10.55
9 Francaise Des Jeux                                                     12.36
10 Davitamon - Lotto                                                     13.41
11 Bouygues Telecom                                                      14.05
12 AG2R Prevoyance                                                       14.23
13 Cofidis Credit Par Telephone                                          14.59
14 Saunier Duval - Prodir                                                15.29
15 Team Milram                                                           17.00
16 Euskaltel - Euskadi                                                   17.23
17 Liquigas                                                              18.15
18 Credit Agricole                                                       18.43
19 Quick Step - Innergetic                                               20.40
20 Agritubel                                                             20.46
 
General classification after stage 19
 
1 Floyd Landis (USA) Phonak                                           85.42.30
2 Oscar Pereiro (Spa) Caisse d'Epargne-Illes Balears                      0.59
3 Andreas Klöden (Ger) T-Mobile                                           1.29
4 Carlos Sastre (Spa) Team CSC                                            3.13
5 Cadel Evans (Aus) Davitamon-Lotto                                       5.08
6 Denis Menchov (Rus) Rabobank                                            7.06
7 Cyril Dessel (Fra) AG2R-Prevoyance                                      8.41
8 Christophe Moreau (Fra) AG2R-Prevoyance                                 9.37
9 Haimar Zubeldia (Spa) Euskaltel-Euskadi                                12.05
10 Michael Rogers (Aus) T-Mobile                                         15.07
11 Frank Schleck (Lux) Team CSC                                          17.46
12 Damiano Cunego (Ita) Lampre-Fondital                                  19.21
13 Levi Leipheimer (USA) Gerolsteiner                                    19.22
14 Michael Boogerd (Ned) Rabobank                                        19.46
15 Marcus Fothen (Ger) Gerolsteiner                                      19.57
16 Pietro Caucchioli (Ita) Crédit Agricole                               21.12
17 Tadej Valjavec (Slo) Lampre-Fondital                                  26.25
18 Michael Rasmussen (Den) Rabobank                                      28.14
19 José Azevedo (Por) Discovery Channel                                  38.08
20 Marzio Bruseghin (Ita) Lampre-Fondital                                43.05
21 David Arroyo (Spa) Caisse d'Epargne-Illes Balears                     44.00
22 Patxi Vila (Spa) Lampre-Fondital                                      44.28
23 Patrik Sinkewitz (Ger) T-Mobile                                       49.01
24 Christian Vandevelde (USA) Team CSC                                   50.27
25 Yaroslav Popovych (Ukr) Discovery Channel                             52.02
26 Giuseppe Guerini (Ita) T-Mobile                                       57.40
27 Eddy Mazzoleni (Ita) T-Mobile                                       1.02.40
28 José Luis Arrieta (Spa) AG2R-Prevoyance                             1.03.02
29 Pierrick Fedrigo (Fra) Bouygues Telecom                             1.05.27
30 Vladimir Karpets (Rus) Caisse d'Epargne-Illes Balears               1.07.18
31 Axel Merckx (Bel) Phonak                                            1.09.28
32 George Hincapie (USA) Discovery Channel                             1.11.22
33 Xabier Zandio (Spa) Caisse d'Epargne-Illes Balears                  1.16.47
34 Sylvain Calzati (Fra) AG2R-Prevoyance                               1.20.26
35 Iker Camano (Spa) Euskaltel-Euskadi                                 1.21.34
36 Mikel Astarloza (Spa) AG2R-Prevoyance                               1.24.30
37 Stephane Goubert (Fra) AG2R-Prevoyance                              1.28.33
38 Laurent Lefevre (Fra) Bouygues Telecom                              1.30.05
39 Benoît Salmon (Fra) Agritubel                                       1.30.55
40 Christophe Brandt (Bel) Davitamon-Lotto                             1.34.05
41 Christophe Rinero (Fra) Saunier Duval                               1.34.46
42 Egoi Martinez (Spa) Discovery Channel                               1.35.12
43 Ivan Ramiro Parra (Col) Cofidis                                     1.37.09
44 Cristian Moreni (Ita) Cofidis                                       1.38.15
45 Sylvain Chavanel (Fra) Cofidis                                      1.39.46
46 Ruben Lobato (Spa) Saunier Duval                                    1.40.33
47 Georg Totschnig (Aut) Gerolsteiner                                  1.42.55
48 Patrice Halgand (Fra) Crédit Agricole                               1.43.03
49 Alexandre Botcharov (Rus) Crédit Agricole                           1.44.46
50 Matthieu Sprick (Fra) Bouygues Telecom                              1.48.12
51 Inigo Landaluze (Spa) Euskaltel-Euskadi                             1.48.22
52 Serguei Gonchar (Ukr) T-Mobile                                      1.49.22
53 Jens Voigt (Ger) Team CSC                                           1.50.43
54 Stefano Garzelli (Ita) Liquigas                                     1.51.53
55 Matthias Kessler (Ger) T-Mobile                                     1.52.03
56 David De La Fuente (Spa) Saunier Duval                              1.55.00
57 Salvatore Commesso (Ita) Lampre-Fondital                            1.56.55
58 David Moncoutié (Fra) Cofidis                                       2.02.51
59 David Millar (GBr) Saunier Duval                                    2.03.51
60 Gilberto Simoni (Ita) Saunier Duval                                 2.07.18
61 Moises Duenas (Spa) Agritubel                                       2.07.40
62 Koos Moerenhout (Ned) Phonak                                        2.09.03
63 Christopher Horner (USA) Davitamon-Lotto                            2.12.06
64 Thomas Lövkvist (Swe) Francaise Des Jeux                            2.12.13
65 Pavel Padrnos (Cze) Discovery Channel                               2.16.45
66 Sebastian Lang (Ger) Gerolsteiner                                   2.25.15
67 Alessandro Ballan (Ita) Lampre-Fondital                             2.26.42
68 Fabian Wegmann (Ger) Gerolsteiner                                   2.27.23
69 Sandy Casar (Fra) Francaise Des Jeux                                2.28.34
70 Paolo Tiralongo (Ita) Lampre-Fondital                               2.31.49
71 Didier Rous (Fra) Bouygues Telecom                                  2.32.41
72 Inaki Isasi (Spa) Euskaltel-Euskadi                                 2.32.44
73 Juan Manuel Garate (Spa) Quick-Step-Innergetic                      2.32.47
74 David Zabriskie (USA) Team CSC                                      2.33.46
75 Gorka Verdugo (Spa) Euskaltel-Euskadi                               2.33.52
76 Christophe Le Mevel (Fra) Crédit Agricole                           2.34.24
77 Carlos Da Cruz (Fra) Francaise Des Jeux                             2.40.01
78 Francisco Ventoso (Spa) Saunier Duval                               2.41.30
79 Simon Gerrans (Aus) AG2R-Prevoyance                                 2.46.33
80 Manuel Quinziato (Ita) Liquigas                                     2.47.20
81 Björn Schröder (Ger) Milram                                         2.47.56
82 Juan Antonio Flecha (Spa) Rabobank                                  2.49.53
83 Jérôme Pineau (Fra) Bouygues Telecom                                2.51.22
84 Viatscheslav Ekimov (Rus) Discovery Channel                         2.51.33
85 Joost Posthuma (Ned) Rabobank                                       2.52.00
86 Erik Zabel (Ger) Milram                                             2.52.21
87 Benoît Vaugrenard (Fra) Francaise Des Jeux                          2.52.31
88 Anthony Geslin (Fra) Bouygues Telecom                               2.52.39
89 Thomas Voeckler (Fra) Bouygues Telecom                              2.52.57
90 Manuel Calvente (Spa) Agritubel                                     2.53.27
91 Stuart O'Grady (Aus) Team CSC                                       2.55.41
92 José Luis Rubiera (Spa) Discovery Channel                           2.55.44
93 Pieter Weening (Ned) Rabobank                                       2.56.03
94 Bram Tankink (Ned) Quick-Step-Innergetic                            2.57.02
95 Cédric Vasseur (Fra) Quick-Step-Innergetic                          2.58.36
96 Ronny Scholz (Ger) Gerolsteiner                                     3.00.48
97 Alexandre Moos (Swi) Phonak                                         3.01.34
98 Riccardo Ricco (Ita) Saunier Duval                                  3.01.37
99 Marco Velo (Ita) Milram                                             3.02.17
100 Nicolas Portal (Fra) Caisse d'Epargne-Illes Balears                3.02.20
101 Ralf Grabsch (Ger) Milram                                          3.04.21
102 Luca Paolini (Ita) Liquigas                                        3.04.26
103 Nicolas Jalabert (Fra) Phonak                                      3.05.05
104 Mario Aerts (Bel) Davitamon-Lotto                                  3.05.38
105 Christian Knees (Ger) Milram                                       3.05.58
106 Gustav Larsson (Swe) Francaise Des Jeux                            3.06.14
107 Bert Grabsch (Ger) Phonak                                          3.08.23
108 Bernhard Eisel (Aut) Francaise Des Jeux                            3.09.07
109 Daniele Righi (Ita) Lampre-Fondital                                3.12.53
110 Philippe Gilbert (Bel) Francaise Des Jeux                          3.13.03
111 Walter Beneteau (Fra) Bouygues Telecom                             3.15.41
112 Johan Vansummeren (Bel) Davitamon-Lotto                            3.18.31
113 Sébastien Hinault (Fra) Crédit Agricole                            3.18.32
114 Anthony Charteau (Fra) Crédit Agricole                             3.18.51
115 Jose Vicente Garcia Acosta (Spa) Caisse d'Epargne-Illes Balears    3.20.32
116 Robbie McEwen (Aus) Davitamon-Lotto                                3.21.25
117 Eduardo Gonzalo (Spa) Agritubel                                    3.21.27
118 Matej Mugerli (Slo) Liquigas                                       3.21.29
119 Michael Albasini (Swi) Liquigas                                    3.21.34
120 Samuel Dumoulin (Fra) AG2R-Prevoyance                              3.22.23
121 Thor Hushovd (Nor) Crédit Agricole                                 3.24.20
122 Victor Hugo Pena (Col) Phonak                                      3.24.38
123 Bradley Wiggins (GBr) Cofidis                                      3.25.13
124 Stéphane Auge (Fra) Cofidis                                        3.25.19
125 Matteo Tosatto (Ita) Quick-Step-Innergetic                         3.25.54
126 Christophe Laurent (Fra) Agritubel                                 3.26.23
127 Florent Brard (Fra) Caisse d'Epargne-Illes Balears                 3.27.03
128 Unai Etxebarria (Ven) Euskaltel-Euskadi                            3.30.12
129 Julian Dean (NZl) Crédit Agricole                                  3.30.33
130 Patrick Calcagni (Swi) Liquigas                                    3.33.28
131 Arnaud Coyot (Fra) Cofidis                                         3.35.34
132 Christophe Mengin (Fra) Francaise Des Jeux                         3.35.52
133 Kjell Carlström (Fin) Liquigas                                     3.35.53
134 Filippo Pozzato (Ita) Quick-Step-Innergetic                        3.37.14
135 Cédric Coutouly (Fra) Agritubel                                    3.39.00
136 Peter Wrolich (Aut) Gerolsteiner                                   3.39.28
137 Aitor Hernandez (Spa) Euskaltel-Euskadi                            3.49.57
138 Gert Steegmans (Bel) Davitamon-Lotto                               3.59.24
139 Jimmy Casper (Fra) Cofidis                                         4.00.05
140 Wim Vansevenant (Bel) Davitamon-Lotto                              4.00.21
 
Points classification
 
1 Robbie McEwen (Aus) Davitamon-Lotto                                      254 pts
2 Erik Zabel (Ger) Milram                                                  175
3 Thor Hushovd (Nor) Crédit Agricole                                       160
4 Bernhard Eisel (Aut) Francaise Des Jeux                                  157
5 Luca Paolini (Ita) Liquigas                                              152
6 Inaki Isasi (Spa) Euskaltel-Euskadi                                      115
7 Francisco Ventoso (Spa) Saunier Duval                                    115
8 Cristian Moreni (Ita) Cofidis                                            106
9 Jimmy Casper (Fra) Cofidis                                                98
10 Floyd Landis (USA) Phonak                                                93
11 Oscar Pereiro (Spa) Caisse d'Epargne-Illes Balears                       84
12 Andreas Klöden (Ger) T-Mobile                                            78
13 Michael Rogers (Aus) T-Mobile                                            72
14 George Hincapie (USA) Discovery Channel                                  62
15 Cadel Evans (Aus) Davitamon-Lotto                                        61
16 Jens Voigt (Ger) Team CSC                                                57
17 Carlos Sastre (Spa) Team CSC                                             57
18 Sylvain Calzati (Fra) AG2R-Prevoyance                                    53
19 Gert Steegmans (Bel) Davitamon-Lotto                                     51
20 Stefano Garzelli (Ita) Liquigas                                          50
21 Christophe Moreau (Fra) AG2R-Prevoyance                                  49
22 Arnaud Coyot (Fra) Cofidis                                               49
23 Carlos Da Cruz (Fra) Francaise Des Jeux                                  48
24 Yaroslav Popovych (Ukr) Discovery Channel                                46
25 Alessandro Ballan (Ita) Lampre-Fondital                                  46
26 Eddy Mazzoleni (Ita) T-Mobile                                            44
27 Levi Leipheimer (USA) Gerolsteiner                                       43
28 Stuart O'Grady (Aus) Team CSC                                            43
29 Denis Menchov (Rus) Rabobank                                             42
30 Alexandre Botcharov (Rus) Crédit Agricole                                42
31 Marco Velo (Ita) Milram                                                  42
32 Frank Schleck (Lux) Team CSC                                             41
33 Damiano Cunego (Ita) Lampre-Fondital                                     41
34 Manuel Quinziato (Ita) Liquigas                                          40
35 Sylvain Chavanel (Fra) Cofidis                                           40
36 Peter Wrolich (Aut) Gerolsteiner                                         39
37 Anthony Geslin (Fra) Bouygues Telecom                                    38
38 David Zabriskie (USA) Team CSC                                           37
39 Michael Boogerd (Ned) Rabobank                                           37
40 Walter Beneteau (Fra) Bouygues Telecom                                   34
41 Sébastien Hinault (Fra) Crédit Agricole                                  34
42 Michael Rasmussen (Den) Rabobank                                         33
43 Pierrick Fedrigo (Fra) Bouygues Telecom                                  33
44 Egoi Martinez (Spa) Discovery Channel                                    33
45 Cyril Dessel (Fra) AG2R-Prevoyance                                       33
46 Georg Totschnig (Aut) Gerolsteiner                                       33
47 Patrice Halgand (Fra) Crédit Agricole                                    32
48 Serguei Gonchar (Ukr) T-Mobile                                           30
49 Michael Albasini (Swi) Liquigas                                          30
50 Benoît Vaugrenard (Fra) Francaise Des Jeux                               29
51 Salvatore Commesso (Ita) Lampre-Fondital                                 28
52 Patrik Sinkewitz (Ger) T-Mobile                                          28
53 Philippe Gilbert (Bel) Francaise Des Jeux                                28
54 Sebastian Lang (Ger) Gerolsteiner                                        27
55 Kjell Carlström (Fin) Liquigas                                           27
56 Mario Aerts (Bel) Davitamon-Lotto                                        26
57 Björn Schröder (Ger) Milram                                              26
58 Matthias Kessler (Ger) T-Mobile                                          25
59 Matteo Tosatto (Ita) Quick-Step-Innergetic                               25
60 David De La Fuente (Spa) Saunier Duval                                   24
61 Samuel Dumoulin (Fra) AG2R-Prevoyance                                    24
62 Fabian Wegmann (Ger) Gerolsteiner                                        24
63 Haimar Zubeldia (Spa) Euskaltel-Euskadi                                  22
64 Marcus Fothen (Ger) Gerolsteiner                                         22
65 Christian Vandevelde (USA) Team CSC                                      22
66 Christophe Rinero (Fra) Saunier Duval                                    22
67 Christophe Le Mevel (Fra) Crédit Agricole                                20
68 Ronny Scholz (Ger) Gerolsteiner                                          20
69 Jérôme Pineau (Fra) Bouygues Telecom                                     19
70 Juan Antonio Flecha (Spa) Rabobank                                       18
71 Christophe Laurent (Fra) Agritubel                                       16
72 Inigo Landaluze (Spa) Euskaltel-Euskadi                                  15
73 Tadej Valjavec (Slo) Lampre-Fondital                                     14
74 José Luis Arrieta (Spa) AG2R-Prevoyance                                  14
75 Ruben Lobato (Spa) Saunier Duval                                         14
76 Florent Brard (Fra) Caisse d'Epargne-Illes Balears                       12
77 Pietro Caucchioli (Ita) Crédit Agricole                                  12
78 Laurent Lefevre (Fra) Bouygues Telecom                                   10
79 Christian Knees (Ger) Milram                                             10
80 José Luis Rubiera (Spa) Discovery Channel                                 9
81 Axel Merckx (Bel) Phonak                                                  8
82 David Millar (GBr) Saunier Duval                                          8
83 Sandy Casar (Fra) Francaise Des Jeux                                      8
84 Marzio Bruseghin (Ita) Lampre-Fondital                                    7
85 Stéphane Auge (Fra) Cofidis                                               7
86 Nicolas Portal (Fra) Caisse d'Epargne-Illes Balears                       6
87 Gustav Larsson (Swe) Francaise Des Jeux                                   6
88 Giuseppe Guerini (Ita) T-Mobile                                           5
89 Wim Vansevenant (Bel) Davitamon-Lotto                                     5
90 Viatscheslav Ekimov (Rus) Discovery Channel                               4
91 Thomas Voeckler (Fra) Bouygues Telecom                                    4
92 Jose Vicente Garcia Acosta (Spa) Caisse d'Epargne-Illes Balears           4
93 Eduardo Gonzalo (Spa) Agritubel                                           3
94 Matej Mugerli (Slo) Liquigas                                              3
95 Julian Dean (NZl) Crédit Agricole                                         3
96 Patxi Vila (Spa) Lampre-Fondital                                          2
97 Ivan Ramiro Parra (Col) Cofidis                                           2
98 Riccardo Ricco (Ita) Saunier Duval                                        2
99 Nicolas Jalabert (Fra) Phonak                                             2
100 Bert Grabsch (Ger) Phonak                                                2
101 Cédric Coutouly (Fra) Agritubel                                          2
102 José Azevedo (Por) Discovery Channel                                     1
103 Vladimir Karpets (Rus) Caisse d'Epargne-Illes Balears                    1
104 Joost Posthuma (Ned) Rabobank                                            1
105 Johan Vansummeren (Bel) Davitamon-Lotto                                  1
106 Christophe Mengin (Fra) Francaise Des Jeux                               1
107 Aitor Hernandez (Spa) Euskaltel-Euskadi                                   
108 Cédric Vasseur (Fra) Quick-Step-Innergetic                              -1
109 Matthieu Sprick (Fra) Bouygues Telecom                                  -3
110 Mikel Astarloza (Spa) AG2R-Prevoyance                                   -5
111 Paolo Tiralongo (Ita) Lampre-Fondital                                   -5
112 Filippo Pozzato (Ita) Quick-Step-Innergetic                             -5
113 Bram Tankink (Ned) Quick-Step-Innergetic                               -10
114 Unai Etxebarria (Ven) Euskaltel-Euskadi                                -13
115 Iker Camano (Spa) Euskaltel-Euskadi                                    -15
116 Patrick Calcagni (Swi) Liquigas                                        -15
 
Mountains classification
 
1 Michael Rasmussen (Den) Rabobank                                         163 pts
2 Floyd Landis (USA) Phonak                                                131
3 David De La Fuente (Spa) Saunier Duval                                   113
4 Carlos Sastre (Spa) Team CSC                                              99
5 Frank Schleck (Lux) Team CSC                                              94
6 Michael Boogerd (Ned) Rabobank                                            93
7 Damiano Cunego (Ita) Lampre-Fondital                                      80
8 Cyril Dessel (Fra) AG2R-Prevoyance                                        72
9 Levi Leipheimer (USA) Gerolsteiner                                        66
10 Andreas Klöden (Ger) T-Mobile                                            64
11 Oscar Pereiro (Spa) Caisse d'Epargne-Illes Balears                       63
12 Fabian Wegmann (Ger) Gerolsteiner                                        61
13 Stefano Garzelli (Ita) Liquigas                                          60
14 Christophe Moreau (Fra) AG2R-Prevoyance                                  60
15 Sylvain Calzati (Fra) AG2R-Prevoyance                                    48
16 Tadej Valjavec (Slo) Lampre-Fondital                                     42
17 Patrice Halgand (Fra) Crédit Agricole                                    41
18 Patrik Sinkewitz (Ger) T-Mobile                                          41
19 Sandy Casar (Fra) Francaise Des Jeux                                     39
20 Inigo Landaluze (Spa) Euskaltel-Euskadi                                  38
21 Denis Menchov (Rus) Rabobank                                             36
22 Juan Antonio Flecha (Spa) Rabobank                                       36
23 Christophe Rinero (Fra) Saunier Duval                                    35
24 Cadel Evans (Aus) Davitamon-Lotto                                        34
25 Haimar Zubeldia (Spa) Euskaltel-Euskadi                                  34
26 Salvatore Commesso (Ita) Lampre-Fondital                                 31
27 Inaki Isasi (Spa) Euskaltel-Euskadi                                      31
28 Jens Voigt (Ger) Team CSC                                                30
29 Pierrick Fedrigo (Fra) Bouygues Telecom                                  30
30 Jérôme Pineau (Fra) Bouygues Telecom                                     28
31 Sylvain Chavanel (Fra) Cofidis                                           26
32 Iker Camano (Spa) Euskaltel-Euskadi                                      25
33 Cristian Moreni (Ita) Cofidis                                            24
34 Pietro Caucchioli (Ita) Crédit Agricole                                  24
35 Patxi Vila (Spa) Lampre-Fondital                                         23
36 Pavel Padrnos (Cze) Discovery Channel                                    23
37 Cédric Vasseur (Fra) Quick-Step-Innergetic                               22
38 Stuart O'Grady (Aus) Team CSC                                            22
39 Mario Aerts (Bel) Davitamon-Lotto                                        21
40 Ruben Lobato (Spa) Saunier Duval                                         20
41 Thomas Voeckler (Fra) Bouygues Telecom                                   20
42 Egoi Martinez (Spa) Discovery Channel                                    20
43 Daniele Righi (Ita) Lampre-Fondital                                      20
44 José Luis Arrieta (Spa) AG2R-Prevoyance                                  19
45 Juan Manuel Garate (Spa) Quick-Step-Innergetic                           18
46 Eddy Mazzoleni (Ita) T-Mobile                                            17
47 Philippe Gilbert (Bel) Francaise Des Jeux                                16
48 Matthias Kessler (Ger) T-Mobile                                          14
49 Xabier Zandio (Spa) Caisse d'Epargne-Illes Balears                       13
50 Marzio Bruseghin (Ita) Lampre-Fondital                                   12
51 David Moncoutié (Fra) Cofidis                                            12
52 David Zabriskie (USA) Team CSC                                           12
53 Matthieu Sprick (Fra) Bouygues Telecom                                   11
54 Aitor Hernandez (Spa) Euskaltel-Euskadi                                  10
55 Yaroslav Popovych (Ukr) Discovery Channel                                10
56 Christophe Le Mevel (Fra) Crédit Agricole                                10
57 Ronny Scholz (Ger) Gerolsteiner                                          10
58 Manuel Quinziato (Ita) Liquigas                                          10
59 Giuseppe Guerini (Ita) T-Mobile                                           9
60 Björn Schröder (Ger) Milram                                               9
61 George Hincapie (USA) Discovery Channel                                   9
62 Matteo Tosatto (Ita) Quick-Step-Innergetic                                9
63 Mikel Astarloza (Spa) AG2R-Prevoyance                                     8
64 Anthony Charteau (Fra) Crédit Agricole                                    8
65 Georg Totschnig (Aut) Gerolsteiner                                        7
66 José Luis Rubiera (Spa) Discovery Channel                                 7
67 Unai Etxebarria (Ven) Euskaltel-Euskadi                                   7
68 Stephane Goubert (Fra) AG2R-Prevoyance                                    6
69 Samuel Dumoulin (Fra) AG2R-Prevoyance                                     6
70 Christophe Laurent (Fra) Agritubel                                        6
71 Laurent Lefevre (Fra) Bouygues Telecom                                    5
72 David Arroyo (Spa) Caisse d'Epargne-Illes Balears                         5
73 Axel Merckx (Bel) Phonak                                                  5
74 Ivan Ramiro Parra (Col) Cofidis                                           5
75 Carlos Da Cruz (Fra) Francaise Des Jeux                                   5
76 David Millar (GBr) Saunier Duval                                          3
77 Sébastien Hinault (Fra) Crédit Agricole                                   2
78 Kjell Carlström (Fin) Liquigas                                            2
79 Alessandro Ballan (Ita) Lampre-Fondital                                   1
80 Benoît Vaugrenard (Fra) Francaise Des Jeux                                1
81 Anthony Geslin (Fra) Bouygues Telecom                                     1
82 Cédric Coutouly (Fra) Agritubel                                           1
 
Young rider classification
 
1 Damiano Cunego (Ita) Lampre-Fondital                                86.01.51
2 Marcus Fothen (Ger) Gerolsteiner                                        0.36
3 Matthieu Sprick (Fra) Bouygues Telecom                               1.28.51
4 David De La Fuente (Spa) Saunier Duval                               1.35.39
5 Moises Duenas (Spa) Agritubel                                        1.48.19
6 Thomas Lövkvist (Swe) Francaise Des Jeux                             1.52.52
7 Francisco Ventoso (Spa) Saunier Duval                                2.22.09
8 Joost Posthuma (Ned) Rabobank                                        2.32.39
9 Benoît Vaugrenard (Fra) Francaise Des Jeux                           2.33.10
10 Pieter Weening (Ned) Rabobank                                       2.36.42
11 Riccardo Ricco (Ita) Saunier Duval                                  2.42.16
12 Christian Knees (Ger) Milram                                        2.46.37
13 Bernhard Eisel (Aut) Francaise Des Jeux                             2.49.46
14 Philippe Gilbert (Bel) Francaise Des Jeux                           2.53.42
15 Johan Vansummeren (Bel) Davitamon-Lotto                             2.59.10
16 Eduardo Gonzalo (Spa) Agritubel                                     3.02.06
17 Matej Mugerli (Slo) Liquigas                                        3.02.08
18 Filippo Pozzato (Ita) Quick-Step-Innergetic                         3.17.53
19 Aitor Hernandez (Spa) Euskaltel-Euskadi                             3.30.36
 
Teams classification
 
1 T-Mobile Team                                                      257.17.46
2 Team CSC                                                               17.20
3 Rabobank                                                               23.26
4 AG2R Prevoyance                                                        33.29
5 Caisse D'Epargne-Illes Balears                                         56.55
6 Lampre-Fondital                                                        57.49
7 Gerolsteiner                                                         1.45.33
8 Discovery Channel Team                                               2.19.25
9 Euskaltel - Euskadi                                                  2.26.46
10 Phonak Hearing Systems                                              2.49.06
11 Credit Agricole                                                     2.58.26
12 Davitamon - Lotto                                                   3.10.51
13 Saunier Duval - Prodir                                              3.16.03
14 Cofidis Credit Par Telephone                                        3.23.29
15 Bouygues Telecom                                                    3.26.28
16 Agritubel                                                           4.45.38
17 Francaise Des Jeux                                                  5.36.13
18 Liquigas                                                            6.39.18
19 Team Milram                                                         6.41.10
20 Quick Step - Innergetic                                             7.02.26

 
Intermediate timing

km 16.5
 
1 Floyd Landis (USA) Phonak                                          19.46
2 Serguei Gonchar (Ukr) T-Mobile                                      0.01
3 Oscar Pereiro (Spa) Caisse d'Epargne-Illes Balears                  0.10
4 Andreas Klöden (Ger) T-Mobile                                           
5 Sebastian Lang (Ger) Gerolsteiner                                   0.42
6 Damiano Cunego (Ita) Lampre-Fondital                                0.47
7 Bert Grabsch (Ger) Phonak                                           0.56
8 Viatscheslav Ekimov (Rus) Discovery Channel                         0.57
9 Denis Menchov (Rus) Rabobank                                        0.58
10 Marcus Fothen (Ger) Gerolsteiner                                       
11 Michael Rogers (Aus) T-Mobile                                      1.00
12 Gustav Larsson (Swe) Francaise Des Jeux                                
13 Marzio Bruseghin (Ita) Lampre-Fondital                             1.02
14 Cadel Evans (Aus) Davitamon-Lotto                                  1.03
15 Carlos Sastre (Spa) Team CSC                                       1.05
16 Joost Posthuma (Ned) Rabobank                                          
17 David Millar (GBr) Saunier Duval                                       
18 Sylvain Chavanel (Fra) Cofidis                                     1.06
19 Frank Schleck (Lux) Team CSC                                       1.11
20 David Zabriskie (USA) Team CSC                                         
21 Yaroslav Popovych (Ukr) Discovery Channel                          1.12
22 Haimar Zubeldia (Spa) Euskaltel-Euskadi                            1.15
23 Christian Vandevelde (USA) Team CSC                                1.16
24 Vladimir Karpets (Rus) Caisse d'Epargne-Illes Balears              1.19
25 Stuart O'Grady (Aus) Team CSC                                      1.20
26 Christophe Moreau (Fra) AG2R-Prevoyance                                
27 Koos Moerenhout (Ned) Phonak                                       1.21
28 Eddy Mazzoleni (Ita) T-Mobile                                      1.22
29 Jens Voigt (Ger) Team CSC                                              
30 Nicolas Portal (Fra) Caisse d'Epargne-Illes Balears                    
31 Florent Brard (Fra) Caisse d'Epargne-Illes Balears                 1.23
32 Levi Leipheimer (USA) Gerolsteiner                                     
33 José Azevedo (Por) Discovery Channel                               1.24
34 Cyril Dessel (Fra) AG2R-Prevoyance                                 1.25
35 Johan Vansummeren (Bel) Davitamon-Lotto                                
36 Thomas Lövkvist (Swe) Francaise Des Jeux                           1.26
37 Pavel Padrnos (Cze) Discovery Channel                              1.27
38 Aitor Hernandez (Spa) Euskaltel-Euskadi                            1.28
39 Pierrick Fedrigo (Fra) Bouygues Telecom                            1.31
40 George Hincapie (USA) Discovery Channel                            1.32
41 Bradley Wiggins (GBr) Cofidis                                          
42 Christopher Horner (USA) Davitamon-Lotto                           1.33
43 Pietro Caucchioli (Ita) Crédit Agricole                            1.34
44 Stefano Garzelli (Ita) Liquigas                                    1.37
45 Tadej Valjavec (Slo) Lampre-Fondital                               1.41
46 Axel Merckx (Bel) Phonak                                           1.43
47 Michael Boogerd (Ned) Rabobank                                         
48 Iker Camano (Spa) Euskaltel-Euskadi                                1.47
49 Philippe Gilbert (Bel) Francaise Des Jeux                          1.51
50 Filippo Pozzato (Ita) Quick-Step-Innergetic                        1.52
51 Matthias Kessler (Ger) T-Mobile                                        
52 Eduardo Gonzalo (Spa) Agritubel                                    1.53
53 Matthieu Sprick (Fra) Bouygues Telecom                             1.54
54 Georg Totschnig (Aut) Gerolsteiner                                     
55 Christian Knees (Ger) Milram                                       1.56
56 Thor Hushovd (Nor) Crédit Agricole                                 1.57
57 Samuel Dumoulin (Fra) AG2R-Prevoyance                                  
58 Christophe Laurent (Fra) Agritubel                                 1.58
59 Michael Albasini (Swi) Liquigas                                    1.59
60 Sandy Casar (Fra) Francaise Des Jeux                                   
61 Benoît Vaugrenard (Fra) Francaise Des Jeux                         2.00
62 Mikel Astarloza (Spa) AG2R-Prevoyance                                  
63 Xabier Zandio (Spa) Caisse d'Epargne-Illes Balears                 2.02
64 Stéphane Auge (Fra) Cofidis                                        2.04
65 Laurent Lefevre (Fra) Bouygues Telecom                                 
66 David Arroyo (Spa) Caisse d'Epargne-Illes Balears                      
67 Christophe Mengin (Fra) Francaise Des Jeux                         2.05
68 Patxi Vila (Spa) Lampre-Fondital                                   2.06
69 Matej Mugerli (Slo) Liquigas                                       2.08
70 Alessandro Ballan (Ita) Lampre-Fondital                                
71 Giuseppe Guerini (Ita) T-Mobile                                    2.09
72 Thomas Voeckler (Fra) Bouygues Telecom                             2.10
73 David De La Fuente (Spa) Saunier Duval                             2.11
74 Bram Tankink (Ned) Quick-Step-Innergetic                               
75 Patrik Sinkewitz (Ger) T-Mobile                                    2.14
76 Gorka Verdugo (Spa) Euskaltel-Euskadi                                  
77 Cédric Vasseur (Fra) Quick-Step-Innergetic                         2.16
78 Marco Velo (Ita) Milram                                            2.17
79 Alexandre Moos (Swi) Phonak                                        2.18
80 Carlos Da Cruz (Fra) Francaise Des Jeux                                
81 Ralf Grabsch (Ger) Milram                                              
82 Egoi Martinez (Spa) Discovery Channel                                  
83 Jose Vicente Garcia Acosta (Spa) Caisse d'Epargne-Illes Balears    2.19
84 Pieter Weening (Ned) Rabobank                                          
85 Didier Rous (Fra) Bouygues Telecom                                 2.21
86 Walter Beneteau (Fra) Bouygues Telecom                             2.23
87 Fabian Wegmann (Ger) Gerolsteiner                                      
88 Anthony Charteau (Fra) Crédit Agricole                             2.24
89 Nicolas Jalabert (Fra) Phonak                                      2.25
90 Anthony Geslin (Fra) Bouygues Telecom                                  
91 Alexandre Botcharov (Rus) Crédit Agricole                              
92 Kjell Carlström (Fin) Liquigas                                     2.26
92 Moises Duenas (Spa) Agritubel                                          
94 Robbie McEwen (Aus) Davitamon-Lotto                                2.27
95 José Luis Rubiera (Spa) Discovery Channel                              
96 Sylvain Calzati (Fra) AG2R-Prevoyance                                  
97 David Moncoutié (Fra) Cofidis                                          
98 Julian Dean (NZl) Crédit Agricole                                  2.28
99 Michael Rasmussen (Den) Rabobank                                   2.30
100 José Luis Arrieta (Spa) AG2R-Prevoyance                               
101 Björn Schröder (Ger) Milram                                       2.31
102 Arnaud Coyot (Fra) Cofidis                                        2.32
103 Ivan Ramiro Parra (Col) Cofidis                                   2.33
104 Riccardo Ricco (Ita) Saunier Duval                                2.35
105 Bernhard Eisel (Aut) Francaise Des Jeux                           2.36
106 Juan Antonio Flecha (Spa) Rabobank                                    
107 Salvatore Commesso (Ita) Lampre-Fondital                          2.37
108 Patrice Halgand (Fra) Crédit Agricole                             2.38
109 Francisco Ventoso (Spa) Saunier Duval                                 
110 Inigo Landaluze (Spa) Euskaltel-Euskadi                           2.40
111 Christophe Brandt (Bel) Davitamon-Lotto                           2.42
112 Manuel Quinziato (Ita) Liquigas                                   2.43
113 Ronny Scholz (Ger) Gerolsteiner                                   2.44
114 Stephane Goubert (Fra) AG2R-Prevoyance                            2.45
115 Ruben Lobato (Spa) Saunier Duval                                  2.48
116 Juan Manuel Garate (Spa) Quick-Step-Innergetic                    2.51
117 Cédric Coutouly (Fra) Agritubel                                       
118 Cristian Moreni (Ita) Cofidis                                         
119 Inaki Isasi (Spa) Euskaltel-Euskadi                                   
120 Daniele Righi (Ita) Lampre-Fondital                               2.53
121 Victor Hugo Pena (Col) Phonak                                     2.54
122 Christophe Rinero (Fra) Saunier Duval                             2.55
123 Matteo Tosatto (Ita) Quick-Step-Innergetic                            
124 Erik Zabel (Ger) Milram                                           2.56
125 Luca Paolini (Ita) Liquigas                                       2.57
126 Christophe Le Mevel (Fra) Crédit Agricole                             
127 Gert Steegmans (Bel) Davitamon-Lotto                              2.58
128 Mario Aerts (Bel) Davitamon-Lotto                                     
129 Patrick Calcagni (Swi) Liquigas                                   3.00
130 Jérôme Pineau (Fra) Bouygues Telecom                              3.01
131 Paolo Tiralongo (Ita) Lampre-Fondital                             3.06
132 Wim Vansevenant (Bel) Davitamon-Lotto                             3.07
133 Peter Wrolich (Aut) Gerolsteiner                                  3.09
134 Unai Etxebarria (Ven) Euskaltel-Euskadi                           3.12
135 Benoît Salmon (Fra) Agritubel                                     3.14
136 Sébastien Hinault (Fra) Crédit Agricole                           3.25
137 Gilberto Simoni (Ita) Saunier Duval                               3.26
138 Simon Gerrans (Aus) AG2R-Prevoyance                               3.31
139 Jimmy Casper (Fra) Cofidis                                        3.34
140 Manuel Calvente (Spa) Agritubel                                   4.24
141 Robert Hunter (RSA) Phonak                                        4.43
 
km 34.5
 
1 Serguei Gonchar (Ukr) T-Mobile                                     41.19
2 Floyd Landis (USA) Phonak                                           0.26
3 Andreas Klöden (Ger) T-Mobile                                       0.32
4 Oscar Pereiro (Spa) Caisse d'Epargne-Illes Balears                  1.23
5 Sebastian Lang (Ger) Gerolsteiner                                   2.07
6 Damiano Cunego (Ita) Lampre-Fondital                                2.08
7 Bert Grabsch (Ger) Phonak                                               
8 Cadel Evans (Aus) Davitamon-Lotto                                   2.15
9 Viatscheslav Ekimov (Rus) Discovery Channel                         2.16
10 Denis Menchov (Rus) Rabobank                                       2.24
11 Joost Posthuma (Ned) Rabobank                                      2.26
12 David Zabriskie (USA) Team CSC                                     2.29
13 David Millar (GBr) Saunier Duval                                   2.32
14 Michael Rogers (Aus) T-Mobile                                      2.37
15 Gustav Larsson (Swe) Francaise Des Jeux                            2.38
16 Jens Voigt (Ger) Team CSC                                          2.43
17 Carlos Sastre (Spa) Team CSC                                       2.46
18 Sylvain Chavanel (Fra) Cofidis                                     2.52
19 Marcus Fothen (Ger) Gerolsteiner                                   2.56
20 Marzio Bruseghin (Ita) Lampre-Fondital                             2.57
21 Nicolas Portal (Fra) Caisse d'Epargne-Illes Balears                2.58
22 Stuart O'Grady (Aus) Team CSC                                      3.01
23 Christophe Moreau (Fra) AG2R-Prevoyance                            3.02
24 Christian Vandevelde (USA) Team CSC                                3.14
25 Haimar Zubeldia (Spa) Euskaltel-Euskadi                            3.22
26 Vladimir Karpets (Rus) Caisse d'Epargne-Illes Balears                  
27 Frank Schleck (Lux) Team CSC                                       3.23
28 Johan Vansummeren (Bel) Davitamon-Lotto                            3.24
29 Koos Moerenhout (Ned) Phonak                                           
30 Pavel Padrnos (Cze) Discovery Channel                              3.26
31 Yaroslav Popovych (Ukr) Discovery Channel                          3.27
32 Cyril Dessel (Fra) AG2R-Prevoyance                                 3.37
33 Eddy Mazzoleni (Ita) T-Mobile                                      3.42
34 Levi Leipheimer (USA) Gerolsteiner                                 3.48
35 George Hincapie (USA) Discovery Channel                            3.49
36 Pierrick Fedrigo (Fra) Bouygues Telecom                                
37 José Azevedo (Por) Discovery Channel                               3.51
38 Benoît Vaugrenard (Fra) Francaise Des Jeux                         3.52
39 Thomas Lövkvist (Swe) Francaise Des Jeux                               
40 Matthias Kessler (Ger) T-Mobile                                    4.03
41 Pietro Caucchioli (Ita) Crédit Agricole                            4.14
42 Florent Brard (Fra) Caisse d'Epargne-Illes Balears                 4.15
43 Christian Knees (Ger) Milram                                       4.18
44 Thomas Voeckler (Fra) Bouygues Telecom                             4.19
45 Bradley Wiggins (GBr) Cofidis                                      4.20
46 Philippe Gilbert (Bel) Francaise Des Jeux                          4.21
47 Sandy Casar (Fra) Francaise Des Jeux                               4.23
48 Christopher Horner (USA) Davitamon-Lotto                           4.27
49 Axel Merckx (Bel) Phonak                                           4.29
50 Michael Boogerd (Ned) Rabobank                                         
51 Georg Totschnig (Aut) Gerolsteiner                                     
52 Filippo Pozzato (Ita) Quick-Step-Innergetic                        4.30
53 Aitor Hernandez (Spa) Euskaltel-Euskadi                            4.33
54 Tadej Valjavec (Slo) Lampre-Fondital                               4.34
55 Nicolas Jalabert (Fra) Phonak                                      4.36
56 Eduardo Gonzalo (Spa) Agritubel                                        
57 Michael Albasini (Swi) Liquigas                                    4.41
58 David De La Fuente (Spa) Saunier Duval                             4.46
59 Samuel Dumoulin (Fra) AG2R-Prevoyance                              4.47
60 Giuseppe Guerini (Ita) T-Mobile                                        
61 Stefano Garzelli (Ita) Liquigas                                        
62 Xabier Zandio (Spa) Caisse d'Epargne-Illes Balears                 4.50
63 Alessandro Ballan (Ita) Lampre-Fondital                                
64 Didier Rous (Fra) Bouygues Telecom                                 4.53
65 Matej Mugerli (Slo) Liquigas                                       4.55
66 Laurent Lefevre (Fra) Bouygues Telecom                                 
67 Bram Tankink (Ned) Quick-Step-Innergetic                               
68 Alexandre Moos (Swi) Phonak                                        4.56
69 Christophe Mengin (Fra) Francaise Des Jeux                         4.57
70 Patrik Sinkewitz (Ger) T-Mobile                                    4.59
71 Stéphane Auge (Fra) Cofidis                                            
72 Ralf Grabsch (Ger) Milram                                              
73 Fabian Wegmann (Ger) Gerolsteiner                                  5.00
74 Iker Camano (Spa) Euskaltel-Euskadi                                5.01
75 José Luis Rubiera (Spa) Discovery Channel                          5.03
76 Mikel Astarloza (Spa) AG2R-Prevoyance                              5.04
77 Björn Schröder (Ger) Milram                                        5.06
78 Anthony Geslin (Fra) Bouygues Telecom                              5.08
79 Christophe Laurent (Fra) Agritubel                                     
80 Carlos Da Cruz (Fra) Francaise Des Jeux                            5.12
81 Thor Hushovd (Nor) Crédit Agricole                                 5.13
82 Matthieu Sprick (Fra) Bouygues Telecom                             5.14
83 Jose Vicente Garcia Acosta (Spa) Caisse d'Epargne-Illes Balears    5.15
84 Marco Velo (Ita) Milram                                            5.21
85 Cédric Vasseur (Fra) Quick-Step-Innergetic                         5.22
86 Patxi Vila (Spa) Lampre-Fondital                                       
87 David Arroyo (Spa) Caisse d'Epargne-Illes Balears                  5.24
88 Egoi Martinez (Spa) Discovery Channel                              5.25
89 Juan Antonio Flecha (Spa) Rabobank                                 5.27
90 Walter Beneteau (Fra) Bouygues Telecom                                 
91 Pieter Weening (Ned) Rabobank                                      5.28
92 Moises Duenas (Spa) Agritubel                                      5.29
93 Alexandre Botcharov (Rus) Crédit Agricole                          5.30
94 Gorka Verdugo (Spa) Euskaltel-Euskadi                                  
95 Ronny Scholz (Ger) Gerolsteiner                                    5.31
96 Robbie McEwen (Aus) Davitamon-Lotto                                5.34
97 Riccardo Ricco (Ita) Saunier Duval                                 5.36
98 Manuel Quinziato (Ita) Liquigas                                    5.39
99 Kjell Carlström (Fin) Liquigas                                         
100 Salvatore Commesso (Ita) Lampre-Fondital                          5.45
101 Jérôme Pineau (Fra) Bouygues Telecom                              5.46
102 José Luis Arrieta (Spa) AG2R-Prevoyance                           5.52
103 Julian Dean (NZl) Crédit Agricole                                 5.54
104 Victor Hugo Pena (Col) Phonak                                     5.55
105 Michael Rasmussen (Den) Rabobank                                      
106 Christophe Brandt (Bel) Davitamon-Lotto                           5.56
107 Inigo Landaluze (Spa) Euskaltel-Euskadi                           6.02
108 David Moncoutié (Fra) Cofidis                                     6.05
109 Daniele Righi (Ita) Lampre-Fondital                               6.07
110 Bernhard Eisel (Aut) Francaise Des Jeux                           6.08
111 Francisco Ventoso (Spa) Saunier Duval                                 
112 Arnaud Coyot (Fra) Cofidis                                        6.12
113 Ivan Ramiro Parra (Col) Cofidis                                   6.13
114 Gilberto Simoni (Ita) Saunier Duval                               6.14
115 Patrice Halgand (Fra) Crédit Agricole                             6.16
116 Cédric Coutouly (Fra) Agritubel                                   6.17
117 Erik Zabel (Ger) Milram                                           6.20
118 Juan Manuel Garate (Spa) Quick-Step-Innergetic                    6.21
119 Christophe Le Mevel (Fra) Crédit Agricole                         6.23
120 Anthony Charteau (Fra) Crédit Agricole                            6.24
121 Inaki Isasi (Spa) Euskaltel-Euskadi                               6.25
122 Mario Aerts (Bel) Davitamon-Lotto                                 6.26
123 Peter Wrolich (Aut) Gerolsteiner                                  6.31
124 Stephane Goubert (Fra) AG2R-Prevoyance                                
125 Patrick Calcagni (Swi) Liquigas                                   6.34
126 Gert Steegmans (Bel) Davitamon-Lotto                              6.36
127 Sylvain Calzati (Fra) AG2R-Prevoyance                             6.39
128 Luca Paolini (Ita) Liquigas                                       6.43
129 Jimmy Casper (Fra) Cofidis                                        6.54
130 Matteo Tosatto (Ita) Quick-Step-Innergetic                        6.55
131 Christophe Rinero (Fra) Saunier Duval                             6.56
132 Wim Vansevenant (Bel) Davitamon-Lotto                                 
133 Cristian Moreni (Ita) Cofidis                                     6.58
134 Sébastien Hinault (Fra) Crédit Agricole                           7.01
135 Paolo Tiralongo (Ita) Lampre-Fondital                             7.06
136 Ruben Lobato (Spa) Saunier Duval                                  7.11
137 Unai Etxebarria (Ven) Euskaltel-Euskadi                           7.14
138 Simon Gerrans (Aus) AG2R-Prevoyance                               7.30
139 Manuel Calvente (Spa) Agritubel                                   7.47
140 Benoît Salmon (Fra) Agritubel                                     7.53
141 Robert Hunter (RSA) Phonak                                       10.48
 
km 51.5
 
1 Serguei Gonchar (Ukr) T-Mobile                                   1.02.36
2 Andreas Klöden (Ger) T-Mobile                                       0.46
3 Floyd Landis (USA) Phonak                                           1.08
4 Oscar Pereiro (Spa) Caisse d'Epargne-Illes Balears                  2.38
5 Sebastian Lang (Ger) Gerolsteiner                                   3.20
6 Viatscheslav Ekimov (Rus) Discovery Channel                         3.25
7 David Zabriskie (USA) Team CSC                                      3.26
8 Damiano Cunego (Ita) Lampre-Fondital                                3.32
9 Bert Grabsch (Ger) Phonak                                           3.33
10 Cadel Evans (Aus) Davitamon-Lotto                                  3.38
11 Joost Posthuma (Ned) Rabobank                                      3.40
12 David Millar (GBr) Saunier Duval                                   3.49
13 Jens Voigt (Ger) Team CSC                                          4.03
14 Marcus Fothen (Ger) Gerolsteiner                                   4.06
15 Gustav Larsson (Swe) Francaise Des Jeux                            4.09
16 Nicolas Portal (Fra) Caisse d'Epargne-Illes Balears                4.12
17 Michael Rogers (Aus) T-Mobile                                      4.16
18 Denis Menchov (Rus) Rabobank                                       4.19
19 Sylvain Chavanel (Fra) Cofidis                                     4.25
20 Carlos Sastre (Spa) Team CSC                                       4.26
21 Yaroslav Popovych (Ukr) Discovery Channel                          4.34
22 Stuart O'Grady (Aus) Team CSC                                      4.37
23 Christian Vandevelde (USA) Team CSC                                    
24 Marzio Bruseghin (Ita) Lampre-Fondital                             4.40
25 Koos Moerenhout (Ned) Phonak                                       4.44
26 Vladimir Karpets (Rus) Caisse d'Epargne-Illes Balears                  
27 Pavel Padrnos (Cze) Discovery Channel                              4.47
28 Christophe Moreau (Fra) AG2R-Prevoyance                            5.11
29 Haimar Zubeldia (Spa) Euskaltel-Euskadi                            5.15
30 George Hincapie (USA) Discovery Channel                            5.17
31 Frank Schleck (Lux) Team CSC                                           
32 José Azevedo (Por) Discovery Channel                               5.27
33 Johan Vansummeren (Bel) Davitamon-Lotto                            5.38
34 Cyril Dessel (Fra) AG2R-Prevoyance                                 5.39
35 Levi Leipheimer (USA) Gerolsteiner                                 5.44
36 Thomas Voeckler (Fra) Bouygues Telecom                             5.45
37 Pierrick Fedrigo (Fra) Bouygues Telecom                            5.51
38 Benoît Vaugrenard (Fra) Francaise Des Jeux                         6.01
39 Eddy Mazzoleni (Ita) T-Mobile                                      6.03
40 Nicolas Jalabert (Fra) Phonak                                      6.05
41 Ralf Grabsch (Ger) Milram                                          6.12
42 Philippe Gilbert (Bel) Francaise Des Jeux                          6.21
43 Didier Rous (Fra) Bouygues Telecom                                 6.25
44 Thomas Lövkvist (Swe) Francaise Des Jeux                           6.37
45 Pietro Caucchioli (Ita) Crédit Agricole                            6.40
46 Georg Totschnig (Aut) Gerolsteiner                                 6.43
47 Matthias Kessler (Ger) T-Mobile                                    6.47
48 Matej Mugerli (Slo) Liquigas                                       6.49
49 Michael Albasini (Swi) Liquigas                                        
50 Sandy Casar (Fra) Francaise Des Jeux                               6.50
51 Bradley Wiggins (GBr) Cofidis                                      6.51
52 Tadej Valjavec (Slo) Lampre-Fondital                               6.54
53 Alessandro Ballan (Ita) Lampre-Fondital                            6.55
54 Christian Knees (Ger) Milram                                           
55 Giuseppe Guerini (Ita) T-Mobile                                    7.01
56 Axel Merckx (Bel) Phonak                                           7.04
57 Michael Boogerd (Ned) Rabobank                                         
58 Christophe Mengin (Fra) Francaise Des Jeux                         7.10
59 Eduardo Gonzalo (Spa) Agritubel                                        
60 Filippo Pozzato (Ita) Quick-Step-Innergetic                        7.11
61 Patrik Sinkewitz (Ger) T-Mobile                                    7.13
62 Xabier Zandio (Spa) Caisse d'Epargne-Illes Balears                 7.18
63 Samuel Dumoulin (Fra) AG2R-Prevoyance                              7.19
64 Anthony Geslin (Fra) Bouygues Telecom                                  
65 Alexandre Moos (Swi) Phonak                                        7.21
66 Stéphane Auge (Fra) Cofidis                                        7.26
67 David De La Fuente (Spa) Saunier Duval                             7.27
68 Björn Schröder (Ger) Milram                                        7.30
69 Aitor Hernandez (Spa) Euskaltel-Euskadi                            7.32
70 Fabian Wegmann (Ger) Gerolsteiner                                  7.34
71 José Luis Rubiera (Spa) Discovery Channel                          7.38
72 Robbie McEwen (Aus) Davitamon-Lotto                                7.45
73 Thor Hushovd (Nor) Crédit Agricole                                 7.47
74 Carlos Da Cruz (Fra) Francaise Des Jeux                            7.51
75 Juan Antonio Flecha (Spa) Rabobank                                 7.52
76 Christophe Laurent (Fra) Agritubel                                 7.54
77 Patxi Vila (Spa) Lampre-Fondital                                   7.58
78 David Arroyo (Spa) Caisse d'Epargne-Illes Balears                  7.59
79 Christopher Horner (USA) Davitamon-Lotto                               
80 Ronny Scholz (Ger) Gerolsteiner                                    8.04
81 Iker Camano (Spa) Euskaltel-Euskadi                                8.05
82 Laurent Lefevre (Fra) Bouygues Telecom                             8.06
83 Gorka Verdugo (Spa) Euskaltel-Euskadi                              8.07
84 Bram Tankink (Ned) Quick-Step-Innergetic                               
85 Egoi Martinez (Spa) Discovery Channel                              8.08
86 Bernhard Eisel (Aut) Francaise Des Jeux                            8.09
87 Francisco Ventoso (Spa) Saunier Duval                              8.10
88 Kjell Carlström (Fin) Liquigas                                     8.19
89 Michael Rasmussen (Den) Rabobank                                   8.23
90 Cédric Vasseur (Fra) Quick-Step-Innergetic                             
91 Jérôme Pineau (Fra) Bouygues Telecom                               8.27
92 Alexandre Botcharov (Rus) Crédit Agricole                          8.28
93 Mikel Astarloza (Spa) AG2R-Prevoyance                              8.30
94 Pieter Weening (Ned) Rabobank                                      8.31
95 José Luis Arrieta (Spa) AG2R-Prevoyance                            8.36
96 Matthieu Sprick (Fra) Bouygues Telecom                             8.39
97 Stefano Garzelli (Ita) Liquigas                                    8.40
98 Moises Duenas (Spa) Agritubel                                      8.41
99 Manuel Quinziato (Ita) Liquigas                                    8.49
100 Victor Hugo Pena (Col) Phonak                                     8.55
101 Jose Vicente Garcia Acosta (Spa) Caisse d'Epargne-Illes Balears       
102 Marco Velo (Ita) Milram                                           8.57
103 Riccardo Ricco (Ita) Saunier Duval                                9.06
104 Christophe Le Mevel (Fra) Crédit Agricole                         9.07
105 Cédric Coutouly (Fra) Agritubel                                   9.10
106 Julian Dean (NZl) Crédit Agricole                                     
107 Peter Wrolich (Aut) Gerolsteiner                                  9.11
108 Arnaud Coyot (Fra) Cofidis                                            
109 Ivan Ramiro Parra (Col) Cofidis                                   9.14
110 Sylvain Calzati (Fra) AG2R-Prevoyance                             9.18
111 Salvatore Commesso (Ita) Lampre-Fondital                          9.19
112 Christophe Brandt (Bel) Davitamon-Lotto                               
113 Walter Beneteau (Fra) Bouygues Telecom                                
114 Erik Zabel (Ger) Milram                                           9.21
115 Juan Manuel Garate (Spa) Quick-Step-Innergetic                    9.34
116 Patrice Halgand (Fra) Crédit Agricole                             9.35
117 Mario Aerts (Bel) Davitamon-Lotto                                 9.37
118 David Moncoutié (Fra) Cofidis                                     9.40
119 Daniele Righi (Ita) Lampre-Fondital                               9.42
120 Anthony Charteau (Fra) Crédit Agricole                            9.44
121 Inigo Landaluze (Spa) Euskaltel-Euskadi                               
122 Luca Paolini (Ita) Liquigas                                       9.45
123 Inaki Isasi (Spa) Euskaltel-Euskadi                               9.51
124 Gilberto Simoni (Ita) Saunier Duval                              10.02
125 Christophe Rinero (Fra) Saunier Duval                            10.06
126 Gert Steegmans (Bel) Davitamon-Lotto                             10.07
127 Florent Brard (Fra) Caisse d'Epargne-Illes Balears               10.08
128 Patrick Calcagni (Swi) Liquigas                                  10.11
129 Simon Gerrans (Aus) AG2R-Prevoyance                                   
130 Stephane Goubert (Fra) AG2R-Prevoyance                           10.12
131 Wim Vansevenant (Bel) Davitamon-Lotto                            10.17
132 Paolo Tiralongo (Ita) Lampre-Fondital                            10.25
133 Sébastien Hinault (Fra) Crédit Agricole                          10.36
134 Matteo Tosatto (Ita) Quick-Step-Innergetic                       10.44
135 Unai Etxebarria (Ven) Euskaltel-Euskadi                          11.00
136 Cristian Moreni (Ita) Cofidis                                    11.26
137 Robert Hunter (RSA) Phonak                                       11.48
138 Ruben Lobato (Spa) Saunier Duval                                      
139 Jimmy Casper (Fra) Cofidis                                       11.52
140 Manuel Calvente (Spa) Agritubel                                  12.41
141 Benoît Salmon (Fra) Agritubel                                    12.52