An interview with Floyd Landis, July 13, 2006
The time has come
After placing third in today's 11th stage to Pla-de-Beret, Floyd Landis became the fifth American to don the maillot jaune. And despite needing a new hip, he is still the man many pick to win the Tour de France, as Hedwig Kröner reports.
Floyd Landis (Phonak)
Photo ©: Sirotti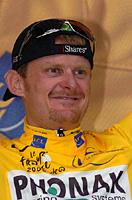 Q: You've never won a stage at the Tour. How important is that to you now that you have the yellow jersey?
FL: Well, the goal for our team since the start was to win the yellow jersey, so... if we do that without winning stages, I guess that would be fine. It's always nice to be able to win a stage but today there was more value in working on the last climb and try to get some time on the other guys who were dropped. So it was not my objective.
Q: Would it be correct to say that your team worked well during the first climb, and that you sort of gave them the last climb off?
FL: The same thing than yesterday. We told most of the guys that it wasn't necessary to have the whole team there with me, even one guy would be enough. Probably some people misjudged the strength of our team to think that they're all bad; today we gambled a little. A couple of teams were very confident and did most of the work for us. Probably we can't expect that to happen anymore, but we take it.
Q: What are your emotions in this Tour, given the hip problems you're experiencing? You said the other day that you didn't want to miss anything?
FL: I said I didn't want to miss anything in this Tour; what I was referring to was that when I found out about my condition a year and a half ago, I was told that my career won't go on forever. I should have been aware of that anyway, but it made me think about it more. Since then, I see things a little differently... I'm honoured to be sitting here.
Q: Is there a possibility that your hip problems will influence the outcome of this Tour?
Driving it
Photo ©: AFP

FL: Yes, it's possible. Ordinarily, with this condition, it's a slow process and there won't be one catastrophic failure within one day. So it's unlikely that it will become so much of a problem that it will affect the race. Afterwards, I'll have to make a decision of what to do. And at this point, I'm leaning towards a hip replacement, because I've gotten tired of dealing with it.
Q: Lance Armstrong didn't name you as his biggest favourite for the next Tour win. Do you feel that today is a sort of revenge?
FL: I was not always Lance's favourite for a lot of things. But I don't find any motivation in what his prediction was, so I wasn't offended by it. I hope he's happy for me, as I was happy to watch him win.
Q: When you knew about the hip, do you think that motivated you more this year, that maybe surgery could even end your career? Is that a possibility?
FL: It took me a year to adjust to that. It wasn't so much the motivation, I was more that I was afraid of what was going to happen. I didn't know if I would make it through the entire season. After I got through the season last year, I decided that I gotta force it no matter what, and that I had to get a good season out of the one that I got. I'm hopeful that the replacement will work. I have a lot of references of people who have had it - nobody racing in the Tour, but people that have had successful replacements and kept cycling at the same level, without pain. Cause that's my objective; the quality of life, not so much racing my bicycle forever.
Q: Will you defend this yellow jersey at all costs now, or is it an option to let it go again temporarily?
FL: It will be difficult to control it and try to keep it, as we don't have so much time on a lot of guys. If it's in our interest, and we can find a common goal and some help along the way, I wouldn't be opposed to letting someone else have it for a little while. The objective is to have it on the last day - that would be the best scenario!
Q: Does the religion of your mother allow her to watch television - will she have seen her son take the yellow jersey?
FL: It's not so much that she can't watch television; it's more that they don't have the desire to have it in the house. But she will be watching from somewhere, I'm sure.
After the finish
Photo ©: Sirotti

Q: Can you give us a quick briefing on your childhood, your family, what got you into cycling and the motivation behind that?
FL: Nah, I probably can't give you a quick briefing on that... I grew up in a very religious family, I have four sisters and a brother, all of whom are wonderful brothers and sisters. I have exceptional parents; I happen to be a little bit high-strung for that lifestyle (laughs) - dunno if you can use that about yourself - anyway, a friend of mine and I got into mountain biking when we were 15-16. We started doing local MTB races, which led me to... this. I skipped a lot there, but you get the idea!
Q: Did you parents support your bike racing?
FL: For a while, they were not so happy about it. But they've adjusted, I think. Why? The Mennonites tend to stay away from professional sport, and anything generally... famous, I guess. I don't know. That's a tough one. But they're fine with it now.