An interview with Michael Boogerd, July 5, 2006
Boogerd ready to Boogie-Woogie
By Anthony Tan in Valkenburg
Michael Boogerd already has two Tour stage wins
Photo ©: Anthony Tan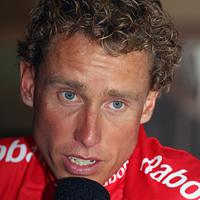 Resplendent in his national champion's stripes of Holland - and for the third time in his career - charismatic Dutchman Michael Boogerd is ready the Boogie-Woogie his way through his eleventh Tour de France.
Speaking to Cyclingnews shortly before the kick-off in Strasbourg, a congratulations was first in order before asking him the significance of his third Dutch title. "It's always important to win - especially when it's the national championship. You want to have the jersey, and I want to show it in the Tour," said a fired-up Boogerd.
Interesting is that the team's two oldest riders, Boogerd and Erik Dekker, 34 and 36 years-old respectively, behave like two of the youngest. At their national championships two Sundays ago, Rabobank general manager Theo De Rooy said their faces looked like a pair of juniors on the start line in Maastricht: "A heartbeat of 120, waiting for the start, then 'Whoof!', full gas y'know, like, 'Let's see if we can make a decisive split on the first lap of this circuit'," he recalled.
"That's the quality of these riders," said De Rooy. "As far as Erik Dekker was concerned, the strange thing is, two or three years ago, he was already expressing his doubts about whether he will do another Tour de France, saying, 'Well, I don't know, I've already done so many Tours de France, I think this will be my last... '
"I'm 34 now, but I still have to go for it full - otherwise it's better to stay at home."
- Michael Boogerd says he still has the 'fibres' of a youngster, but also the motivation
"This year, there was never a trace of a doubt that he would do the Tour or not: he was motivated to go to the Tour from the first moment on. I think we still need those guys," he said.
Added Boogerd: "You still have the fibres from when it was your first Tour, but it's... it's a little bit different now. We still have the guts to ride full, and that's a good sign... I'm 34 now, but I still have to go for it full - otherwise it's better to stay at home."
As multiple stage winners and Tour de France veterans, both he and Dekker are marked riders. Possibly the only downside to his national championship win is the jersey makes Boogerd even more so, but he doesn't see it that way: "Ya, but I already had it two times before and it's not new for me... Like I said, I'm really happy with it, and both Tours where I had the jersey, I rode well, so I hope this year will be the same."
This is true. In 1997, the year he first won the national road title, Boogerd finished 16th overall; the following year, together with another national crown, he achieved his highest placing on general classification, finishing fifth overall. However, this time around, he makes it clear he's not aiming for a high overall finish - but a stage win? Most definitely.
The many faces of Michael Boogerd
Photo ©: Anthony Tan

"Yeah, we'll try that and we see where it ends. I also have to work for the team a little bit [for Denis Menchov - ed.], so we will see, but I am not doing [general] classification.
"I hope he does a good ride and does a good classification," Boogerd said on Menchov's chances in La Grande Boucle. "It's important for the team to have a classification rider, and you're not winning the Vuelta on nothing; it's really special to win that race, so he's capable of doing a good Tour also."
On a totally unrelated subject, how did he feel about Netherlands being knocked out by Portugal in the round of 16 at the FIFA World Cup?
"I was really disappointed. It was really, really bad to see, and I'm really disappointed that it happened this way."
Asked if he painted his house in orange, as many of his countrymen do, Boogerd replied: "No, no - not at all. I live in Belgium [Kapellen - ed.], so I cannot do that," he smiled. "Impossible."
Would they burn down your house?
Laughed Boogerd: "Yeah, maybe!"