Dr Allen Lim interview, July 12, 2006, part 1
Backing Floyd in the campaign for yellow
The saying 'behind every great man there is a great woman,' is well known, but when it comes to Tour de France contenders, it's equally accurate to say that behind every serious yellow jersey candidate is a very important support crew. Dr Allen Lim is one of those who is helping Floyd Landis' challenge. The University of Colorado Integrative Physiology graduate is acting as a training advisor to the Phonak rider. In the first part of a two-part interview Cyclingnews' Shane Stokes spoke to Lim in the lead up to the Tour and after Saturday's time trial. Lim provides an interesting insight into the behind-the-scenes work that helps mount a serious Tour challenge, as well as giving a broader understanding of Landis' character, qualities and prospects in the race. The second part of the interview concerns his work with the up-and -coming TIAA-CREF team.
Cyclingnews: Floyd was second in the time trial on Saturday and is currently second overall. What is your reaction to that TT performance?
Allen Lim
Photo ©: Jim Hoyt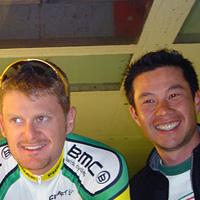 Allen Lim: Well, he had a little bit of a mishap, breaking his time trial bars and having to change his bike, but he is on track. If we factor in the time lost in the stop and if we also consider the aerodynamic changes that occurred with the bicycles [the angle of the bars were required to be set lower by the UCI prior to the TT], he is exactly where he should be. In fact, had he not had those mishaps, I think he would only have been 22 or 23 seconds down on first place. That is, within plus or minus three watts of where we thought he should have been, so everything is great.
That said, it is still bike racing and just because the engine is good, everything is good. It doesn't mean that it [winning the Tour] is going to be plain sailing. It is going to be very tactical race, it is still going to be a lot about luck and consistency. So I guess we will just play it day by day.
CN: He took time out of all the other GC contenders but now another rider, Gonchar, is in yellow, with his T-Mobile team having to defend that jersey. People don't necessarily see him as a possible winner of the Tour, so is it the ideal situation for Floyd?
AL: Yes. Now that we are sitting in this position, it is a great position to be in. You never go into it planning that will happen… you don't ever going to a race planning on giving up time. I think that if Floyd could have won, he would have gone for the win. But this is certainly an excellent scenario.
CN: Floyd did the Dauphiné as preparation, posting an excellent time trial there, but then performing below expectations in the mountains. What happened in that race?
Floyd Landis (Phonak)
Photo ©: Sirotti

AL: Well, Santiago Botero was originally going to be the team's GC guy there. Floyd had been training very hard beforehand and, not only that, he was coming out of the mountains and it had been very cold up there. He wasn't ready for the heat on Ventoux… it was like a furnace there. So rather than just slaughter himself for a top 10, he decided to use the rest of the week as training. His legs just weren't good in that level of heat so he couldn't perform.
That is not always good for the head, but I think he did the wise thing holding back. I believe he will be good in the mountains in the Tour, though.
CN: You do a lot of work with PowerTap and so are getting continuous readings about Floyd's condition. How does his output look compared to last year?
AL: I will say this. It looks very similar to how it looked at the Tour of California and Tour de Georgia, the other strong performances he has done this year. This time round, it is a little better than last year's Tour, but the big caveat is that it is very, very hard to say right now, even with the power data, because this race has been so easy for the riders this first week. Outside of the prologue and the time trial, there really hasn't been any critical moments in the race and so the guys are literally sitting in, relaxing, trying not to do a lot of work.
As a result, in the first week we don't necessarily look to see how much power he can produce; we are looking to see how little he can produce. It is a total shift in mindset there. Based on the time trial information and what we modelled for the time trial, he is on track, but we are not going to know until after we get out of the Pyrenees.
CN: Who do you see as being the other danger men at this point?
Gloves are off.
Photo ©: Allen Lim

AL: It is hard to say. You look down the GC and it is like, holy cow, this is such a different race. I had expected George [Hincapie] and Levi [Leipheimer] to be closer to the front. I think Cadel Evans is still right in there still. I guess we will see. I don't know how Klöden is going to be climbing, if he has good legs at all… I don't think Gonchar is going to do it, I don't know much about Sebastien Lang but I don't think he is going to do it and I don't think Michael Rogers is going to be climbing. I don't know much about Gustav Larsson from Francaise des Jeux.
I do think T-Mobile is going to be definitely strong. But I don't know, it is such a crazy race. It is hard to know where Basso and Ullrich would have finished. It is going to be so open in the mountains, it is ridiculous.
Gonchar's ride was amazing, a superb time. It was a real cottage of wattage. At best, if Floyd was as fit as he has ever been and everything went perfectly, he was perhaps have got a 1.01'40" or a 1.01'38". So Gonchar's ride [1.01'43"] was pretty cool.
CN: Floyd and the team had a press conference on Monday's rest day, talking about what was to most people a previously unknown hip problem. How significant is that issue for him as an athlete?
AL: It is everything. The hip rules the day. If the hip is good, he can go well but if it is not so good, then it affects him. But I will say is that he is one tough dude. The one thing that injury has given him is a whole lot of mental toughness…the pain of cycling is nothing. He is one strong character.
CN: Will that impact on his chances for the Tour or can he get through it ok?
Floyd Landis
Photo ©: Russell Standring

AL: Yes, he will get through it…he has been through worse. This is fine.
CN: Does it affect his power output?
AL: It can affect his power output. If it is not good, then his power is not good. But when he fights through it, man, he is so strong that it is no problem. I think that he did really smart things in the off season in terms of recovering and resting and that is a lot of the reason for his success. Nursing it. That is why I believe people haven't seen what he is capable of. He has got a lot of great people around him, helping him with this problem and I think that once he gets it fixed, then holy cow… He will be going so well.
CN: Looking at his physiology, how is he different from other riders?
AL: I don't know if he is that different. There is certainly a point in every athlete's career when they hit their peak, their prime. He is definitely hitting that point. But when you look at things overall, aerobically and anaerobically, he is quite similar to the other top athletes. I would say that physiologically speaking, if you compare him to Ullrich, Basso, Lance, they are all very close to each other on a given day. They are all really the same beast. The beauty of the sport is that once you get that engine, once you are dealing with physiology at that level, it is really about the driver; it is no longer about the car.
I think it is about the skill of the bike racer, about the tactical awareness and the mental strength. Floyd is the kind of guy who is razor, razor sharp. He knows everything that is going on around him, he is an exceptional bike handler and racer. He is very, very smart… he knows what his body can handle and how to dish that out. He is good tactically and good day to day, in terms of the living, the travelling and the recovery. He is exceptionally good with eating on the bicycle… he can take in a lot of food on the bicycle, whereas a lot of people may have stomach problems. So one of the differences is that he has a rock solid gut. That intake of energy during a long stage race is really, really crucial.
Floyd Landis in the prologue
Photo ©: Jon Devich

He is exceptionally aerodynamic on his bicycle. He has got a great position which optimises his ability to produce power as well as his aerodynamic factor. He also has a bit of a survival mentality, having done a lot to get to where he is now.
CN: What did you do in the run up to the Tour, as regards your role at the Dauphiné and with his training?
AL: Well, he had a lot of people around him at the Dauphiné, it was largely a team deal. What I was doing was largely related to my work with PowerTap… testing things out and making sure that all of the equipment was working right. For me and PowerTap, this week was a bit of a dress rehearsal for the actual Tour de France.
After that, the goal was primarily to just check out courses and ride bikes. The plan was to check out all the major courses that we think will play an important role in this year's Tour, in order to have a good idea of what is going on there. It was last-minute preparation at that point. There is not so much else you can do in the last couple of weeks. You need to take it easy beforehand to make sure that you are fresh and healthy. The Tour is such a long race that it is not like you want to be going full steam ahead heading into it.
At that point, I think the most important thing for me is just being there for morale and support; there is not too much rocket science involved. It is really more just about maintaining the belief that anything is possible, keeping morale high and going into the race with a really positive and enthusiastic attitude.
CN: Looking at your records of his power output readings, what kind of improvement has he made since last year?
Tools of the trade.
Photo ©: Allen Lim

AL: It is so different, it is like night and day. He made huge gains over the off-season. I think people don't realise that between 2004 and 2005, the off-season was a very difficult one for him for a number of reasons. He got really, really sick in the 2004 Vuelta and that ended up destroying most of his off-season. It took many months to recover from that, so he didn't come into the 2005 season with the same amount of base or conditioning as before. Then in 2005 itself he really brought up his training load significantly, and that was a big adjustment for his body as a whole.
But that higher base of training in 2005 ultimately paid off, and so too [was] the fact that he dropped out of the Vuelta before he got worn out. He had the hindsight that he didn't want to destroy himself at the race because it is so hard to recover from that kind of effort. He pulled out early from the Vuelta and was able to have a very, very consistent off-season.
That was an off-season where he was able to maintain much of the momentum he had created in the 2005 training year. We saw the fruits of that labour as a result. If you take the perspective of comparing one year to another year, there is a big, big difference in the power he can generate. But if you take it day by day and just graph it out from 2005 to this point in time, there has been a pretty solid incremental progression. The important thing is that that those little gains have adopted quite a bit over the course of a year or two years.
CN: You said in the past that perhaps he overcooked it a little bit just before last year's Tour…
Floyd Landis
Photo ©: AFP

AL: Exactly, exactly. But in a sense, that is also what is contributing to his good form this year. He did more training last year than he had done in the past; undoubted he properly came into the Tour a little too hot, but if you look at it, he survived it, he got stronger from it and now we are seeing a lot of the benefits from perhaps coming into last year's race a little bit cooked.
That said, in order to really optimise somebody's training, you need to experiment with overstepping the boundaries at times and knowing exactly what that limit is. His training is definitely not as hard as it was last year, but he is in better condition and in better shape. For a given duration he is generating a significantly higher amount of power. Part of that is down to him not going off and demolishing himself in the same way as perhaps he did last year.
That is not to say that last year is wrong, it is just to say it is all part of a long-term process.
CN: I know they are really different athletes, but if you compare Floyd's pre-Tour preparation to Lance Armstrong's, it is clear there is a very difference approach. He was going extremely well at the start of the year and took victories in three big stage races. Did he back off from that and then build back up again?
The Phonak boys
Photo ©: Trish Albert

AL: Well, I think that winning those early-season races was really quite special, and he was quite fortunate to have those opportunities. But if you look at those races, he primarily won Georgia and California based on his time trial performance, and having a strong team. Examining the power outputs he generated in those races, for a short period of time he could certainly handle a higher intensity than before, which is critical for performances. But overall I don't think that the training loads were any more difficult than the loads he did in previous years.
In fact, if anything, the training and the race preparation were probably lighter and easier than in past seasons. Just because you are winning races, it doesn't mean that your training is all-out at the time. And that is what I think a lot of people misread, in terms of his performance, thinking that he was able to win those races because he was coming into the season with too-high form.
Certainly his form was good, but I don't think that it was necessarily different or exceptional form for Floyd. Again, if you look at the time trial performances and the work by his team, that was the story in California and Georgia. Paris-Nice was basically won by one good day in the mountains.
CN: So are you confident?
Floyd Landis (Phonak)
Photo ©: Allen Lim

AL: I think just because he was strong earlier this year and seems better than last year doesn't necessarily mean he is going to win the race. It is bike racing - there are so many things going on, in terms of tactics, the day-to-day recovery process, not having bad luck, not crashing, not getting sick. There are a lot of things which may play a part, so we will have to wait and see. But he is certainly strong.
If you look at Armstrong's wins, not only was he a spectacular athlete, he was really lucky. The fact is that he never had a devastating crash, he never got sick during the Tour… he had such good luck over the seven years. That in itself is quite a miracle, and shows what is needed.
CN: How do those US Postal years stand to Floyd?
AL: Well, if you look at the amount of work that he did for Lance in the time he was with the team, that makes you an incredibly strong athlete, both mentally and physically. I think some people think that there is an overnight success story here, but it is really something that has been developed over years and years and years of hard work.
If you look back to the 2004 Tour, Floyd had an incredibly strong day in the mountains, mainly because he was allowed to. It was probably one of the first times the team ever said, "hey, let it rip." He was able to do that and show how strong he could be. This is a continuation of that.
Part 2 of this interview is here