Recently on Cyclingnews.com
Jean-Marie Leblanc interview, July 17, 2006
Finally, the race is daring!
By Hedwig Kröner in Gap
The outgoing director of the Tour de France, Jean-Marie Leblanc, is rather happy with the way the last edition of 'his' race is unfolding. Speaking to the former professional cyclist and journalist at the start of stage 14 in Montélimar, Cyclingnews discovered a very relaxed race director, who at 61 years of age is also looking forward to his retirement.
Jean-Marie Leblanc
Photo ©: Hedwig Kroner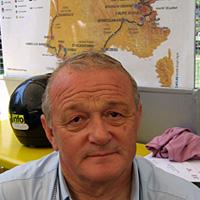 Jean-Marie Leblanc may be retiring after this Tour, but he still has the energy to answer critics. He shot back at some observers who had expressed their surprise at the outcome of Saturday's stage (where new yellow jersey Oscar Pereiro was allowed to gain more than 30 minutes on the stage). "A lot of people, myself included, thought that seven consecutive years of Lance Armstrong's domination at the Tour - apart from his class as a rider - started to get a little long," Leblanc explained. "Then, he retired, and everybody was happy, saying that we were finally going to have an undecided Tour, without real favourites. More so, there have been even less candidates for victory since Strasbourg because Basso and Ullrich aren't there. So you can't be happy about this, and at the same time, when things are really starting to get exciting, say that they [Phonak] didn't make the right choices."
Indeed, this year's Tour de France has already had multiple leaders and is much more open than in recent years. "We have just seen the maillot jaune change shoulders seven times!" continued Leblanc. "At the start of the Tour, I said that the race depended on the imagination and the strategies of the directeurs sportifs. You have to dare, you have to take risks and take initiatives - and today, exactly this is happening, so I'm overjoyed!"
The Tour route
Photo ©: AFP

For Leblanc, who has been in the position of race director since 1989, Phonak's move to leave the overall lead to Caisse d'Epargne's Oscar Pereiro, was not only understandable but also very intelligent. "Of course, there will be only one winner in Paris," he continued. "We will see if Floyd Landis made the right choice. Personally, I think they did the right thing. They don't have a very strong squad - it's good, and united - but they would have penalized themselves in those two stages today and yesterday. The stage to Montélimar was very long, 230 kms and very hot, too. Today, the parcours was hard towards the finish in Gap. So I understand their choice perfectly; it's a good decision."
The new leader of the Tour.
Photo ©: Sirotti

The Phonak leader, according to Leblanc, will be favoured by the upcoming stages, even if he will not enjoy the same team support as his rivals. "Landis is rather good against the clock, even very good," he added. "In Rennes, only Honchar beat him. And he is a very good climber, as he's showed in the Pyrenees. On the other hand, he will be the target of teams like Rabobank, which has Menchov, Boogerd and Rasmussen, as well as T-Mobile, with Klöden, Sinkewitz and Rogers. Whereas he's sort of on his own. So he and his team have every reason to keep their reserves."
Without a strong squad
Photo ©: AFP

Cyclingnews asked if he remembered a similar situation in the past. "There must have been one, but I can't recall it now," Leblanc replied. "It's true that it's rare to see the wearer of the maillot jaune give it away like that. Armstrong did it once, but that was in the first week of racing. The big favourites don't like to get the jersey too soon, because it means a lot of responsibility and pressure for them and even more for their teammates. So all of this really means that Landis is rather confident for the next three Alpine mountain stages and the time trial, and wants to protect his troops.
"Don't forget that the Tour's long, and that it's in Paris that we'll make the bill. That's where we'll see if he was right, or if he was wrong. If Pereiro wins the Tour, it will have been a big flop... but honestly, I don't think so."
Will Leblanc miss the frenzy of the biggest cycling race in the world? "No, I won't miss the Tour, as I won't turn my back on it," he said. "I made up my mind a few years ago to stop at the age of 62, at the end of 2006, so I'm happy with that decision. I chose to depart now, so I don't have any regrets. Moreover, I finish right within the action - I don't have time to dwell on it. In ten days, it will be over - and of course I will get nostalgic on the Champs Elysées, there will be a lot of emotion... But I don't think about that now."