An interview with UCI president Pat McQuaid, July 1, 2006
Operación Puerto and the UCI
What do the Operación Puerto allegations and fallout - such as the exclusion from this year's Tour de France of four of last year's top five - mean for cycling? UCI president Pat McQuaid believes "a black day in the history of the Tour de France" will ultimately leave the sport stronger, and reveals the UCI's role in Operación Puerto.
Pat McQuaid
Photo ©: Shane Stokes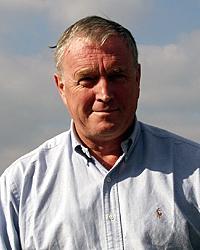 The 30th of June will go down as a fateful day in the history of cycling with the suspension of favourites Ivan Basso, Jan Ullrich and Francisco Mancebo from the Tour de France. Alexandre Vinokourov also found himself heading home after five of his Astana Wurth team-mates were named being implicated in the Spanish Operación Puerto investigaiton. Although the Kasakhstani was not implicated, the rule stipulating that teams must start with a minimum of six riders led to his exclusion from the event.
With Lance Armstrong now retired, the fallout of the latest scandal meant that the first five riders from last year's Tour will all miss the race; consequently, Saturday's start in Strasbourg will be very different than was originally envisaged.
As governing body for the sport, the UCI's stance and direction is of crucial importance. There was a perception during and after the Festina affair that the governing body was often in 'damage limitation' mode. In contrast, current president Pat McQuaid was outspoken about the matter when he spoke by phone from Aigle to Cyclingnews early on Friday. While he stressed that the riders concerned were innocent until proven guilty, he said that if they are shown to be at fault, they will pay a tough price. He also said that if managers are shown to be involved in systematic doping within their teams, they face a lifetime ban from the sport.
"We were involved in tipping off the authorities in Spain about the doctor and the lab."
-Pat McQuaid answers accusations that the UCI has not been proactive in the fight against doping.
Cyclingnews: What is your reaction to what has been going on at the Tour de France today?
Pat McQuaid: Well, my initial reaction is one of sadness, rather than shock. I'm sad that some of our top riders find themselves implicated in a doping affair but, on the other hand, if they are eventually proven guilty then cycling is better off without them - we must insist on a clean sport.
It is not shocking, as such, because it is something that we knew was coming. We have known about this affair for several weeks, I have been down in Madrid and spoken to the Spanish minister about it. We have had indications as to who is going to be involved, and now we have the actual facts.
So now it is a question of clearing up the sport. There have been some courageous decisions taken by T-Mobile to exclude their riders and likewise there were courageous decisions taken by the other teams today to exclude any rider involved in it. It is on the basis of the code of ethics of the UCI ProTour that they are excluding the riders. No riders have been sacked, they have all been suspended until this affair is over.
CN: What does it mean for cycling?
PMcQ: From the sport's point of view and the Tour de France's point of view, it is a disaster that such big names are going out of the race. At the moment, these are only allegations but if these allegations are eventually found to be true, it means that we lose those guys out of the sport. At that point in time, I won't really have much sympathy for them.
Missing in action: Four of the 2005 Tour top five will not start because of fall-out from Operación Puerto.
Clockwise from top left: Paco Mancebo, Ivan Basso and Jan Ullrich have all been suspended, while Alexandre Vinokourov is not implicated but his Astana-Wurth team will not start.
Anybody that gets involved in doping will be found out and is thrown out from the sport. We have the strictest rules of all sports as it is, in relation to the sanctions, and in the ProTour if any of these riders are eventually proved guilty, you could virtually say that their career is over. They will not just get the two years of the WADA code, but they will also get two years extra of the ProTour. So they are facing a four-year sentence out of the sport that effectively will finish their careers.
It is worth remembering that no other sport does what we do. In every other sport in a disciplinary matter they wait until the sportsperson is found guilty before sanctioning. But we - in compliance with the UCI Pro Tour Code of Ethics - can suspend a cyclist once they are implicated in an affair, as in this case. He will stay suspended until the due process is finished
I cannot deny that it will have an effect on the sport, but I have to look at the positive side. It has to be a message to all the other riders in there that no matter how clever you think you are, you will eventually get caught out.
CN: The UCI had a communiqué asking the riders to sign a declaration that they were not involved in the affair. do you know if all the riders signed that declaration?
PMcQ: No, I don't. We requested that of the teams. Some teams did respond back to me saying that their riders had signed it, but not all of them. But I had not asked the teams to come back to me, it was a suggestion or an instruction we give out the teams.we didn't ask them to respond either positively or negatively. But having said that, all of the teams have abided by the Code of Ethics; all of the teams who met this morning at the start in Strasbourg unanimously agreed to abide by it.
Bear in mind also that this isn't just a problem of cycling. We have got this list from the authorities in Spain because we forced the issues. pressure came from the UCI and the French Ministry as well that we wanted this list before the Tour de France. There are also people from other sports involved this affair as well, and in time their names will also come out. So it is not just a cycling problem, it is a sport problem
CN: Can you tell me what other sports are involved?
PMcQ: I have been told athletics, basketball, tennis and football. That will all come out over time. It is not just cycling.
CN: There has been talk of people within the sport being involved in tipping off about this. Did the UCI have a role to play in this?
PMcQ: Yes, we did. We were involved in tipping off the authorities in Spain about the doctor and the lab. We have been in correspondence with the Spanish minister over the past couple of years as regards what we perceived to be a problem in Spain, and asking for his support to look into it. He voluntarily gave his support to us, and said he would work on it.
More recently, we gave him details in March of this year; we got concrete information about the name of the doctor involved and some details of the laboratory. We passed those details onto WADA, because through the World Anti-Doping Code, WADA worked with governments. So we asked WADA to follow-up the Spanish government on that.
I am not for one minute claiming the credit that we started this investigation. This investigation was already ongoing before we passed the information on, but we did give some details. In the future, once again, if I ever get information on people involved in doping practices, then we will provide it to the relevant authorities in the case where it is a situation that cannot be controlled by the normal anti-doping controls.
We will pass it on, regardless how much it might hurt us, because at the end of the day there is zero tolerance here. I am looking at the long-term view in this. If in the short-term we take a hit it is going to be a big one, but in the long-term we will be all the better for it.
CN: There is a two-year ban in place for riders, which translates into a four-year ban from a ProTour team. Is there any possibility that there will be longer bans for team managers who have been shown to have been involved in systematic doping within teams?
PMcQ: You can have that, certainly. You can get them out of the sport for good. We have that [rule] currently in there, as far as I know, and if through the information we are getting we find out that that it [systematic doping] has been happening, you can be sure that the managers concerned will not be involved in cycling any more.
But again I have to state that everything we are dealing with at the moment is allegations. Everybody is innocent at the moment, until we go through a process which proves them guilty. That has got to be stated, clearly. These riders that are being sent from the Tour de France today are being sent home on the presumption of innocence. Because their name is implicated in this report, they have been suspended. But they have not been fired, they will continue to get paid.it is a suspension for now.
CN: Some people have criticised the UCI on this case, saying that it has not been proactive enough. What is your response to this?
PMcQ: Well, when you say proactive, I've already explained to you about the information which we passed on in March. That has been proactive. Now, in relation to the current events, as soon as it happened I went straight down to Madrid to see what could be done and see what information I could glean from both the minister and the authorities down there. I was told that there was a secrecy order on it and I accepted that we would have to wait until such time as the secrecy order was lifted. I put pressure on, saying that I said I hoped it would be before the Tour de France.
As I got closer to the Tour and there was evidence that it was not coming out, we put more pressure on again. I was in regular contact with the minister, putting pressure on him to try to seek the list of names. So too the minister in France. And eventually that is what happened, the information came out.
Once stuff started being leaked to the papers, and particularly over last weekend when people were saying the whole file or a large portion of the file was leaked to the paper, it got a bit absurd at that stage that we couldn't get the information, yet the media could get it. So serious pressure came on the Minister on Monday and Tuesday from a variety of sources, including the UCI. And that is how the list came out, as a result.
CN: Did that make things difficult, in that the press had the information before you did?
PMcQ: Absolutely. It was an absurd position that we were put into. Not just us, but the minister as well. he didn't have the information either, and yet the press did. I have seen since that the judge in charge of the investigation has now started an internal investigation into how the stuff was leaked. But it put us in a very difficult position, because we could not act unless we had actual official information. And we only got that at 10 o'clock last night.
CN: Under the new criminal code that is being brought in in Spain, can riders be imprisoned?
PMcQ: Yes. The same as Italy and France, charges of sporting fraud will be laid against riders and they can be jailed for it. It only went through the last passage in government yesterday, and won't come in until late in the year. It won't be retrospective in relation to this situation.
CN: So it will only concern those riders implicated in doping affairs which occur after it is formally introduced?
PMcQ: Yes.
CN: Vinokourov hasn't been named in this investigation, he hasn't been listed as one of the riders concerned. If this team is prevented from starting, is there any possibility that a rider in that situation can transfer to another team before the Tour?
PMcQ: It is something that we would look that. I personally believe that it would be a great shame if he did not take part in the Tour, because he is completely innocent of any of these allegations. It would be a shame if he could not take the start because of what anybody else has done.
CN: You said that you cooperated with WADA on this, passing information to them. Given what has happened today, does this make things more difficult in your relationship with WADA or does it bring the organisations closer together?
PMcQ: I think it needs to be made very clear that there is, always has been and I hope always will be excellent cooperation between the UCI and WADA. On a working basis, from one organisation to another, we are on the same wavelength. We have worked together closely and always will.
On the top level, with Mr Pound, that is another story. That is about personalities and politics, and I believe that some of the things he says are very detrimental to the sport and which are not reality. But in terms of working on the ground, we work very closely with WADA. Our lawyer is on the law committee, our doctor chairs up the medical committee, so we are closely involved with them and we will continue to be. We will keep on passing information to WADA which we think will help in the fight against doping; I will always do that.
CN: In terms of what happens after this, do you think there will be closer collaboration with governments and police forces in the future?
PMcQ: There will be, there will be. Because the UCI and international federations cannot, on their own, win the fight against doping. There needs to be collaboration with governments and there needs to be collaboration with police, because the police can go much further with their investigations into something like this than international federations can. This particular situation is proof in case of that. So that will continue in the future, and will grow and grow.
Doping in sport is not just the responsibility of those involved in sport. It is society's responsibility, it is the responsibility of the people who watch sport, support sport, who fund sport; it is everybody's responsibility, and from that point of view it needs governments and police authorities to assist in the fight against doping.
That will continue to be the case, going forward. I see things getting better and better because as soon as we get information, we can pass it on to the authorities. They investigate it and we know where we are going from there. That can only improve the situation.
CN: What are you expecting from this year's Tour?
PMcQ: Today is a black day in the history of the Tour de France, but the 2006 Tour de France starts tomorrow afternoon and regardless of the fact that several favourites have gone out of it, I think it is going to be a wonderful race, it is going to be a sporting race. As a result of what has happened here today, I think the public can look at the Tour de France and know that every rider in there is riding honestly and in the correct fashion. That means a lot to the credibility of the Tour and the credibility of our sport.
I believe there will be some great battles throughout the Tour, because there is still going to be 190 riders at the start, or whatever. They will battle away day-in and day-out, and there will be some wonderful moments. it will be a wonderful Tour de France, with the new winner and everything.
CN: Finally, if 22 riders are excluded as has been suggested, can they be replaced before the race starts?
PMcQ: No. The AIGCP have taken a decision that the excluded riders won't be replaced. I don't think it is as many as 22 riders, either. I think you would probably be looking at perhaps a dozen, in total.