An interview with Oscar Pereiro, July 19, 2006
It's not over yet
Oscar Pereiro (Caisse d'Epargne) lost the yellow jersey to Floyd Landis on L'Alpe d'Huez yesterday, but regained it in spectacular style by placing third in today's stage to La Toussuire after Landis cracked. Now the Spaniard has a 1'50 lead on GC, but will it be enough? Hedwig Kröner reports on the drama from La Toussuire.
Oscar Pereiro (Caisse d'Epargne)
Photo ©: Roberto Bettini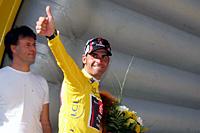 Q: Did you imagine that you could get this jersey back or is that a surprise to you, as it is for us?
OP: For sure, it's a surprise, as we all thought this morning that if all went normally, Floyd would still have the jersey. But he is not immune to having a bad day, either. Somehow, I just felt in the Galibier, that it would be a good day for me. That's why I asked my teammate Xabier Zandio to ride for me, to finish where we are now.
Q: Do you now believe that you can win the Tour?
OP: I think I have a good chance - maybe not to win the Tour, but to get on the podium. There is also the possibility to win it, but in a crazy Tour like this is, we have to take things day by day. This morning, we thought that Floyd was the strongest rider, but he then had an off-day today and lost a lot of time. But we've overcome a decisive day, and if all goes well tomorrow, maybe then I can think about it.
Q: Do you think that Phonak and T-Mobile made a mistake in giving you so much time the other day?
OP: For sure. It's true that when I came to the Tour, I was supposed to help Alejandro Valverde. But I felt good right from the start, and I really wanted to use the opportunities that I had to make another Top 10 finish in Paris, or even better, the Top 5. Then, I had a really bad day like Floyd did today - and I told my teammates that evening that I was going to try to win a stage. In the case of Phonak, it wasn't really a mistake, because they needed another team to work. But it probably was for other teams, because they didn't count on me for the race. But that's the way it goes in a race.
Sprinting to for the line
Photo ©: Sirotti

Q: How does it feel to wear the maillot jaune?
OP: I think it's really every rider's dream. It's even greater because there's only a few more days to go and then we'll be in Paris, already. On one hand, it's clear that it's really a responsibility, but on the other hand, it's also a relief. We came to this Tour with Alejandro (Valverde), and after what happened to him, I'm really going to give everything that I have. Whether that's me or my teammates - the team managers know that we will give everything to get that jersey to Paris.
Q: In Gap, (Phonak team director) John Lelangue said that if he let you go in the break to Carcassonne, it was because he knew your qualities in the high mountains. Now, does that mean he doesn't know you well enough?
OP: Well, yes. Let's not forget that I won the queen stage in the Tour de Suisse and one high mountains stage in the Tour de France. In addition, I came to this Tour weighing two kilos less, and that also counts.
Q: You know Floyd very well. Did you have any sign during the stage that Floyd might not have a good day? Are you shocked at how severely he cracked today?
OP: I didn't realize this until the very last climb to La Toussuire. I'm really sad for him, as I honestly would have liked to see him up front at the Tour. I don't know what happened to him. Maybe he had a hunger knock, I don't know. But I can assure you that I would never would have been the first to attack him; he's a friend. Thanks to him, I rode the Tour before, and I owe a lot to Phonak.