Recently on Cyclingnews.com

Diary of a domestique - Wilfried Cretksens at the Tour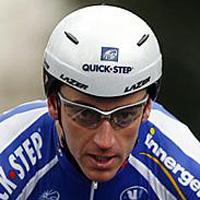 Wilfried Cretskens
Quick.Step-Innergetic's Wilfried Cretksens is one of the team's key domestiques for not just the Tour de France, but many other races. It's his job to bring back breakaways after they've gained many minutes, involving hours of hard labour. The reward? A victory by one of his teammates, most likely Tom Boonen.
July 5, 2006: What I do
Most people who read this on CN might lift an eyebrow when they see my name. It doesn't bother me that I'm not that famous worldwide, because that's not my goal. I've got an assisting position in the team, so the others are more in the picture of course. People who need to know, they know; and that's what's most important to me.
Some people compare me with Wilfried Peeters (current coach of the Quickstep team, and lieutenant of Johan Museeuw). Comparisons are something I dislike; I'm Wilfried Cretskens and that's it. You can't compare all those careers, and it doesn't make sense either. I know that Peeters and I didn't win much. But if I get some good results, that's never intended to be like that. I just do my job; and if I'm still in the front at the end, that's just alright. At the end of the year, there are some smaller races where I get a free role. Then I can race in a different way; and of course, that's great fun!
Yesterday's stage was a hard day at the office for me. I had to work in the front of the peloton for almost 120 kilometres, we needed to control the breakaway. When my work was done, we were hitting some hills; that's where I let the peloton go. I finished in Esch sur Alzette almost ten minutes behind the peloton, but that doesn't bother me. It's not the purpose to waste my energy, so I rode easily to the finish. My objective is to bring the team leaders in the best position into the final. I haven't got GC ambitions. The breakaway was caught, but Tom (Boonen) didn't win. We will keep trying to bring him (Boonen) in the ideal position into the final. When he's there on the perfect spot, we all know that he can win. If it's not tomorrow, then it will be the day after tomorrow. Of course, we need some luck to succeed in our mission. We just know that a victory is not far away.
For me, until now I'm feeling alright and today's stage going to be another day at the office.
Often, you don't have time to think back about the past stages. It was very busy and hectic; and I had lots of work to do. Not everything went 100% like we wanted. But of course, in a bunch sprint, winning and losing are very close to each other. The team remains highly motivated and I think we will win a stage one of these days. Besides those team sores, the atmosphere on the course of the Tour de France is really great. I think it might even get better when we get on the Cauberg and ride through Belgium on Wednesday.
Everybody probably heard about the PMU-hand that hit Hushovd in the sprint. I'm probably lucky that I mostly don't need to search for space near the barriers at the finish!