An interview with Andreas Klöden, July 22, 2006
"Now, I'm hungry for more!"
It was an important day for T-Mobile's Andreas Klöden: at 2'29 behind Oscar Pereiro, the German's goal was to transform his fourth overall placing into third and hop on the podium again in Paris. Many did not believe this was going to be possible, but Klöden proved them wrong: "They underestimated me," was his blunt answer after the race in Montceau-les-Mines. Cyclingnews' Hedwig Kröner waited for the close friend of Jan Ullrich at the finish of the Tour's last and decisive time trial, and found out about Klöden's feelings after this brilliant feat.
Andreas Kloden (T-Mobile)
Photo ©: Sirotti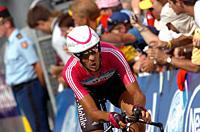 Q: Today's second placing behind your teammate Gonchar, as well as your podium spot in Paris must make you feel very happy.
AK: Yeah, I'm overwhelmed! After the difficulties I had this spring, and the setbacks in the Alps, it's great to perform so well in the last time trial. My team always believed in me; they motivated me yesterday, and this morning. They told me I could do it - now, I'm really happy I did.
Q: Were you informed about the intermediate times - did you know you'd jump on the podium during the race?
AK: I actually asked my directeur sportif Valerio Piva not to give me any times during the first 25 kilometres, as that would have only driven me crazy. When he started giving me the times, I was already 1'30 ahead of Sastre. Of course, that motivated me a lot, and I had Serguei's times as well for orientation. In the end, I had Cadel Evans in front of me, so that pulled me again. It certainly was one of my best time trials ever.
Q: Team T-Mobile also won the teams classification with only seven riders. Where did you get that morale from, after the difficult times in Strasbourg?
AK: The first week was hard for us mentally, and then we decided to fight. Jan can be proud of this team, because it was supposed to be there for him initially. All of us seven guys were top fit, and we would have won the Tour de France with him, for sure.
Q: Did you believe that you would achieve a podium placing before the stage?
AK: I did ride a relatively good time trial in 2004. I knew I could do it, I knew everything would have to go perfectly for me, and my rivals would have to have a bad day - just like I did in the last day in the Alps. I really didn't expect it to happen; I just wanted to give my best. And the fact that Carlos Sastre lost some time was bad luck for him, but it made my day.
Q: Did you have a strategy laid out to shock the others and ride the first part of the TT flat out?
AK: In the beginning, I had good intermediate times with Serguei: I was about ten seconds behind him, then 20... I knew I had to take his times as a reference because I thought it would be the winning time from the start. The fact that I even beat Floyd Landis in this time trial makes me even more happy, but I sort of have mixed feelings right now. It's great that I jumped on the final podium, but if we would have had a better tactical performance, the second placing would have surely been doable.
Q: What was the part of your team in this result?
AK: Well, it wouldn't have been possible without them. We have been criticized a lot, but as you can see now, our strategy was right. Everybody did their job, also in the mountains, when I had a bad day. I completed the team's result; this podium placing belongs to all of the team.
Q: What were your thoughts on the course?
AK: It was a good one, which suited my abilities. Not too hard, not too easy. In the end, it was all about your reserves, and I had those today.
Q: Do you still think about that bad day in the Alps, or is that just over now?
AK: No, not really. But we could have had it much easier if we hadn't given Oscar Pereiro 30 minutes, but just two. Then, I would have ended up second. Still, I'm happy with my third spot, and we won the teams classification. Plus, my team and I realized that I have the potential to win this race.
Q: How important is this for you, looking back at all your injuries and your second placing in 2004?
AK: It's pretty important, for sure. After all of these setbacks I had in my career, I can be proud of what I have achieved with my talent and my work, as well as with my trainer and everybody else who supported me. Now, I'm hungry for more as I've been able to have a go at the victory.
Q: So that is your goal for next year?
AK: Well, I would be lying if I said that I'd like to become fourth or third again next year... I know that I can be up front in this race, and that I can beat my rivals. Congratulations to Floyd Landis - he had a bad day, too, and came back - as well as to Oscar Pereiro, who really fought hard in the Alps. That just goes to show that you shouldn't let somebody like him come back...
Q: Which team will you ride for next year?
AK: I don't know yet. [Klöden's contract runs out at the end of the season - ed.]