Recently on Cyclingnews.com
93rd Tour de France - ProT
France, July 1-23, 2006
A classic, cautious 93rd edition for 2006 Tour de France
By Tim Maloney, European Editor in Paris
Le Tour 2006
Photo: © ASO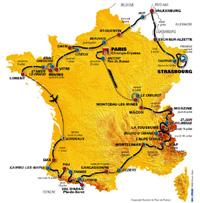 On midday Thursday at Paris' Palais des Congres, the official route of the 2006 Tour de France was unveiled. A classic course according to veteran Tour experts, but also one of the hardest in recent years, the 93rd edition of La Grande Boucle follows an anti-clockwise direction around France, the 20 stages covering some 3,600 kilometres including nine flat stages, five mountain stages, four medium mountain stages and two individual time trials.
ASO President Patrice Clerc opened the proceedings for the big reveal of the 2006 Tour de France with some pointed comments about the race, explaining that, "We want a clean sport, without suspicion and one that conforms to the basic values of sport." Clerc also announced that before the '06 Tour, WADA would be increasing the number of out of competition testing for the Tour de France riders. "A lot of work has been done by the UCI up to now", stated Clerc, "But more needs to be done."
Clerc also addressed the recent changing at the guard at the UCI by saying, "We believe that we need to respect the basic values of the sport of cycling and the ProTour has not done that. That's why the Grand Tour organizers have chosen to stay out." But Clerc left the door open to working with new UCI President McQuaid, saying, "We still think (the Grand Tour organizers) and the UCI can find a way to work together."
Once Clerc finished, it was the turn of Jean-Marie Leblanc to say some goodbyes, for after 16 years at the helm, Leblanc is leaving his post and will be replaced by Christian Prudhomme, a former television journalist who has already been integrated in the Tour de France management team for several years. After first beseeching riders and team doctors and managers to not try and fool the race organizers by doping, Leblanc then chose to snub seven time Tour winner Lance Armstrong by ignoring him in his remarks about his special memories over his decade and a half of running the Tour. Contemporaneously, a somewhat ambiguous editorial posted on the Tour's website and signed by both Leblanc and Prudhomme, saying, "On the 24th of July we turned the page on a long, very long chapter in the history of the Tour de France. And one month later, current events made it clear to us that it was just as well that this was so." Armstrong was also conspicuously absent from much of the seven-minute highlight film of 2005's Tour that opened the day's Tour presentation.
The new boss:
Photo ©: AFP

In his remarks before revealing the 93rd Tour parcours, Prudhomme continued to echo Clerc and Leblanc's ambiguous, negative comments, obviously aimed at Armstrong sotto voce. Prudhomme opened by saying, "The worst thing in sport today is suspicion. We can never get rid of doping in sport, but to eliminate suspicion is certainly possible." But no matter how ASO officials spun it today, even though seven time winner Lance Armstrong is now retired, and the era of American domination on Le Grande Boucle is at an end, Big Tex still casts a the long shadow on Le Tour and not the negative, ambiguous one the Tour de France organizers seem determined to portray. The question today on most people's lips was, "What will the Tour de France be like without Lance Armstrong?"
The parcours
Once ASO's polemics were concluded, Prudhomme explained that the Grand Départ would happen on July 1 in Strasbourg in eastern France with a prologue of 7 kilometres around the attractive capital of the Alsace region, one of the homes of the European Parliament. The Strasbourg prologue will finish early on Saturday, at about 16h30 so as not to interfere with a World Cup quarterfinal soccer match being played later that evening in Germany. The 3,639 km Le Tour 2006 has nine new stage towns: Obernai, Saint-Grégoire, Saint-Méen-le-Grand, Cambo-les-Bains, Pla-de-Beret, Montélimar, La Toussuire, Saint-Jean-de-Maurienne and Antony. In a surprise to many observers, Tour organizers have done away with the team time trial for 2006.
Crowds flock to the start of stage 4 in Huy
Photo ©: Sirotti

Sunday's Stage 1 flat sprinters' stage starts and finishes in Strasbourg, with a 30km incursion into Germany midway through the stage. After a weekend in Alsace, Phase 1 of Le Tour 2006 gets underway, as Le Tour heads in a counter-clockwise direction, first heading due north to for Stage 2 to finish in Esch-sur-Alzette, Luxembourg. Stage 3 to Valkenburg, The Netherlands is a look back at the spring classics as the race route passes over the Haute-Levée ascent from Liège-Bastogne-Liège and then in the finale, the Cauberg of the Amstel Gold Race, finishing two kilometres later. Stage 4 continues Le Tour's homage to the spring classics by starting in Huy, home of the Flèche Wallonne and finishing in Saint-Quentin, where Paris-Roubaix route passes without fail each April. Then it's a long haul due south from Beauvais across Picardy and into Normandy to finish in Caen, home of the famous tripe dish beloved by French gourmands.
Then Le Tour heads into the deep bocage for Stage 6 to Vitre, before Saturday's Stage 7 ITT of 52km on the flat country roads from Saint-Gregoire to Rennes, a stage that should shake up the status quo of the 93rd Tour de France. Phase 1 concludes with Stage 8, that starts in the tiny village of Saint-Méen-le-Grand, birthplace of three time Tour winner Louison Bobet, races across the twisting roads of Brittany through the site of the 2000 World Championships Plouay to finish in the port city of Lorient. Post-stage 8, the riders will make a 45 minute air transfer to Bordeaux for rest day #1 on Monday 10 July.
Le Tour 2006's Phase 2 tackles the Pyrenees Mountains after a flat transitional stage through the piney woods of Les Landes to Dax. Only two Pyrenean stages are on Le Tour's menu in 2006. Stage 10 commences in the first time Tour start of Cambo-les-Bains and heads across the Atlantic Pyrenees over the Col d'Osquich, Col du Soudet and Col de Marie Blanque to finish in Pau almost 50km later. Stage 11 kicks off in Tarbes, then gets serious right away after 76km with the Col du Tourmalet, then tackles the Col d'Aspin, Col de Peyresourde and Col du Portillon. Then it's into Spain for the last 40km of the stage that will finish atop the Val d'Aran/Pla-de-Beret ascent to 1,860m, a long drag of 13.5 km at a 5.4% average gradient.
Morzine
Photo ©: Jon Devich

France's national day July 14th will be celebrated by Le Tour's peloton on a 211km romp from Luchon to the walled city of Carcassonne, then the next day is a long, flat and likely hot slog of 231km from Beziers to the nougat city of Montélimar. Then Le Tour's Phase 2 wraps up with Stage 14's twisty, tough stage from Montélimar to Gap over 181km, with the Col de la Sentinelle just 10km from the finish. After a well deserved Rest Day #2 on Monday July 17 in Gap, the remaining riders of the 2006 Tour de France begin the third and final phase of the race, with three challenging Alpine stages, a transition stage heading west towards Paris and a rolling time trial before the final stage to Paris.
On Tuesday, July 18 the Tour's 187km Stage 15 departs Gap and heads to l'Alpe-d'Huez via the Col d'Izoard and its famous rock formations of Le Casse Desert, then the Col du Lautaret before the 13.9km, 7.9% average gradient ascent to l'Alpe d'Huez. July 19's Stage 16 from Le Bourg-d'Oisans, at the foot of l'Alpe has a second consecutive mountaintop finish in the first-time Tour stage at La Toussuire, via the easier west side of the Col du Galibier up to 2,645m., the highest point of the '06 Tour. Stage 16 then heads up the Col de la Croix-de-Fer, the seldom climbed Col du Mollard, to then finish for the first time in La Toussuire, a difficult ascent of 18.4 km at 6% average to 1,690m.
Le Tour's crucial Phase 3 still has much more pain in store for its remaining riders, as Thursday July 20's Stage 17 from Saint-Jean-de-Maurienne to Morzine over 199km with five difficult rated climbs on the menu shows. After an initial 65km approach to Col des Saisies, Stage 17 then heads across the spiky summits of the Chaîne des Aravis with first the Col des Aravis and then the Col de la Colombière back to back. Stage 17 then dives down to Cluses, climbs over the Côte de Châtillon with the daunting 11.7 km, 8.7% average ascent of the Col de Joux-Plane awaiting after 175km of racing. After Joux-Plane, where Lance Armstrong cracked in 2000, it's a wild plunge to the finish in Morzine.
Another of the groups makes its way up L'Alpe d'Huez
Photo ©: Jon Devich

After Friday's 193km transition stage from Morzine to Mâcon, Saturday, July 22's rolling Stage 19 ITT over 56km from cookwear capital Le Creusot to Montceau-les-Mines could decide Le Tour 2006 once and for all. The 93rd edition of the Tour de France wraps up after a transfer back to the Paris region with the traditional final stage, this time from Antony (Parc de Sceaux), just south of Paris to finish on the Champs-Elysées after 152km. With Lance Armstrong absent, the 2006 Tour de France will be a wide open affair. Certainly T-Mobile's Jan Ullrich can be considered a favourite, but the German will have battle CSC's classy Italian Ivan Basso, tough Kazakhstani Alex Vinokourov of Liberty Seguros and plenty of other ambitious Tour riders like Americans Levi Leipheimer (Gerolsteiner) and Floyd Landis (Phonak).
The Stages
Prologue - July 1: Strasbourg ITT, 7 km
Stage 1 - July 2: Strasbourg - Strasbourg, 183 km
Stage 2 - July 3: Obernai - Esch-sur-Alzette (Luxembourg), 223 km
Stage 3 - July 4: Esch-sur-Alzette - Valkenburg (Netherlands), 216 km
Stage 4 - July 5: Huy (Belgium) - Saint-Quentin, 215 km
Stage 5 - July 6: Beauvais - Caen, 219 km
Stage 6 - July 7: Lisieux - Vitré, 184 km
Stage 7 - July 8: Saint-Grégoire - Rennes ITT, 52 km
Stage 8 - July 9: Saint-Méen-le-Grand - Lorient, 177 km
Rest Day - July 10: Bordeaux
Stage 9 - July 11: Bordeaux - Dax, 170 km
Stage 10 - July 12: Cambo-les-Bains - Pau, 193 km
Stage 11 - July 13: Tarbes - Val d'Aran/Pla-de-Beret (Spain), 208 km
Stage 12 - July 14: Luchon - Carcassonne, 211 km
Stage 13 - July 15: Béziers - Montélimar, 231 km
Stage 14 - July 16: Montélimar - Gap, 181 km
Rest Day - July 17: Gap
Stage 15 - July 18: Gap - L'Alpe-d'Huez, 187 km
Stage 16 - July 19: Le Bourg-d'Oisans - La Toussuire, 182 km
Stage 17 - July 20: Saint-Jean-de-Maurienne - Morzine, 199 km
Stage 18 - July 21: Morzine - Mâcon, 193 km
Stage 19 - July 22: Le Creusot - Montceau-les-Mines ITT, 56 km
Stage 20 - July 23: Antony (Parc de Sceaux) - Paris Champs-Elysées, 152 km
The mountains
Stage 10 - July 12: Cambo-les-Bains - Pau, 193 km

Km 50

Col d'Osquich

500 m

6 km at 5.3 percent

Km 101.5

Col du Soudet

1,540 m

14.7 km at 7.3 percent

Km 148

Col de Marie Blanque

1,035 m

9.3 km at 7.7 percent

Stage 11 - July 13: Tarbes - Val d'Aran/Pla-de-Beret (Spain), 208 km

Km 76

Col du Tourmalet

2,115 m

18.4 km at 7.7 percent

Km 106

Col d'Aspin

1,489 m

12.3 km at 5.2 percent

Km 137

Col de Peyresourde

1,569 m

9.5 km at 7.1 percent

Km 162

Col du Portillon

1,320 m

7.9 km at 8.4 percent

Km 205

Pla-de-Beret

1,860 m

13.5 km at 5.4 percent

Stage 15 - July 18: Gap - L'Alpe-d'Huez, 187 km

Km 86

Col d'Izoard

2,360 m

14.2 km at 7 percent

Km 134

Col du Lautaret

2,058 m

12.1 km at 4.4 percent

Km 187

L'Alpe d'Huez

1,860 m

13.9 km at 7.9 percent

Stage 16 - July 19: Le Bourg-d'Oisans - La Toussuire, 182 km

Km 45.5

Col du Galibier

2,645 m

42.8 km at 4.5 percent

Km 127.5

Col de la Croix-de-Fer

2,067 m

22.7 km at 7 percent

Km 147.5

Col du Mollard

1,638 m

5.8 km at 7 percent

Km 182.5

La Toussuire

1,690 m

18.4 km at 6 percent

Stage 17 - July 20: Saint-Jean-de-Maurienne - Morzine, 199 km

Km 82

Col des Saisies

1,650 m

14.9 km at 6.4 percent

Km 108.5

Col des Aravis

1,498 m

5.9 km at 7.3 percent

Km 133.5

Col de la Colombière

1,618 m

11.8 km at 5.9 percent

Km 160.5

Côte de Châtillon

735 m

5.1 km at 4.9 percent

Km 187

Col de Joux-Plane

1,700 m

11.7 km at 8.7 percent