Oscar Pereiro interview, August 2, 2006
Starring from the second row
Oscar Pereiro's second place in the Tour came as a surprise to most, including the rider himself, despite his two previous top-ten positions. An opportunistic escape on stage 13 put him into the yellow jersey, which Pereiro fought hard to keep. If Floyd Landis is found guilty of a doping offence then Pereiro will inherit the win, a situation that does not excite the Spaniard. Hernan Alvarez Macias spoke to Pereiro about the Tour, the Landis situation and his plans for the rest of the season.
In the maillot jaune
Photo ©: Sirotti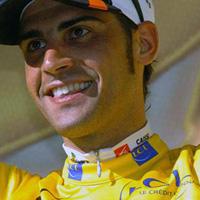 The French air agrees with Oscar Pereiro (Caisse d'Epargne - Illes Balears), even though he is Spanish and he obviously feels at home on French roads. Pereiro demonstrated that he was born to shine in the Tour de France. He finished second overall, narrowly behind the winner Floyd Landis (Phonak). He also wore the maillot jaune for six days, including the second rest day in Gap.
"I hope the A sample doesn't prove to be right. I hope I can stay in second place with Landis first."
- Pereiro doesn't want to win the Tour by default
It is not by chance that Pereiro has appeared prominently in the last three Tour TV highlight reels. He performed strongly in the 2004 Tour, finishing tenth. In 2005 he improved, not only by finishing tenth overall in Paris but by also winning stage 16 in Pau. He also finished second on stage 15 in Saint-Lary behind the USA's George Hincapie.
If Floyd Landis's B sample proves that the American doped in the Tour, Pereiro will be crowned the 2006 Tour de France winner. Landis could be the first winner to be disqualified, handing Pereiro the win - albeit without receiving the precious dark cup on the Champs-Elysées. The Spaniard showed this year that the leader's jersey suits him. On the rest day in Gap he was still wearing it and was happy to pose for photographers.
After three exhausting weeks around France (and also the Netherlands, Luxembourg, Spain and Belgium), Pereiro got back to his home town of Mos in the northern Spanish region of Galicia. Cyclingnews caught up with him a few days after the Grande Boucle when the Landis affair was already underway.
In yellow after his long escape
Photo ©: Roberto Bettini

"We, the team [Caisse d'Epargne - Illes Balears], went to the Tour very excited, but what happened to Alejandro Valverde in Valkenburg [he broke his collarbone in a crash on stage 3, ed] changed the plan a little bit," said Pereiro "My team supported me a lot." When asked about the beginning of the Tour he added, "our plan A was to support Alejandro [Valverde]. I was prepared to follow that plan."
Pereiro fooled everyone on stage 13 to Montelimar, which was the longest stage of the race. That day he got into the right breakaway with four other riders and finished second behind Jens Voigt. More importantly, he became the race leader a little more than a week to the Paris finish. Asked about if that breakaway was crucial or not for his second place he said, "Yes and no. It was crucial because on that breakaway I could [open] the gap and get into the top positions [on GC]. [The breakaway] wasn't crucial because I had to maintain a great level [of effort anyway] to stay in the first few places on GC."
Landis recovered the maillot jaune thanks to a sensational mountainous day for him on stage 17 and a very good time trial at stage 19, "Landis did a great stage [on stage 17]," said Pereiro. "He got the breakaway at the right moment. We as a team did well, we stayed together."
Pereiro couldn't quite hold the jersey
Photo ©: Sirotti

Floyd Landis and Oscar Pereiro became team-mates at Phonak in 2005 when the American moved from US Postal Service to the Swiss outfit. When asked about how Floyd Landis was as a person and as a rider, Pereiro said, "He is a 10 as a person. He is a friend of his friends. He is also a very good team-mate. And as a rider he is very good. He has showed this in the Tour de France."
The Landis situation was the main topic of discussion, "I hope the A sample doesn't prove to be right. I hope I can stay in second place with Landis first place and Kloden the third one. I actually prefer to remain with that podium. However, we all want a clean sport and the ones who use doping substances must be punished."
It wouldn't be the same for him to be named 2006 Tour de France winner if Floyd Landis samples are both positive, "It is certainly not the same," said Pereiro "One would have liked to receive the prize in Paris after the race. It is not the same - it doesn't have the same flavour." The Spaniard said that he hasn't spoken to Landis in the last few days.
Everyone who watched the Tour could see Pereiro was very happy with his second final position, "The truth is that I was happy," said Pereiro. "I hope [Landis and I] can still be friends."
Victory at last
Photo ©: AFP

Pereiro's performance in this year's Tour came as a surprise to most people, including the rider himself. "I didn't expect to be in the top GC positions and to wear the leader jersey on those days." he said. "I really didn't."
It has been a long time since a Spaniard really had chances to win the Tour. Joseba Beloki and Igor Gonzalez de Galdeano were fighting on the front on recent years but no Spanish rider has really come as close as Pereiro to the overall win, "I was very proud of that," said Pereiro. "Yes, the truth is that Beloki reached the podium but he was very far from Lance Armstrong's time. I am glad that Spanish cycling is back on top [as it has been before]."
After his two tenth places, his stage win and now his second place overall in the Tour, the French race obviously suits the rider from Galicia. When asked why France suits him so well he said, "I actually don't know. I really don't know why this race fits me so well. It is a race that demands a lot of endurance throughout 21 days."
Pereiro stops the clock
Photo ©: Sirotti

Riders in the yellow jersey can feel enormous pressure, however, the jersey can also motivate the wearer, "It was a motivation for me, no doubt about it," stated Pereiro. "When I wore it I was really happy; it wasn't at all a pressure for me. It felt very good to wear the yellow leader jersey. If I could, I would wear it for 21 more days next year!"
This year's Tour was one of the most exciting and attractive in recent years. It was very open and with many changes of lead, "To be honest with you, the reason it was so open was because there were five elite riders [Jan Ullrich, Ivan Basso, Francisco Mancebo, Alexandre Vinokourov and Lance Armstrong] who didn't compete. We, who fought for this year's Tour, were second-row riders in the teams. That is why it was so close and with so many changes of lead."
Pereiro is currently training near his home town, "I am preparing myself for the Vuelta [a España] that starts in four weeks," said Pereiro. "I feel good and in good shape for that race. I hope I can prepare myself to be in good shape so I can do a good Vuelta. We have a good team."
Last day in yellow in 2006?
Photo ©: Sirotti

At the Spanish tour, he will be carefully watched by everyone after his excellent performance in France, "Yes, after the Tour I did there will be many teams that will watch me and keep an eye on me during the race," said Pereiro.
After the Vuelta, the world championships are the next stop. This year the road race takes place in Austria's mountainous region near Salzburg, "I would like to ride the worlds, that's for sure. I am willing to ride for my country in a team with so many good riders with a chance to win. The Spanish will be among the favourites."