Latest Cycling News for July 6, 2007
Edited by Bjorn Haake
Vinokourov on Ferrari
By Gregor Brown
Vino enjoys his first day
Photo ©: Luc Claessen

The Tour de France starts tomorrow in London and Alexander Vinokourov is considered the number one favourite but yesterday the Kazakh was drilled for his involvement with Doctor Michele Ferrari.
"I search for the best," he said of his relationship with the Italian preparatore. "A lot have talked well of him. Look at the facts. The seven victories of Lance Armstrong at the Tour are a result of his collaboration. Armstrong was super, also Ferrari."
Vino continued in an interview with La Gazzetta dello Sport, explaining that he has always found Ferrari's methods acceptable. "I have not found anything illegal. Ferrari was never condemned in Italy. Ferrari does not mean doping. I chose him as a physical trainer, not chemical. With him I do hard work, specific, personal."
The 33 year-old was forced to distance himself from Ferrari due to his Astana team. "We have a code of ethics and I respect it. ... However, Ferrari is not my doctor but my trainer. Doctors and trainers are complementary jobs but diverse.
"He gave me a good strength base test. ... At times, with Ferrari, it is like the Soviet Union times with how we do training; three times a day, the first in the morning without breakfast."
Vino commented on his former teammate Jörg Jaksche's recent confessions. "Who is he, in exchange for 100 thousand euro, you would not only make confessions but inventions."
Coming up on
Cyclingnews will cover the 60th edition of the Dauphiné Libéré live as of stage 4 on Wednesday, June 10, at approximately 15:00 local Europe time (CEST)/ 23:00 Australian time (CDT)/ 9:00 (USA East).

WAP-enabled mobile devices: http://live.cyclingnews.com/wap/

Racing starts tomorrow and Vinokourov is ready to put the past year behind him and vie for the Maillot Jaune. "Last year I was stopped from racing because the Tour took out five riders from my team for Operación Puerto and then there was no longer the allowed limit of riders remaining with the four of us. Then I won the Vuelta. This season I lived for the Tour de France. And I am ready."
Armstrong slams Prudhomme
By Gregor Brown
Seven-time Tour de France winner critisied Tour Director Christian Prudhomme for his actions regarding Bjarne Riis. The Texan referred to the Frenchman as a "hypocrite" for wanting to take away Riis 1996 Tour jersey following the Dane's confession to doping during the same year.
"The hypocrisy of certain directors irritates me," Armstrong said, according to La Gazzetta dello Sport. "After the confession of Riis, Prudhomme asked for the return of the yellow jersey. Why did he never ask Virenque for his polka-dot jerseys? To Thévenet for his two yellow jerseys? The family of Anquetil for his five yellow jerseys?"
In his confession on May 26 the Team Manager of CSC stated, "My yellow jersey is in a box in my garage at home. You can come and collect it. What matters to me are my memories."
Over the last month pressure has been put on Riis by the ASO, including its president Patrice Clerc saying that the former Tour winner was not welcome at this year's event. In a press release yesterday Riis distanced himself from the Tour for the sake of his team riders.
"I have chosen not to be actively involved in this year's edition of the Tour apart from the obligations I have towards my sponsors," stated Riis. "It has been a very difficult decision, but it is mine alone and is not made because of pressure from the outside, nor does it in any way reflect on whether there is any truth to the allegations."
AIGCP crumbling
The International Association of Professional Cycling Teams (AIGCP) held a meeting two days before the start of the 94th edition of the Tour de France. The meeting didn't go smoothly and, led by the German squads Gerolsteiner and T-Mobile, eight teams put up resistance against the other ten.
The representatives of Gerolsteiner, Hans-Michael Holczer, and of T-Mobile, Luuc Eisenga, reasoned that "the other teams are not abiding by the ethics agreement we all signed." The German online site radsport-aktiv reported that the newly formed group, which consists of only German and French teams, will meet for the first time during the rest day on July 16. The teams will remain in the AIGCP.
Holczer explained that when "a Spanish representative said 'we only take the medicine like other sports person, that is not doping', I got up and left." He was quickly followed by T-Mobile and the French teams. The head of Gerolsteiner didn't think there would be any impact on the Tour de France. "I assume that all 189 riders will start Saturday, if they pass the medical check."
The meeting's topic was the exclusion of Spanish teams Relax-GAM, Saunier Duval and Caisse d'Epargne, Italian Lampre and the American outfit Discovery Channel for violating the code of ethics because they hired riders implicated in Operación Puerto.
Discovery Channel had previously announced that it was quitting the AIGCP voluntarily. Unibet declared on its website Tuesday its intention to break with the AIGCP, after not being invited to recent meetings and not getting the support for its request to ride in the Grand Tours. With those two teams out, the AIGCP consists of 18 teams but the current standoff of eight teams versus ten puts the future of the AIGCP in doubt.
Holczer cited recent UCI numbers that showed that especially riders from Spain, Portugal and Italy had alarming blood profiles as the centre of the controversy.
CSC and Quickstep the last to sign
CSC's Jens Voigt
Photo ©: Shane Stokes

On the eve of the start of the Tour in London the last two teams that have signed the UCI's rider agreement were Italian outfit Quickstep and Danish team CSC. Jens Voigt confirmed yesterday that he and his teammates would sign the document just before the start.
The German talked to sport1.de about the upcoming Tour de France. He reacted to accusations of compatriot Jörg Jaksche, made in the weekly magazine Der Spiegel, by saying that "Jaksche sold an interview for money." He wasn't going to name anybody, but nonetheless mentioned Vinokourov and Voigt. "Maybe he did that because we don't have a great relationships," Voigt suggested.
Voigt often shares a room with American Bobby Julich when they race together. "Bobby, who unfortunately won't be at the Tour this year, called me and told me I shouldn't let it get to me. He knows I am an emotional person."
He also credits Bjarne Riis for starting the strong anti-doping program at CSC. "With Rasmus Damsgaard he got one of his biggest critics on board. And we release all our data."
Voigt said that the book he just wrote ("One has to fight") is not about the fight against doping but simply describing his life as a cyclist, "from the youth to today."
Asked about the podium in Paris the German picks "Vinokourov, Klöden and Sastre, but not necessarily in this order."
Bouygues Telecom announces new signings
French team Bouygues Telecom has announced the signing of four young riders. As velo101.com reports, the winner of this year's Paris-Roubaix Espoirs, Damien Gaudin, age 20, is one of them.
His teammates at Vendée U, Sébastien Turgot and Evgeny Sokolov (both 23 years) old will also make the switch to the pro ranks. The fourth rider is Yuri Trofimov of the Moscow Stars. The Russian won six races this season and ranked second behind Nicolas Jalabert (Agritubel) in the Classic Loire-Atlantique.
On the other hand, Andy Flickinger and Pierre Drancourt will not get their contracts renewed.
Haussler hopeful
German Heinrich Haussler (Gerolsteiner)
Photo ©: AFP

Heinrich Haussler, who was born in Australia, is riding his first Tour de France. The 23 year-old from Gerolsteiner told radsport-aktiv that his preparation so far as been great and he went to train in altitude, near St. Moritz "before the Bayern Rundfahrt and after the Dauphiné Libéré."
He just wants to get used to things in his first Grande Boucle and acknowledged that in the "Tour things will be a little different than the Vuelta." Nonetheless, he hopes to have some success in a sprint or a small breakaway.
As for the Tour favourites, he wants to see who actually will start the race, but contends that it'll be the same riders who were doing well in previous years.
Canadian Nationals started
The 2007 Canadian Road Nationals cycling competition got underway Thursday in St-Georges de Beauce, Quebec, with the time trial races.
The hometown riders dominated the paracycling events. Rico Morneau of Ste-Martine, Quebec, took the handcycling crown clocking 18'03"39. Mark Beggs of Montreal was second in 18'26"91.
The winner revealed that "there are a lot of hills. I saved my energy at the start." This allowed him to "to sprint to the finish. I'm pleased because I'm coming back from an arm injury. The win here shows my recovery is going well. I came here to win and that's what happened," a happy Morneau revealed. He is peaking for the world championships in paracycling next month in Bordeaux.
In the tandem races, Daniel Chalifour and pilot Alexandre Cloutier of Quebec were the fastest beating Stéphane Côté and Pierre-Olivier Boily (pilot) by one minute and 14 seconds. Brian Cowie and Devon Smibert (pilot) were third a further 21 seconds behind. Carly Grigg and Barbara Bialokoz (pilot) were the only entry in the women's tandem race.
In the men's CP 3-4 event, Jean Quévillon successfully defended his title. "I had a great race. The course was hilly but I was well prepared. I live in Ste-Adèle and the terrain is similar there. I followed my game plan by starting easy and not speeding up too much when I approached the long climbs," said Quévillon. Sébastien Bouchard was second and Braiden McDougal third.
In the men's amputee competition in the LC 1-4 category, Éric Bourgault beat Mark Breton by 11 seconds. Lisa Stowe (LC 1-4 women) and Stéphane Chaput (CP 1-2 men) were the only entries in their respective categories.
In the junior women's competition, Alberta's Danielle Kenny won the national title while Linday Arjue edged Jessica Kisell by just over a second to grab second spot. Matt Potman of British Columbia, took the men's junior title with Guillaume Boivin second and Cody Cambell third.
The Village Depart
By Paul Verkuylen
Today's video instalment takes a look at the village depart. Set up each day to keep the riders comfortable, the village provides them with all the creature comforts of home. It is the one place where fans can mingle among the riders before they take to the start of the stage.
The village contains every thing imaginable that a rider may need, from a café to get his morning coffee, a letter box to post his mail to a hairdresser to keep the hair out of his eyes and look stylish all the way to Paris.
The village is set up and taken apart before and after each stage along the route of the Tour. Local celebrities come along to meet the riders and wave to the crowds, food stalls are set up to cater for the festivities and shows are organised to keep the spectators enthralled before the start or the finish of the stage.
The Tour is one giant carnival that travels around France each July and the village depart is just one way to bring the spectators to the riders that they see on television each day.
Click here to view the video.
Fantasy Le Tour Game starts soon
With the Tour de France Prologue on Saturday fast approaching, now is a good time to get your teams ready here at Cyclingnews. In what's set to be the most wide open Tour in decades, picking your team of 15 riders couldn't be more challenging. Remember you can still enter teams until Stage 4 begins. You can re-edit and re-enter teams for Stages 1 - 3 of the Le Tour 2007 competition up until Stage 4 begins. Unlike most Fantasy games, this gives you the chance to try out the game for free and experiment with different strategies without having to pay for mistakes. If you don't get time to create your teams before Saturday you can still take part with just as good a chance of winning as a manager who joined before Stage 1. Just make sure you finalise your teams before Stage 4 begins. Create your teams now.
Game Improvements
New ranking and results service, offering new depths of rider statistics on races over the last four years.
See your friends exact selections in the this year's game as it happens.
Look up the winning managers team selections for last year to improve your selection this year.
Follow the progress of the key fantasy managers whilst also tracking your friends' progress in the new "Watch Teams" tool.
Build your own Mini-Leagues.
Try out the Forum/Chat area, which provides new ways to communicate with your fellow players from around the world in real time as the races unfold.
We've also added a new improved hosting service this year so you should see a real difference in how quickly the site pages appear on your screen even during peak traffic periods.
Win a Cervélo Soloist Carbon
Photo ©: Tim de Waele/TDW Sport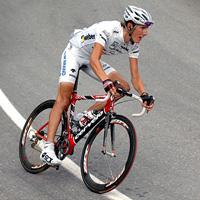 How to Choose your Mountains and Sprints Riders
If you are relatively new to the Tour it can be a daunting prospect choosing your 15 riders. Fear not! The new ranking system can tell you some of the answers you need to know. Here's some direct links to last year's high scoring riders:
Go to the Top pro riders page and click on the "How to find top climbers/mountains and sprinters/points riders..." link at the top of the page to find out more.
Forgotten your login details?
If you've played the game before but have forgotten your password follow you can request a new one automatically. To do this click on the "Forgot your password?" link on any page in the Login box in the left hand column. Enter the "To" email address at the top of this email and you'll receive a new password instantly.
Le Tour Fantasy Game Prize List
Prize summary: From one Grand Prize and one First Runner-up to three each Second, Third, and Fourth Runner-up prize packages, there are eleven chances for you to win based on your overall performance in the 2007 Le Tour Fantasy Game. There are also 21 daily prizes for each stage's top performer. All prizes are as listed (substitution requests cannot be honoured). The roster of prizes so far is as follows:
Grand Prize from Cervelo Soloist Carbon CSC team replica bicycle worth $4750 USD. Equipped with Shimano Ultegra 10-speed, R-550 wheels, FSA cranks, bars & stem, Selle Italia Marco Ponza saddle, Cervelo aero carbon seatpost, and Vittoria Diamante Pro Lite tyres.
Daily Prize from BBB Parts - 21 pairs of BSG-23 Winner Quick-Step World Champion glasses designed for Tom Boonen - one for each day of Tour.
10x runners-up prizes
Cycleops Powertap 2.4 Wireless
Set of Shimano Dura Ace WH-7801-SL Wheels - three sets on offer
Maxxis Courchevel road tyres - 10 sets on offer
Descente Classic Chevron design clothing - four sets on offer
PRO Carbon Bottle Cage - x10 on offer
Speedplay - Zero stainless steel pedals - 3 sets on offer
Giro Atmos Helmet - x3 Giro Atmos Helmet
More prizes will be announced in the coming days. To find out more visit the prizes page.
Even if you don't win the Cervelo Soloist Carbon Grand Prize, the Fantasy Le Tour game is a great way to follow the Tour each day here at Cyclingnews. It's free to play the first three stages. You don't need to be a cycling expert to win prizes.
It's a great way to follow Le Tour 2007.
Good luck from everyone at Fantasy Cyclingnews.com
(All rights reserved/Copyright Knapp Communications Pty Limited 2007)