Latest Cycling News for July 19, 2007
Edited by Bjorn Haake
Roche Hoping For Good Tour Of Ireland
By Shane Stokes
Nicolas Roche
Photo ©: Shane Stokes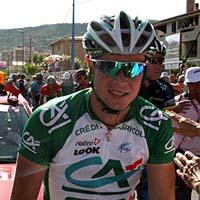 23 year-old Irishman Nicolas Roche is recharging his batteries after riding his first Giro d'Italia but will return to racing on August 8th with the hope of doing well in the Tour of Ireland.
The Crédit Agricole rider is currently training at his home in the south of France, and plans to build form prior to resuming competition in the Polynormande on August 5th. He will then do Paris-Corrèze on August 8 – 9 before travelling overseas for the August 22nd start of the 2.1 ranked Irish tour. The ProTour GP Plouay and the Elite world championships are likely to follow.
"I haven't raced since the national championships," Roche told Cyclingnews on Wednesday. He won the time trial and was fourth in the road race. "I had three days off and then started training again. It is hard for me to take a break because I am always afraid to lose form, but in the end taking one is often good and the form comes back pretty quickly. So I have to tell myself that.
"This is the first year when I have rested so much; it has been the first year where I have taken two days off in a row."
Coming up on
Cyclingnews will cover the 60th edition of the Dauphiné Libéré live as of stage 4 on Wednesday, June 10, at approximately 15:00 local Europe time (CEST)/ 23:00 Australian time (CDT)/ 9:00 (USA East).

WAP-enabled mobile devices: http://live.cyclingnews.com/wap/
Nicolas is the son of Stephen Roche, the 1987 Tour de France winner, and mother Lydia, who is French. The family spent several years living in Ireland but relocated to the south of France when he was a teenager. He is consequently looking forward to the chance to racing on what used to be home roads.
"I am hoping that I will be at my best form in the Tour of Ireland," he states. "I really want to perform well in it. We get such little chance to race back home in Ireland that every time I go there I always want to give it a bit of special importance. It always feels good to race there.
"I started racing as a junior in France. I have been competing there for so many years that I have missed so many races in Ireland. So when I go back I like to show that I am there. I also get good support.
"I have looked at the course in the internet. There are a couple of hard stages. Ireland is never easy! It should be an interesting race."
He rode and finished his first Giro d'Italia this year and will be hoping that base will translate into strong form. He said that he will work hard until his return to competition.
"I have a fair bit of work to do on the climbs so I will train hard on the mountains behind where I live," he said. "There are some good hills there and I can do some good training."
The five day Tour of Ireland is making a return this year, some 15 years after the final Nissan Classic was held in the country. It is ranked 2.1 on the UCI calendar and teams such as T-Mobile, CSC and Unibet.com have already been confirmed, along with Professional Continental squads such as Slipstream, Navigators Insurance, Panaria and Colavita Sutter Home. The Irish Murphy and Gunn/Newlyn Group/M. Donnelly Sean Kelly team will also be taking part.
More teams are expected to be confirmed prior to the start on August 22nd. The race is backed by the Irish tourism board Fáilte Ireland and organised by the Event Group in association with Shadetree Sports.
Further details can be found at www.tourofireland.ie.
Slipstreaming with Le Tour in sight
Jonathan Vaughters
Photo ©: Beth Seliga

Every year during the Tour, rumors begin to fly about riders talking to other teams, teams courting certain riders and contract signings taking place. One team that is new to this scrum is the American-centred Team Slipstream, headed by former professional Jonathan Vaughters. Many of the rumors of late have involved his team which has stated all along that the goal is to make it to the ProTour by 2009, so targeting high-profile riders now makes sense. Cyclingnews' North American Editor Mark Zalewski spoke with Vaughters from his team's base in Europe about his team's future and about some recent revelations in the sport.
Four years into the project of building an American team with a core of American riders to race at the highest level of cycling, it seems that Jonathan Vaughters has the train on the right track - despite the sport doing its best to derail itself over the past few years. In 2007, his team has successfully made the transition to racing equally in North America and Europe, including securing invitations to high-level events such as the ProTour race Volta a Catalunya and the Route du Sud, in which they finished with a rider 15th overall.
The next step, it seems, is making moves to bring in the big guns for 2008, in an effort to raise the level of the team to compete on the sports biggest stage, the Tour de France. "2008 is going to be a very transitionary year, we are going to have some very high-profile riders and we are going to gun specifically for the Tour de France," said Vaughters. "We have been very careful in who we hired to make that happen and we are going to have to perform very well in a very French calendar in the early part of the season to actuate that as well."
Read the full interview here.
Stage 10 post race quotes
By John Trevorrow
Cadel Evans waits for TT
Photo ©: AFP

Cadel Evans told Cyclingnews right after the stage that he felt fine but the "last little hill was a bit stressful." Not that the Australian had trouble following the pace, but or that there were any attacks from the overall contenders. "No, no just fighting for position nearing the finish. When it's not really fast then it can be congested towards the finish," Evans, who lies fourth overall, clarified.
He also confirmed that the next big showdown will be the Albi time trial, "and then rest of the week," mentioning the importance of the Pyrénées stages.
The Aussie is happy with the amount of people who want to wish him well and says they can do so on his website, cadel.com.au
As for Simon Gerrans, the only other Australian left in the race, after a string of bad accidents has eliminated the other top-level racers from Down Under, he was "a bit better today. I got in the early break and was away till about the 40-kilometre mark. There were a couple of teams that wanted to be in the break so they chased us back down again.
"I was a bit stuffed for a while after that because I'd put in a pretty big effort." Gerrans acknowledged that taking the occasional natural break isn't always the best thing to. "About the 80-kilometre mark I stopped for a (toilet stop) and the break went. Worst part was I didn't really need to go."
Like most others he thinks that "tomorrow will be a bunch gallop. The sprinters don't have many opportunities left before Paris and I reckon their teams will control it.
The official Tour Communiqué
Each day after the stage the Tour de France organisers release an official document that lists injuries, penalties and other decisions made by the jury in the course of the day. The hot stage ten through Southern France was rather uneventful and no rider got fined, which usually happens for getting 'lifts' from the team cars for an extended period of time.
Despite the peloton just rolling along, the medical list was once again the longest part of the communiqués officiels. Those ranged from the expected of Alexander Vinokourov (Astana), Rik Verbrugghe (Cofidis) and Sylvain Calzati (Ag2r Prévoyance) complaining of persistent pain in their knees, to listing the crash victims.
Juan José Cobo (Saunier Duval-Prodir) crashed already in kilometre one and was subsequently complaining about pain in his wrist and rear end. Iván Gutiérrez (Caisse d'Epargne) also went down, at kilometre 37 and hurt his hands and elbows. Igor Antón's crash was also listed but the Euskaltel-Euskadi rider didn't sustain any injuries.
Injuries we don't commonly think about for bike racers are the ones from Thomas Voeckler (Bouygues Telecom) and Fabian Cancellara (Team CSC). They got stung by an insect during the race. This may seem rather harmless, but when Jonathan Vaughters got stung by a bee in the 2001 Tour, his face swelled up like a balloon as he had an allergic reaction. What's worse, he could have treated it with cortisone, but the Tour de France's organisers, sensitive to the doping issue, didn't grant him the wish and effectively forced him out of the race.
The prize for the most aggressive rider is also part of the statement, which went to the Patrice Halgand yesterday, and the weather forecast, of course. The high on a sunny day is expected to be in the 30's at the start and 28 degrees Celsius at the finish, with a light breeze from the south offering a little bit of cross winds to make for an exciting stage.
The day after: No more Tour on German public TV
In a first reaction on the decision by the German channels ARD and ZDF to stop broadcasting the Tour until the B-sample is analysed, most political parties have supported the decision.
"I think this is the right decision," said Dagmar Freitag, spokeswoman for sports political questions of the SPD. Klaus Riegert from the CDU agreed "It was the right point in time to say 'enough is enough'." The Green Party and the Left had similar reactions, while Detlef Paar from the FDP warned of total boycott and said that the investigative journalism has to continue.
Dagmar Reim, director of the Rundfunk Berlin-Brandenburg, expects that "those consequences need to extend to other sports." She thought it was unimaginable that cycling is the only sport where there is doping.
Viewers can still tune into Eurosport to get their daily dose of Tour coverage. Many people have pointed out the double standard applied, as it is unlikely the 2008 Olympics or soccer broadcasts will be affected. And for those who wanted the results of yesterday's stage, they were available on the web sites of both channels.
Marcel Wüst answers questions
Former professional Marcel Wüst, who rode for Festina and also participated in the Tour du Pont in the 90's, answered questions on www.spiegel.de from fans, stating that "apparently there are still riders who haven't gotten it. But the case Sinkewitz has also positive sides. Finally the control system seems to work. It is not like earlier, when it was just random controls. The net is getting tighter."
To the more casual question if cyclists smoke occasionally, Wüst replied that chain smokers, like there were reportedly in the 50's or 60's, don't exist anymore among cyclists, but it could happen "at a party in the winter, when they may drink a little more and then light up a cigarette or cigar," but concedes that the day after that rider is likely very sick.
He elaborated on the fact that the time has come for people like Jens Voigt, as some of the sprinters' teams don't have their fast men anymore and Rabobank will be contend to let a group go that is no threat to the overall.
To the reader who wanted the stages 100 kilometres long, to cut out the less eventful beginning, Wüst said that it's necessary to make the stages longer, "so they are tougher and make the difference in the end." He also pointed out the obvious, that there would be more transfers. His advise was to "turn on the TV later and do sports yourself until then."
As for his favourites, he named Alejandro Valverde (Caisse d'Epargne) on the top, but thought that Rasmussen had a chance depending on how much time he can gain in the Pyrénées. He wasn't sure about Andreas Klöden (Astana), saying that "with his injuries, we will have to see how it affects him."
He also talked about the watts put out by a sprinter, saying his maximum was 1125 as of a year ago (he retired in 2000), and that the top sprinters do around 1,400-1,500 watts, which they can hold for seven to ten seconds. In the typical test where the wattage is increased every three minutes he managed 450, whereas top guys can reach 600.
Colavita/Sutter names squads for Toona
Colavita/Sutter Home Team Presented By Cooking Light announced its roster for the upcoming Tour de Toona, taking place from July 23 to 29 in Pennsylvania
The men's team Directeur Sportif, Tom Schuler announced that Canadian sprinter Charles Dionne, winner of the 1998 International Tour de Toona, is returning to reclaim his title. He will be joined by Davide Frattini, who finished in the top 10 of last year's Tour de Toona, Pennsylvania native Tyler Wren, Anthony Colby, Peter Hatton, Andy Guptill, Dan Vaillancourt and Johnny Clarke, a new addition to the roster.
"We've organized one of our strongest squads for the 2007 Tour de Toona," said Schuler. "Charles Dionne is racing in winning form, which we expect will continue at the Pan American Games in Rio de Janeiro where he is representing Canada in the road race just two days before the start of the Tour de Toona."
"We'll also be relying on Anthony Colby's climbing talents, which he used to scale Georgia's Brasstown Bald, the state's highest peak, fast enough to capture 3rd place in Stage 5 of this year's Tour de Georgia," Schuler continued. "And our newest recruit, Johnny Clarke of Australia, who just took second place at a Superweek road race, is ready for his first stage race with the full squad."
The women of the team have also made the final selection and Team Director Jim Williams announced that Alex Wrubleski, Alison Powers, and Iona Wynter-Parks, three of the top 10 finishers from last year's race, will lead the squad that will also include Dotsie Bausch, Mackenzie Dickey, Andrea Dvorak, Sarah Tillotson, and guest rider Annette Buetler.
"We will be bringing a powerhouse roster to the 2007 Tour de Toona, one of our favourite races on the NRC calendar," said Williams. "Alison Powers, who just turned in a phenomenal performance in Italy at her debut at the Giro d'Italia Femminile, won the gold medal in the time trial at this year's Pan American Championships and will be representing the US at the 2007 UCI Road World Championships in Stuttgart in September."
"Dotsie Bausch is also looking forward to returning to Pennsylvania," said Williams. "Earlier this month, she finished just two minutes behind the current world time trial champion at the US National Time Trial Championships in Seven Springs, capitalizing on her back-to-back podium finishes in UCI time trial events."
"We're equally well prepared to contest the road race and criterium stages of the Tour de Toona," Williams continued. " Alex Wrubleski, who finished second in last year's Tour de Toona, just won her second consecutive silver medal at the women's Canadian National Criterium Championship and Iona Wynter-Parks, Sarah Tillotson, Mackenzie Dickey, and Andrea Dvorak have been riding exceptionally well on the road all season."
(All rights reserved/Copyright Knapp Communications Pty Limited 2007)