Tour de France Cycling News for July 15, 2007
Edited by Bjorn Haake and Laura Weislo
Seven a lucky number for T-Mobile
By Brecht Decaluwé in Le Grand Bornand
Gerdemann was elated
Photo ©: AFP Photo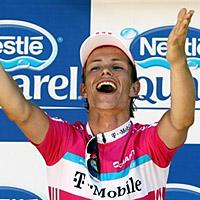 T-Mobile finally got their stage win in the Tour thanks to the heroic efforts of their young German Linus Gerdemann. Gerdemann rode away from his 14 breakaway companions and held more than three minutes on the elite group of favourites who were chasing behind. His team leader Michael Rogers was one of those in the chase group, and was happy to have the chance to sit in the group and let his younger team-mate win.
Team leader Michael Rogers was happy for Gerdemann. "It was a hard day out there and he rode super super strong," Rogers said. "For the team it was perfect. We wanted to have Kirchen, Sinkewitz or Gerdemann up the road so everything went to plan, meanwhile I just stayed protected in the peloton," Rogers explained.
"For me it was good, I suffered over the top a little bit. I was out of water, I suffered a bit from the heat and I wouldn't have minded to jump in the pool," Rogers laughed. Thanks to the breakaway, the stage was not decisive for the GC leaders, but Sunday's run to Tignes will be different. "It's going to be a big day tomorrow," Rogers declared.
T-Mobile's directeur sportif Brian Holm was in the first car that stayed with the main break of the day and included Gerdemann. Holm was upbeat about the day's activities and when asked if he though they would stand a chance he added that "if they have 5 or 6 min mutes at the foot of the Colombière, then maybe they can make it."
Coming up on
Cyclingnews will cover the 60th edition of the Dauphiné Libéré live as of stage 4 on Wednesday, June 10, at approximately 15:00 local Europe time (CEST)/ 23:00 Australian time (CDT)/ 9:00 (USA East).

WAP-enabled mobile devices: http://live.cyclingnews.com/wap/

After the race an overjoyed Gerdemann told the press that he is back to his regular duties despite being clad in the yellow fleece of the overall classification leader. "We will be riding for Michael [Rogers]. I will have time to celebrate the win after the Tour. Michael is the leader of the team."
Valverde wants to drop Vino
By Gregor Brown in Le Grand-Bornand
Alejandro Valverde finished with Alexander Vinokourov (Astana) in the finale of stage seven to Le Grand Bornand. The Spaniard of Caisse d'Epargne is vying for the overall classification and would like to rid himself of Vinokourov before Monday's rest day.
"We would like that," said the 27 year-old to Cyclingnews on Saturday. "After yesterday, where we watched him, we would like to leave him behind."
His form is there but tomorrow's stage to Tignes will be a more realistic test. "My legs are in good condition and I hope they go strong in these stages."
Popovych has freedom
By Gregor Brown in Le Grand-Bornand
Yaroslav Popovych (Discovery Channel)
Photo ©: Gregor Brown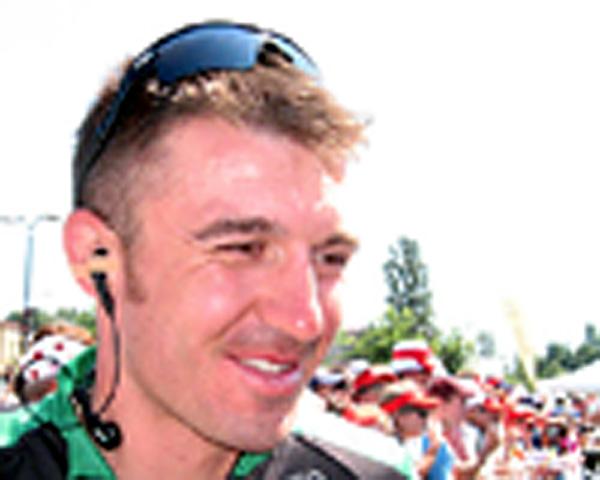 Yaroslav Popovych finished comfortably with Discovery Channel team leaders Spaniard Alberto Contador and American Levi Leipheimer in stage seven to Le Grand Bornand. The Ukrainian is dedicated to the duo but will have his freedom when the time is right.
"We will try to remain calm," the 27 year-old commented to Cyclingnews. "There are still a lot of mountain stages to come and attacks to try." He believed that Saturday's stage was one of testing. "It was a day to see how we are doing.
"I think the next days will be good for Levi and Contador, and we will be working for these two team leaders." 'Popo' said the team has given him space to attack. "I will have my chance to try for a stage. I have the freedom to go tomorrow or in the coming stages."
How the Australians fared
By Laura Weislo, reported by John Trevorrow in Le Grand-Bornand
Cadel Evans (Predictor-Lotto)
Photo ©: AFP Photo

Cadel Evans has been keeping things under control, always sounding cool despite the increasing temperatures. He finished with the main bunch of favourites and looking comfortable on the final climb. He had one of his fellow Australians in the bunch with him, T-Mobile's Mick Rogers. Both riders are faring well and are happy with the day's racing. Evans liked the warm, dry weather. "Normally the hotter it is, the better I feel," he told Cyclingnews.
"It was under control pretty much all the day and that's what we want. The team did their job, they rode it perfectly. It was good work by the boys." His team worked hard today to bring the break back, but fell a few minutes short. Still, his team is staying the course. "The fact that T-Mobile has the maillot jaune doesn't mean a whole lot. It won't change our strategy. It's still early."
After being told that all Geelong are sending their regards, Evans replied, "thanks, that's good to hear."
Michael Rogers found himself in the elite group of riders on the first big mountain of the Tour, and said he was feeling, "Not too bad, mate. It was good - I just kind of followed the wheels. It was a hard climb actually and there weren't too many left over the top."
He had been experiencing some pain in his knee during the Tour de Suisse, but so far the knee hasn't bothered him. More importantly all the tactics worked out and "it went really well for the team and I felt pretty good so it's a positive start. And it's great for Linus to get to wear the Maillot Jaune."
The other two Aussies in the Tour suffered a bit more. Ag2r's Simon Gerrans was happy to have the break go clear, but is feeling a bit depleted. "It was pretty quick to start with, very aggressive," he said of the stage on Saturday. "Most of the teams were trying to get a rider in the break. Once the right mix got off the front and the break got clear it settled a bit but it was quick." Gerrans acknowledged that he didn't have much in the tank today, saying "I didn't have much in the legs. I'll have a massage and a pasta and I'll see how I go tomorrow."
Meanwhile, Robbie McEwen was clearly suffering on the day, and was dropped on the first climb and had to struggle back with a large group which also contained the yellow jersey. Later, he would suffer the same fate on the second climb to Cruiselles, but this time was left with just three other companions: Romain Feillu (Agritubel), Danilo Napolitano (Lampre), Sébastien Chavanel (Française des Jeux).
The foursome had to put in a significant effort to make it back to the peloton. McEwen and Chavanel finished dead last some 24'19 down. "My knees are really sore and I didn't have a good day," was McEwen's understated assessment. He'll have to fight through one more mountain stage in order to contest the sprint for another stage win. Will he be all right after a rest day? "I think I'll need a bit more than that."
More Tour reactions
Alexandre Vinokourov (Astana):
Vinokourov on stage six
Photo ©: Sirotti

Vinokourov soldiered through another stage of ticking over the pedals with stitched up knees. He agreed that finishing a tough stage like today in his condition was a victory of courage. He hoped that tomorrow "I can limit the losses and after that we'll see," and confirmed that that would be his major objective for now. He will reassess things after the rest day. He stated that it was unfortunate to crash, but is now prepared to make the best of it. Asked if he still thinks he can win the Tour de France the Kazakh reminded everyone that "it's the sport and one always has to believe."
Sandy Casar (Française Des Jeux): I felt good in the beginning and tried to get into the breaks. It was really fast in the beginning and I suffered from the heat a little bit. It's the first mountain stage and I could sense I wasn't going too well. I tried to settle into my rhythm and limit the losses. It's true that I am bit disappointed right now. Tomorrow will be a different race, where the GC will be made. We will wait for the rest day and see how it goes.
Iñigo Landaluze (Euskaltel-Euskadi) - second: I gave it all to get back to Gerdemann in the descent, but I couldn't catch him, it was impossible. I never once was looking into mountains points - it is the stage I wanted. In the climb, I tried, but I needed to ride at my rhythm, and I was at my limit over the top."
David de la Fuente (Saunier Duval) - third: I am very content with my ride, I didn't hope to be in the front, but I am a fighter and because of it we achieved this little success today. If I want to win the polka-dot jersey? We don't have to ask this question, we will just try it, even though it will be very difficult.
Juan Manuel Garate (Quickstep) - seventh: "The polka-dot is a goal, but today was not a good day for me. The next stage will be more important."
Alejandro Valverde (Caisse d'Epargne) - tenth: "We knew that we had to pay attention right from the start and that we needed to have a rider in the break. Iván Gutiérrez did great work. Personally I felt well. The heat made the stage difficult, even if the pace wasn't too elevated."
Romain Feillu (Agritubel): "For me it was really a super hard day. Tomorrow, if it doesn't go better, there is the risk it's the end. One has to be realistic, I was going all out and I arrived more than 20 minutes back."
Alberto Contador (Discovery Channel): " The stage didn't fulfil its promises, but the riders wanted to be careful, and since the stage victory and the yellow jersey was played out in the front, that determined the battle in the back. If the stage and [yellow] jersey would have been on the line for the favourites, we would have seen a different race. Tomorrow, with a mountain top finish, there will be more battle and we will see for real what cards everyone has."
Johan Bruyneel (Directeur sportif Discovery Channel):
"One could see that the guys in the main group were hesitant to attack on the first day in the mountains. That's why we saw such an important group all together at the Colombière, but the guys I wanted to see up front were there: Leipheimer, Contador, Popovych and Gusev. I am satisfied how things went today. Tomorrow I expect an attack, it will a very difficult stage. We will have to be careful, observe how the others go and not do something crazy."
Bottom drops out for Freire
Oscar Freire abandoned the Tour de France before the start of stage seven in Bourg-en-Bresse after suffering all week from a recurring cyst on his underside. The painful cyst was being aggravated by the long days in the saddle, and with days before another chance at a stage win the Spaniard decided to quit and let the sore heal.
After coming close to a stage win on stages five and six and a tight third on stage four, Freire was sitting in the top three of the points classification and fifth overall - a strong showing that bodes well for the rest of the season as long as he can clear up the ongoing health issue. "Oscar is strongly improving, particularly his power and condition, but you can question the relevance of it when you see that his injury is not becoming less serious," said team leader Erik Breukink
Nuyens making it through Tour
By Gregor Brown in Le Grand-Bornand
Nick Nuyens of Cofidis is currently 35 minutes back in the overall general classification of the 2007 Tour de France but he is only concerned with making it through the three-week race and helping his aggressive team. The Belgian had been sick in the opening days of the Tour and will play the numbers game over the next few days.
"Gruppetto," said 27 year-old Nuyens to Cyclingnews when asked the secret of survival in the Alps and Pyrénées. "It is possible to get into an escape. I have to wait for my legs to arrive. The first days were not so good because I was a little bit sick and I had to take antibiotics, and I really did not feel well. But it is getting better."
He took satisfaction from the escape of his British teammate, Bradley Wiggins, in stage six. "I don't know... I think it was really hard for him but he did a nice job. Sometimes you go to the finish and most of the time not but at least he tried. It was good publicity for the team." He is impressed with the team's visibility. "Three times we had the most aggressive rider out of six stages, so it is going well for us."
The media has been comparing Wiggins to the Beatles of the sixties due to his haircut; Nuyens thought it was funny. "I don't know, he has to make a choice for himself," he said regarding Wiggins' hair. "He is really a good guy and I have laughs with him, it is good to be in the team with him. ... I am rooming with Staf Scheirlinckx; we speak Dutch. In the team we normally speak French but with Moreni it is Italian and Bradley, English. We have a good atmosphere in the team."
As the days get hotter the fair-skinned Belgian applies the sun block. "I don't like it. I put on a lot of sun block and I never get burned, I never get a nice colour. I always become red." Even if the temperatures are in the thirties Nuyens is amazed by the tifosi. "The crowds here in the mountains are impressive, it gets better everyday. They help me get over the mountains with their enthusiasm."
(All rights reserved/Copyright Knapp Communications Pty Limited 2007)