Rory Sutherland (Healthnet)
Photo ©: Jon Devich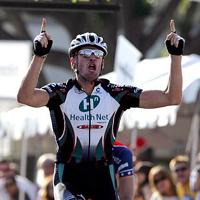 The Rory Sutherland diary 2009
Rory Sutherland is back on the North American circuit and better than ever with his new OUCH Pro Cycling Team p/b Maxxis. Riding alongside teammates like Floyd Landis and Tim Johnson, Sutherland will work to bring the team to the top of the heap in the Americas.
Follow the adventures of our Australian as he hits out from his Southern California base to the biggest races in the country.
2009 Entries 2008 entries Regular season diaries
November 26: Pre-season camp
November 11: The Offy is over
October 11: Vegas and the 'offy'
May 27: Team-mate appreciation day
January 24: A good balance
Tour of Missouri diary
Stage 1: Back in Missourah
Tour of Georgia diary
Stage 7: Getting it done
Stage 6: The bald
Stage 5: Missed by that much
Stage 4: Tradesmen
Stage 3: A racer's race
Stage 2: Coming round
Stage 1: Guess who's back, back again
Tour of California diary
Stage 6: Man down!
Stage 5: Race of the truth
Stage 4: A wet peloton
Stage 3: Not my greatest day
Stage 2: Cat-eyes are my enemy
Stage 1: The real race starts
Prologue: Off with a bang
2007 entries
Regular season diaries
November 13: The roller coaster
Tour of Missouri diary
Stage 6: The closeout
Stage 5: One day to go
Stage 4: European racing on American soil
Stage 3: The lonely fight
Stage 2: A day in the bunch
Stage 1: Cruising into Kansas
Regular season diaries
August 28: Crash - teriums
July 7: A long time between drinks
May 18: Cruisin' the USA
Tour de Georgia diary
Stage 6: Grabbing cabbage
Stage 5: Brownies to cure the pain
Stage 4: Smashin' the TT
Stage 3: A strange old day
Stage 2: Southern charms
Stage 1: The momentum is rolling
Regular season diaries
April 4: The language barrier
Tour of California diary
Stage 5: All the conveniences
Stage 4: Another one down!
Stage 3: A good day on the big bergs
Stage 2: Wine country, big winds, and bike changes
Stage 1: Tasting asphalt in downtown Santa Rosa
Prologue: Californian dreaming
Preview: Road trips, Redlands, racing...and Russ!