Recently on Cyclingnews.com
Rory Sutherland (Healthnet)
Photo ©: Jon Devich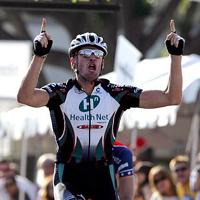 Back with a bang: The Rory Sutherland diary 2007
Talented Australian Rory Sutherland will be tearing up the US domestic circuit this season with Professional Continental squad Health Net presented by Maxxis. With the best part of six years European racing under his belt, look out for the 25 year-old from Canberra to notch up some big victories in '07.
Stay tuned to Cyclingnews for the inside scoop on Rory and his Health Net crew as they match up against ProTour opposition at the Tour de Georgia and beyond...
Brownies to cure the pain
Tour de Georgia - Stage 5 - April 20: Dalton to Brasstown Bald/Towns Co. , 172.1km
Oh, how the pain continues! I will admit that this is one very hard tour. Yeah I know, the terrain doesn't make the race hard, the riders do, but I wasn't really thinking that in the last five kilometres up the brick wall that is Brasstown Bald. It's a climb that I won't really forget in the near future, but hey, I'm probably not the only one with sore legs and bad memories from this infamous climb.
Race wrap up: 172 kilometres, not more than 10 of that flat, ridden hard from the word go. Break group formed at the top of the first climb, caught on final climb. Nathan fourth, Ryder seventh, Tim up to eighth on GC, Jeff to seventh and Ryder won the Mountains Jersey, Basta!
On to the next topic, like I have said before, there's only so much I can talk about a race!
So here we are again in yet ANOTHER hotel room. Yeah I know, most people love hotels, but bike riders tend to treat them as just another place to sleep. A good example of this is the collection of keys (cards to get into our rooms) that Tim and I seem to be finding in our bags and wallets. I mean, today I couldn't even remember where my room was. I knew the number from the night before, but tonight, I've got nothing! That's also why we have team room rosters at every hotel, on every door, just so us fatigued and lazy riders can actually find which room we'll be in for the night.
Lastly, thanks to the people that dropped off brownies with Tim this morning (this guy has friends all over this country!). They have seriously topped off my day - you guys know who you are!
Again I wish my brain would work enough to be able write more, but alas, it's fried!
'Til tomorrow
Rory
www.teamhealthnet.com
PS: Apparently I am now a Boston Red Sox fan. Tim say's because I don't understand baseball, I have no other choice!