Rory Sutherland (Healthnet)
Photo ©: Jon Devich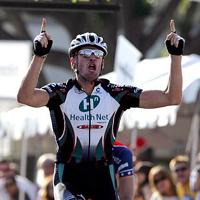 Back with a bang: The Rory Sutherland diary 2007
Talented Australian Rory Sutherland will be tearing up the US domestic circuit this season with Professional Continental squad Health Net presented by Maxxis. With the best part of six years European racing under his belt, look out for the 25 year-old from Canberra to notch up some big victories in '07.
Stay tuned to Cyclingnews for the inside scoop on Rory and his Health Net crew as they match up against ProTour opposition at the Tour de Georgia and beyond...
The language barrier
After living in parts of Europe for the best part of six years, a language barrier is something that you come across on a daily basis in everyday operations, let alone having a wide array of foreign teammates. So, in coming to America, I though that these issues/difficulties were well and truly behind me.
Team HealthNet
Photo ©: Larry Rosa

However! First you have the 'British English' between Russ [Downing] and myself, something that must be pretty funny to hear in downtown Redlands (where we live in California). Imagine an Australian who has Scottish parents but has grown up speaking full blown 'OZ' in the street, and a more 'proper' version of the so-called Queen's English at home.
Then you have Russ. In past diaries, I have noted his particular version of English, otherwise known to me as 'Northern Monkey language'. Russ has spent a lot of time with Aussies too, so when we're together there's a very confusing mixture of Aussie slang, coupled with Scottish/northern English dialect! Yes, we get some very interesting stares while trying to order a coffee at our local.
As if that wasn't problematic enough, we then get a team together of guys from all over the States. This, therefore, makes the most common thing said over the race radio: "WHAT?" Hopefully the boys are starting to get the hang of our strange combination of words and sayings.
LA traffic
Photo ©: Rory Sutherland

On to what's actually been happening of late: A lot in fact! Russ and myself have been traveling all over California over the last two months, so it was really nice to have our new 'home town' race, The Redlands Classic, right on our doorstep. Racing went pretty well for us. We had our bad days, but luckily we managed to get it together on the last couple of days and pull off two wins, and also the overall team classification.
It makes it so much sweeter when you can stand on the podium with the guys you race with day in, day out. For me personally, it's been a long time between wins! The hands haven't been in the air (apart from celebrating Karl Menzies' victory in Merced from halfway down the bunch) since 2004. So, a great confidence builder!
Besides that, the move is now on! Russ, myself and James (another rider from Australia) have rented a house in downtown Boulder, Colorado, for the next couple of months. It'll be great to get up there into the mountains and clean air after two months in L.A. Just hope it's stopped snowing there!
Australian/Aussie translation sheet for April:
Aussie (pron. Ozzie): Australian
Bogan: Person who takes little pride in his appearance, spends his days slacking and drinking beer
Bottle-o: Liquor shop
Chook: A chicken
Cut snake, mad as a: Very angry
Moolah: Money
Mystery bag: A sausage
Ocker: An unsophisticated person
On to the Tour de Georgia in two weeks!
Cheers,
Rory
Team Health Net Presented by Maxxis
www.teamhealthnet.com
Photography
For a thumbnail gallery of these images, click here
Images by Larry Rosa
Images by Rory Sutherland