Recently on Cyclingnews.com
Rory Sutherland (Healthnet)
Photo ©: Jon Devich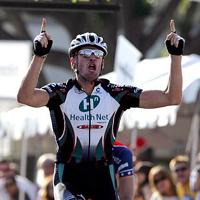 Back with a bang: The Rory Sutherland diary 2007
Talented Australian Rory Sutherland will be tearing up the US domestic circuit this season with Professional Continental squad Health Net presented by Maxxis. With the best part of six years European racing under his belt, look out for the 25 year-old from Canberra to notch up some big victories in '07.
Stay tuned to Cyclingnews for the inside scoop on Rory and his Health Net crew as they match up against ProTour opposition at the Tour de Georgia and beyond...
Stage 1: Kansas City - Kansas City 137km
Wow, I didn't really think that there were going to be so many people watching a race in Kansas City, Missouri!! I seriously didn't even know where this state was until I Google mapped it the other day.
Anyway, so here we are. Another stage race and the 3rd in a line of well organized races in North America. With Cali and Georgia behind us earlier in the year, it was a big order to try and step up to that level. Day one suggests its worked out well. The people were amazing, really amazing actually. I mean there were literally tens of thousands of people, on a Tuesday afternoon, standing watching the start of the race. What's kind of funny is that I'm pretty sure (and no offence to them) that a lot of them know nothing about cycling at all. That's the beauty of it really: people coming to cheer anyone on from any team for hours. Who says cycling is in a bad state?? Not here in the USA!
So I'm also back with my old faithful roomie Tim Johnson. Its been a while since we've roomed together and I therefore have missed my opportunities to rip into him. However, he's been teaching me some "Massovian", the unique seemingly 'non' English language of Massachusetts. Let me tell you, I think hanging around with Russ (northern English accent) seems to be a lot easier to understand!! Tim and Jesse (Anthony of The Kodak Gallery-Sierra Nevada team) also seem to be having a "Masshole Cup." It's like a race within a race. I have to support Tim, sorry Jesse - if I want my morning, and want to mentally survive this week; I need to choose a side. Anyway, its 1-0 to Tim, so I'm up!!
Massovian words:
Wicked Pissah - Very good
The year 2004 - Commonly known among the Red Sox Fans as the greatest year besides 1918..... go figure..
Buckner - A completely plotless person, stuff up, etc.
But yeah, there was a race today actually. Back to that! Goodish day, good weather, good catch up with the boys from different teams, etc. Finish didn't quite go as planned... but hey, there's always tomorrow! Jeff Louder's in the Climber's Jersey, Tim spent the day up the road. Stage finished.
More Maņana!
Rory.