Rory Sutherland (Healthnet)
Photo ©: Jon Devich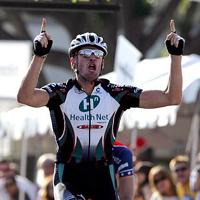 Back with a bang: The Rory Sutherland diary 2007
Talented Australian Rory Sutherland will be tearing up the US domestic circuit this season with Professional Continental squad Health Net presented by Maxxis. With the best part of six years European racing under his belt, look out for the 25 year-old from Canberra to notch up some big victories in '07.
Stay tuned to Cyclingnews for the inside scoop on Rory and his Health Net crew as they match up against ProTour opposition at the Tour de Georgia and beyond...
Southern charms
Tour de Georgia - Stage 2 - April 17: Thomaston to Rome, 217.2km
Looooooooong day in the saddle! Plus the fact that there was a 10 kilometre neutral start to the stage, and then a five kilometre ride to the hotel, all adds up to a nice total for the day. So a long day for all and ending in 3 x 4 km circuits with a nasty 18% pinch of a climb just for fun. Anyway, one guy away, me in the next group, legs weren't in the sprinting mood, still top-10 and happy, race report complete!
Regarding the boys: Things are going well. We seem to have cracked the whole 'new' feeling in the team, and what that means is that it's not always just get on a bike and race as a team. We all need to get to know each other, and also more importantly, learn about how everyone reacts in certain situations. So, after today, I think were another step closer. But it all takes time.
Southern hospitality: It's like another world! Today, I've been lucky enough to experience a lot of things about as foreign to me as I am to the people here. First and foremost is the accent…. Just quietly (well, maybe not so quiet on a published diary) but I have a serious thing for a girl with a southern accent! I don't know what it is, but I could listen to it all day long.
Secondly is the food. Today on the list of new things:
Grits - Like porridge of some sort
Collard Greens - Some horribly overcooked green vegetable (drowned in butter)
Creamed corn - Is how it reads…..take corn, drown in butter and cream. Done!
Chicken Fried Steak - Steak fried in Chicken fat. Yummo!
Sweet Tea - Ice tea with an amazing amount of sugar!
That's all I have energy for tonight. Maybe tomorrow will be more eventful.
Also, will endeavor to get some photos on the diary. Today I didn't really feel like being a photographer during the 220km of headwind action.
Till tomorrow,
Rory
www.teamhealthnet.com