Rory Sutherland during the ToC pre-race press conference.
Photo ©: Jon Devich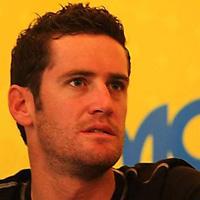 The Rory Sutherland Tour of Georgia diary
Rory Sutherland is back again – the 26 year-old Australian from Canberra is reporting from the 2008 Tour of Georgia for Cyclingnews, following on from his incredibly popular Tour of California diary. The 2004 Australian Under 23 National Champion will keep readers up to date every day on his and Team Health Net's progress. (For more read his 2007 diaries.)
Stage 2, Statesboro - Augusta 116miles/188kms
Coming round
I'm coming round! I knew it may only take a day or two, but today was finally 'feel like a rider again' day. It only took 188 kms to get me there, though; I guess the enthusiasm of TJ (my room-mate) is finally rubbing off. He's like a rookie in his first big tour... shame he's 30 and has been doing this forever. Anyway, it's good to see the enthusiasm, and it helps to push the younger guys along, too. After all, what have we got without the young rookies coming through the ranks? No sport in five years time.
Rory Sutherland (HealthNet-Maxxis)
Photo ©: Kurt Jambretz

Today was also catch-up day. That's normally what happens when a break finally goes in a tour. There are all the guys you haven't seen for a while, some now in different teams, some have been team-mates before and some just friends. What people seem to sometimes forget is that a lot of us (more so on the US domestic scene) are all friends on and off the bike. Don't get me wrong, in the run to the finish it's a different story, but some of my best competitors are actually good friends of mine, and that's a really nice thing.
Georgia is great. I like the change in scenery, and also the smaller crowds along the route. It's not like its not popular or less important than Tour of Cali, but obviously Georgia is a little less congested. Someone emailed me and asked which tour was better, and my answer is neither. They are just different, and that's great if your riding bikes all year. Who wants to be doing the same thing over and over again? Not me.
It's interesting just how quickly you get back into the rhythm of racing. An example is the hotels. We get into more of a normal ritual that we don't really think about too much. Get up, bag packed, breakfast, into the RV/Camper, Coffee, ready to race, race, RV/Camper, hotel, massage, dinner, internet, done! And the circus continues till the end.
Tim's piece:
"There, I said it yesterday. I predicted some podium time for the HealthNet-Maxxis boys and Frank came through with the first KOM jersey of the tour. With the lack of mountains for the next couple of stages, he'll be wearing the goofy looking Georgia peach-covered jersey. Time with the lovely podium chicks (girls) will follow, endless interviews with the distinguished members of the press and all the free waffle house he can eat. Plus, he'll be just the next non-climber in the climber's jersey, which always attracts the smart-ass comments. Can't wait.

"Matty Crane hit the deck while trying to help Karl in the final couple of kilometres and got himself a taste of the Georgia pavement. He's doing fine and will be scrapping it up again soon. Just like he always does. For the interested ladies out there, Matt is still very single and a fine upstanding young man. Or not. You're not only going to make his day by reaching out to him, but you're also going to make our transfers in the RV that much better. " TJ
Big news still to come. For those who asked; No, I am not pregnant or getting married. I have however had quite a few offers I am yet to ascertain the genuineness of these as no photos were sent with said proposals...
'Till tomorrow, where I'll introduce you to the guy known as "Dan, Dan the RV man"
New email address for the tour. See below.
Rory
roryingeorgia@gmail.com
www.teamhealthnet.com