Recently on Cyclingnews.com
Rory Sutherland during the ToC pre-race press conference.
Photo ©: Jon Devich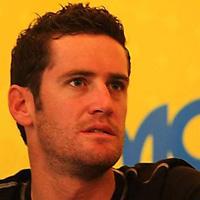 The Rory Sutherland Tour of Missouri diary
Rory Sutherland is back again – the 26 year-old Australian from Canberra is reporting from the 2008 Tour of Missouri for Cyclingnews, following on from his incredibly popular Tour of California and Tour de Georgia diaries. The 2004 Australian Under-23 National Champion will keep readers up to date every day on his and Team Health Net's progress. (For more read his 2008 diaries.)
Stage 1 - September 8: St. Joseph - Kansas City, 90 miles
I am back in Missouri, or as the locals seem to be saying, Missourah. Farm lands, rolling terrain, great people and a good race for the team. There has been a pretty big lax in my diary writings for the last few months. There is a reason for this, and I'll elaborate on that a little later in the story.
The Tour of Missouri is a great way to end the season. We are closing out a big season, but the guys are motivated and striving to win. It's fun to see all the boys on the other teams, catch up with other staff members, former directors and teammates. It's good fun, and at the end of the day, that's why we race!
Day one is done. Anyone might have mistaken today for a race somewhere in Northern France. Rolling hills, farms, rain, wind and an international peleton. Did I mention crashes? Lovable Karl "Karlos" Menzies came back from two-month injury (broken arm, wrist, five ribs, edges of his spine, and a punctured lung) to touch down again today. Poor guy. And even though I cringed when I saw it, I couldn't help but laugh seeing him spinning like a top on his bum, while trying to protect his past broken arm by holding it in the air. Hahaha, good one champion! Tim, the roommate of roommates, just told me that the Kansas City road works department has in fact informed him that Karl will be billed for the damages his bum caused to the pavement.
It has been a learning curve over the last few months and things haven't always gone as planned. A lot of stress was involved, as well as too much time on the phone, and way too much time deliberating on my future. I've learnt a few very good lessons on trust, speculation and dreams. At the end of the day it has all worked out, but I'm still kicking myself for forgetting a certain trait that I had been preaching all year. You race well when you're happy and stress free. Simple, isn't it! Unfortunately I got a little bit sidetracked and spent too much time trying to create a perfect future when I should have been concentrating on the present and finishing off the season.
I'm focused again, and I think I've re-found the path a little. The news is I have signed a contract, something that I have been deliberating about for a long while. It was more the where, not the why. The team I currently ride for will continue. As what entity I don't know, with what title sponsor, I don't know. Why don't I know?? Because I realized that it is not important. What's important is riding with people I respect. They gave me a chance to race again when many turned their backs. What is currently Team HealthNet/Maxxis will continue, and that's where I feel at home.
So on to tomorrow, 200kms and hopefully it is a little drier this time!! I'm in America, it's not meant to rain when I race!
Rory Sutherland
www.justrory.com