Rory Sutherland (Healthnet)
Photo ©: Jon Devich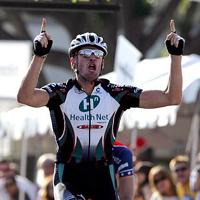 Back with a bang: The Rory Sutherland diary 2007
Talented Australian Rory Sutherland will be tearing up the US domestic circuit this season with Professional Continental squad Health Net presented by Maxxis. With the best part of six years European racing under his belt, look out for the 25 year-old from Canberra to notch up some big victories in '07.
Stay tuned to Cyclingnews for the inside scoop on Rory and his Health Net crew as they match up against ProTour opposition at the Tour de Georgia and beyond...
The roller coaster
Boulder, Colorado during the fall.
Photo ©: Rory Sutherland

Here we are again. Back into training and back from my hiatus (by choice) from diary writing. It's been nearly two months since the last race of the season, and I think it was time to take a break, get away from the sport and do things differently. I've had fun, I've also found a great new hobby - it's called 'athlete off-season mental status analysing' and I've decided it is a key factor in the off season roller coaster ride.
Athletes seem to have a special need for endorphins - I'd even go as far as to say that it's an addiction. The feeling of achieving or the feeling that your training is taking you in a certain direction or towards a goal is a big thing. There's motivation, there's determination and there's direction. What happens when all this gets thrown out the window at the end of a season? The roller coaster.
I think my body gets so used to doing something every day that when you take it away (which is something that needs to be done), you just kind of shut down. And without the busy social life that comes with being a cyclist, boredom sets in - or what I have also diagnosed as BRCPSD, otherwise known as Bike Riders Crazy Post Season Depression. Hence the roller coaster. You go from the "geez, I need a break from this whole bike racing caper" to "if I don't ride, I think I may just kill someone!". Okay, maybe that's a little drastic…
Karl, Garrett and Bonoon enjoy Halloween.
Photo ©: Rory Sutherland

So, what have I been doing? I took a quick trip to Australia (without a bike) to see the family, something which was great except for the fact that I actually started missing my 'fix' (which is a bike).
Then I tried to become an American. Not by the normal means of applying and attempting to get a green card/citizenship. No, Ben Day (my fellow, last standing foreigner in Boulder) and I decided to partake in everything American to prove ourselves worthy of a little slip of paper which would save us thousands of dollars and hours and hours of stress every year. How was this done? By getting involved! The questions "What is baseball?", "What is American Football?", "What do you do in a sports bar?" and "what is Halloween?" seem to be the issues at hand. And yes, we have conquered/participated/drunk at/cheered for/dressed up at pretty much anything we can find in the above categories. Here are my much thought about reactions to these situations and what I've decided about them:
Question: What is baseball?
Answer: A reason to go to the pub, and support a game which even though the series is only played in the USA, it's called the "World Series". Go figure.
Coogee beach back home in Australia
Photo ©: Rory Sutherland

Question: Who won the 'World Series'?
Answer: Only the greatest team ever... the Boston Red Sox.
Question: What is American football?
Answer: A game with 11 players on the field at one time. However, apparently you need 70 or more standing around doing nothing. Similar to baseball, you can actually be fat and very 'un-sporty' to play this game.
Question: What do you do in a sports bar?
Answer: Hmm, watch sport!

Question: What is Halloween?
Answer: Possibly the best day of the year. Who would have thought that dressing up like a complete idiot would be so fun?
So that's the scene set. I have one more national event to go before heading back to Australia for Christmas and some time in the sun at home. My fingers are crossed that the snow doesn't hit Boulder too hard in the coming weeks. I don't really do snow riding that well!
'Till next time
Rory
P.S. I sincerely apologize profusely to all concerned in these scandalous photos. Everyone involved were actors and 'may' look like professional cyclists or members of the cycling community...
Photography
For a thumbnail gallery of these images, click here
Images by Rory Sutherland