Rory Sutherland during the pre-race press conference.
Photo ©: Jon Devich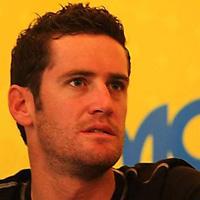 The Rory Sutherland Tour of California diary
Rory Sutherland is back again Ė the 25 year-old Australian from Canberra is reporting from the 2008 Tour of California for Cyclingnews. The 2004 Australian Under 23 National Champion will keep readers up to date every day on his and Team Health Net's progress as they race down the Golden State as part of the eight-day race. (For more read his 2007 diaries.)
The real race starts
Its official... Were up to 15 people that read my diary (plus Timís Mother of course). I am amazed! Such dribble at times, but yet, people are either entertained, or just plain bored. Iím guessing the latter.
So day one is under way. Well the real day one I guess, as the prologue has been omitted from my memory already. Come on, who can classify a 3.5 km jaunt as a race... Iím pretty sure I would be thinking differently if I had done well though. So maybe Iíll just shut up on that subject.
How's the racing?? Good actually. Things seem to be changing in the peloton this year. New teams, more evenly spread quality of riders among teams, and it also seems that Ďmostí of the US based teams (like ours www.teamhealthnet.com) are closing the gap between the ProTour teams and us. The finish today was the same as last year. Iím wondering how we can let the organizers know that crashes due to really bad roads on a finishing circuit doesnít necessarily 1. Promote the sport, or 2. Make us feel too good about it all. I would have thought after last years 100-man pile up (no joke) they Ďmayí be willing to find another area to finish in Santa Rosa? Anyway.... The crowds were awesome AGAIN. Actually, on most of the circuit it was pretty deafening. Iím happy so many people came out and watched. It really adds to the atmosphere.
So the competitions Iím running. Iím yet to meet someone that has read my diary, OR has something witty to say before or after any stage! Maybe, just maybe someone will step up and make my day! I can only hope, I guess. BUT, I have had a few emails, with some pretty awesome Australian comments. Apparently we are everywhere in the world! Unfortunately, the competition is only really open to people who come and see the race, but if they donít (which could happen) then I have everyoneís addresses that email me during the tour. This is the funniest one of the day....
"You guys will take todayís sprint, no wucking furries. Just bang those other wankers like shithouse doors in a gale!"
Thanks Matthew, from wherever you are! That cracked me up big time.
I have an official "Rory's Cyclingnews Diary" sponsor!! A good friend of mine from Australia has offered up a prize from his new T-shirt range at www.aqto.com.au. A winner of my daily competition has the opportunity to choose a t-shirt out of their range. Very cool Damian, very cool!
For the person who emailed me saying they didnít know who Tim Johnson was.... hahaha, good work, he is very offended. He thinks heís kind of a big deal!