Recently on Cyclingnews.com
Rory Sutherland during the ToC pre-race press conference.
Photo ©: Jon Devich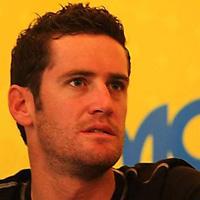 The Rory Sutherland Tour of Georgia diary
Rory Sutherland is back again – the 25 year-old Australian from Canberra is reporting from the 2008 Tour of Georgia for Cyclingnews, following on from his incredibly popular Tour of California diary. The 2004 Australian Under 23 National Champion will keep readers up to date every day on his and Team Health Net's progress. (For more read his 2007 diaries.)
Stage 1, Tybee Island - Savannah 70miles/113kms
Guess who's back, back again
Off and running again in another of the three big tours in the United States of America. What's great is that this race seems to be getting bigger, and actually, more fun. The organisation is great, weather is about 100 percent better than the Tour of California (not hard considering it rained the whole week!), and the riders are a lot more relaxed than in California, too. The first day is always interesting, today being no different. 113 kms of fast pancake-flat racing. Just what the doctor ordered. Today was not one of my best days on the bike, but I survived, and 'should' get better day-by-day if history is anything to go by.
To get here to the Tour de Georgia has been an interesting trip. I had to race in Sea Otter first on Saturday, jump on a red-eye flight in San Francisco, fly through the night, get to Atlanta, then another flight down to Savannah, a few media things, little ride, massage, sleep, and go. Maybe not the greatest preparation for the tour, but you know what, that's life. I'm paid to ride my bike, so that's what I do. Not opposed to a pay raise, though? Wink, wink...
The run into Georgia has been a pretty good one. I've been living in Santa Barbara for the last few months, enjoying the sun, and good friends. I figured something out, 'apparently' if you are happy, then you ride well... I know, I'm a smart one, only seven to eigtht years of being an apparently pro rider, and I only just figured that one out. Tim (room-mate supreme) gave me a blank look like "you're a retard, I've been telling you that forever."
Speaking of Tim, I've decided he needs to contribute to this banter on a daily basis. After all, he is my room-mate in every tour.
"This kind of opportunity only comes around once in a while and man, am I excited. Thanks Rory, I'm a bit overwhelmed and now I don't know what to say. Coming back from a seven-week break away from the races like I've just had has really made riding my bike a whole lot better. During Cali I was at my limit physically and mentally and a break was what I really needed. Getting sick at the end was just the icing on the cake. Here in Georgia it's all about getting back to racing the way I like to, aggressively, and trying to do what I can to help the boys out. For this week, I predict that we'll get that podium time that we're after. The only problem is that I don't know which of the boys it'll be with! 'til next time..."--TJ
So that's the lot for the day. One down, six to go. It should be an interesting week. Thanks just quickly to all the people who emailed me after Tour of Cali, it was amazing! Really, that's what makes it all so fun.
Also...there will be something else happening this week. Kind of a bigger thing, kind of fun, and kind of a secret…for now. Keep posted for more!
Rory
www.teamhealthnet.com