Rory Sutherland during the pre-race press conference.
Photo ©: Jon Devich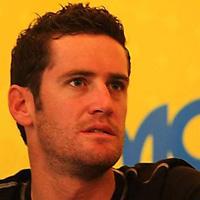 The Rory Sutherland Tour of California diary
Rory Sutherland is back again – the 25 year-old Australian from Canberra is reporting from the 2008 Tour of California for Cyclingnews. The 2004 Australian Under 23 National Champion will keep readers up to date every day on his and Team Health Net's progress as they race down the Golden State as part of the eight-day race. (For more read his 2007 diaries.)
Stage 5, Solvang ITT 15miles/24kms
The race of the truth
Another day down, and another few riders out of the race. There is one serious stomach bug that seems to be ripping its way through the peloton. I am doing everything I can to stay away from it, but seriously, I think it's a question of luck.
Back to yesterday, I just wanted to make something a little clearer. There are only a few purely US-based domestic teams in the race. Ourselves (HealthNet p/b Maxxis), Toyota-United, Kelly Benefits, Bissell and Jelly Belly. We all basically run on about a tenth of the budget of the ProTour teams that are here. This is by no means a reason why we cannot be competitive, or cannot race with the bigger guys. There is just a gap in depth. So don't be too upset at not seeing too much of these teams at the front. I can guarantee that it's not for lack of trying. Therefore, it is also a big deal when yesterday, one of the smaller teams wins. This is all not an excuse, it's just reality.
Today, well, I had fun. Finally! Dry roads, a little bit of wind, but some fun all the same. In a time trial you only need to worry about yourself. You only need to go as fast as you can or want to go. I enjoyed it. The crowds were awesome again, and the sun even peeked out from behind the clouds. Great!
Rory Sutherland powers along the course in scenic Solvang.
Photo ©: Jon Devich

Another response to my emails. This one was a cracker.
"You're getting lots of face time on the internets. That should make your legion of web fanatics / stalkers happy. How many green card wedding proposals do you get in a week, by the way? That's something the diary readers would like to know."
Allen, I am unfortunately yet to be offered the opportunity to be married for green card purposes. However, I was apparently on a figure skating forum today. Yes, you heard it right. One of the furthest sports from cycling, and I was there. Good laughs, I will admit.
But I must be a super star now. Hillary and Mr. Obama, step aside, Rory is coming through. If Arnie can become the Governor of California without being able to manage a proper accent ;-) …and yes, I am joking.
Two days to go, and the game is still on! We're going to try and get some things going, and drag our butts down to Pasadena for the last day on Sunday. Keep the emails coming. I WILL get back to you at some stage soon. They totally make my day!
Rory
www.teamhealthnet.com
rorysdiaryisboring@gmail.com