Recently on Cyclingnews.com
Rory Sutherland (Healthnet)
Photo ©: Jon Devich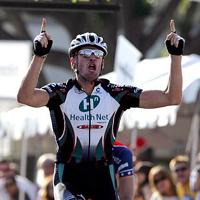 Back with a bang: The Rory Sutherland diary 2008
In his first season on the North American circuit, Rory Sutherland swept up the individual NRC title while helping his Health Net presented by Maxxis squad secure the team prize.
Back for another year in his adopted home of Boulder, Colorado, the Aussie will be looking to add a heap more victories this season - and have a good time doing it. Follow all the ups and downs of Rory and his Health Net team right here on Cyclingnews.
A good balance
Working hard at the Bay Series
Photo ©: WomensCycling.net

OK, I guess I have some explaining to do. I haven't put in a diary entry for a long time. There are, however, reasons for this. I guess it's that I like my off season, I like spending time with my family and friends, and I like to not be thinking about cycling. Yes, it's true, I don't want to think, talk about, or do anything bike related for most of my time off. This keeps me sane and helps me find what I like to call 'a good balance'.
So, why am I writing one now? Because everything has already kicked off! I have just finished week two of racing, and it is only the second week of January. It's been a good off season, I stayed a little longer in my adopted home of Colorado, the weather was a little up and down, but I have officially driven in snow now! Why do you stay when it's 30 degrees Celsius in Australia and only 5-10 degrees Celsius in Colorado? Well, it's the people, it's the atmosphere, it's the ease of it all, and lastly it's to help make it feel like home.
Right now I'm on my way back to Colorado, looking forward to a change of pace, a change of temperature, and a different attitude. It's been a hectic last two weeks. The Bay Series in Geelong is still considered, at least in my book (and a lot of others feel the same way I'm sure) as the hardest crits in the world. If anyone wants to challenge this, let me know. I have Power and Heart Rate files from the last few years that will make your legs burn just by looking at them!
Making the podium at the Nationals
Photo ©: WomensCycling.net

After that it was off to the Nationals in Ballarat, Victoria. A perfect town for doing absolutely nothing! Yes, it is that boring! The Nationals are a hard thing for any rider to be good in, especially so in Australia as they're in mid-January. For me personally, things are on track. This diary is not a gloat session, and hence me trying to always write about the life itself as opposed to pure bike racing blab. Nationals went well, I'm happy to be able to do them, and I'm extra happy to have come out with more confidence for the rest of the year.
We have some changes taking place within our team this year. With the current trend in the cycling world, it's tough to get or hold sponsors. We are lucky enough to have a great sponsor, and co-sponsors for that matter - companies that realise that cycling and sport itself are bigger than what you read in the press. We have shuffled the riders around a little, changed our ideas and priorities, but seem to have come out with a group of people that not only work well together on a bike, but also off. As the season progresses, I'm sure everyone is excited to try something a little new. Life isn't all bad, after all.
And dousing winner Matt Lloyd with champagne
Photo ©: Shane Goss

I've learnt a lot this off season, not just about myself, but about cycling in general. There are set ideas about what people are 'supposed' to do with their down time. No riding, then lots of pure base work. But come on, it's not like I am about to miraculously start the Tour de France in 2008, am I? I need to be good in January, I have the benefit of being able to take little breaks all through the year, so why do it all by the book or by the old methods of training? I've found that if you're happy, if you're confident, and know what's important to you, then you can find some sort of balance.
In finding this, things just seem to come together. Don't get me wrong, I am serious about my job, however, I think things are taken a little too seriously at times. I prefer to look at it all as a passion, or a hobby, rather than a job. To me a job means hard work. And while some of the time riding is very gruelling, it is, at the end of the day, just cycling.
Time to get back to sitting bored in front of a mini screen on the back of the chair in front of me whilst a four year-old child decides to either kick my chair or scream at the top of their lungs... shoot me now!
Rory
www.teamhealthnet.com