Recently on Cyclingnews.com
Rory Sutherland (Healthnet)
Photo ©: Jon Devich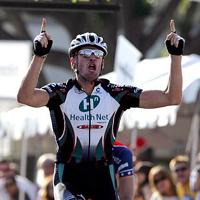 Back with a bang: The Rory Sutherland diary 2008
In his first season on the North American circuit, Rory Sutherland swept up the individual NRC title while helping his Health Net presented by Maxxis squad secure the team prize.
Back for another year in his adopted home of Boulder, Colorado, the Aussie will be looking to add a heap more victories this season - and have a good time doing it. Follow all the ups and downs of Rory and his Health Net team right here on Cyclingnews.
October 11, 2008
Vegas and the Offy
Making people happy
Photo ©: Rory Sutherland

A little wakeboarding
Photo ©: Rory Sutherland

It get's even better
Photo ©: Rory Sutherland

The two subjects most talked about right now: Interbike in Las Vegas and the off season. That is pretty much all that was said during September. Even though we were racing the Tour of Missouri, the chats with other riders on the bike was always the same. What are you doing in the off season? Are you going to Interbike? This question was directly followed asking one where they are staying and what parties they will be attending.
It was my first Interbike. Wow! What a show! I get it now! I've seen the expo, noticed how important it is for selling product, and now I'm totally over Las Vegas. Chapeau dealers. I cannot imagine standing on your feet from 8AM until 5PM, talking about bike stuff, trying to tell consumers or bike shop reps why your product is better than the competitors, cleaning up, going out all night, and then doing it all again the next day. Chapeau! I am but a bike rider.
My mental capacity and patience is unfortunately not too long at all. After fifteen minutes of a one hour photo signing session, I was ready to be out. Vegas is a huge unorganized mess. I am sure most of those reading will have been there, so you already love or hate the place. I am somewhere in between... It's fun for a day or maybe, just maybe, two days, but four days... too much. ANYWAY, a lot of faces were put to names and emails, so there were a lot of positive things that came out of the experience. Catching up with friends/sponsors on a social level was also awesome fun.
So, where are we now? The Offy, of course. The time of shut down and hanging the bike somewhere high up in the garage. In past years I have gone to the extent of taking tires off wheels, bar tape off, cables out, and the chain off, but luckily, with getting a little older, I now have the constraint to just not ride my bike. I myself (which is drastically different to a lot of other pros) just like to not ride. I do other things such as hiking, swimming, surfing, wake boarding... the list goes on. Basically I do anything that isn't causing me to turn a pedal. Some fellow pros don't seem to stop.... In regard to surfing and wake boarding, I'd like to make something blatantly clear. This I found out from practice, not from lack of belief or trying. Just because I'm Australian does not grant me god given powers of being able to do these two things. Where I wished I was amazing, unfortunately I was not. Practice for me, even with my Australian roots, is required. Much water has been swallowed, and many face plants had.
I've done something different this Offy: moving, moving and more moving. Why oh why did I think I could/should/would move house? Shouldn't I have let someone else with better ability, patience, and actual physical strength do it for me? Lesson learnt, I am officially a buckled unit from lifting things I can't actually lift, driving with loads I shouldn't be pulling, and poor from renting trailers/storage/boxes/tape/ropes/petrol, when a removalist would have quite probably done it for me for the same price. Lesson well learnt.
So I was chatting to one of my team mates the other day. He's gone somewhere in the middle east for his time off. His dad works there and of all people I know, he is probably the one that actually needs to take the time away from the bike and be in a different environment. So here I was giving him advice, and in doing so, realized that I should be the one taking my own advice. It's always quite easy to tell people what they're doing wrong seeing it from the outside, but it's much harder to turn that around and do what's right for you. He said he had already had a month off the bike, and still had another two weeks in the middle east before coming back home. The problem was, he was itching to get back on the bike and just go for a ride. The comment I made directly was, "When you're itching to get back on the bike after time off... take another week off." Lesson again leant. Another week off it is.
So, to close it out:
- Sometimes trying to save money ends up costing you more.
- There is no generic answer to time away from the bike, everyone is different, and something different works for everyone.
- Stop just telling people what you think. If you really believe it, shouldn't you be doing it yourself?
The off season is the reset button for professional sport.
Rory
www.justrory.com
www.teamhealthnet.com
Photography
For a thumbnail gallery of these images, click here
Images by courtesy of Rory Sutherland