Rory Sutherland during the ToC pre-race press conference.
Photo ©: Jon Devich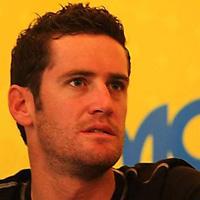 The Rory Sutherland Tour of Georgia diary
Rory Sutherland is back again – the 26 year-old Australian from Canberra is reporting from the 2008 Tour of Georgia for Cyclingnews, following on from his incredibly popular Tour of California diary. The 2004 Australian Under 23 National Champion will keep readers up to date every day on his and Team Health Net's progress. (For more read his 2007 diaries.)
Stage 5, Suwanee - Dahlonega 133 miles/ 214 kms
Missed by that much
It must be the brownies. That's my guess on today. I'm claiming success must come through tasty bites of chocolate covered goodness. A good day in the office! A podium for the team and me is something that we have been searching for the entire race. I'm still looking for the upper step, but I'm getting closer.
Rory Sutherland in third place
Photo ©: Kurt Jambretz

Today was a monumental event. I got to pass off the most aggressive jersey (which Tj and I call the Muy Aggressive Jersey) to my very own team-mate and roommate. Great day! It's funny though, Tim doesn't come across as an aggressive type, but I've decided that I will pick up the slack and push people around in the peloton if he needs it.
The best part of the day was hearing about the demolition derby going on in the caravan following the race (where all the team cars are lined up). A nice big bumper-to-bumper accident took place. Now, we've been joking around with our team director Mike about the fact that he drives a girly car and can't drive very well. So, good old Mike solidified all this by nearly writing off our little team car. After an exploding airbag, nearly killing the mechanic, taping the said airbag back into the exploded steering wheel, and driving on...Needless to say Mike, today will not be forgotten. Of course, we will never let you forget it!
The Tj section:
"I'm in full agreement with Rory. The lure of a couple boxes of brownies at the finish line was enough to get me through the day today. Sure enough, they were there and then, well, they weren't.

I'm really looking forward to seeing a few people out on Brasstown tomorrow. I'm sure I'll miss some people, but in particular having Big Dog Schmidt and family, Virginia and the rest of the Athens crew and hopefully my Songsters too will keep me motivated to push on the cranks and make it up to the top. Last year I had to buckle down and get to the top in front of my general classification competition, but this year it's going to be all pleasure. Sick and masochistic pleasure tempered by a few pushes at the right moments. So there it is; any and all readers who will be on Brasstown, have a heart and give the ragged looking guy in a HealthNet-Maxxis jersey a little helping hand. It'll be most appreciated (but make sure to push whoever is riding near me too!)"
So that's it for a long and productive day. It was 214 kms, but ask Tj and myself, we had fun anyway! That's what it is all about!
Till the mountain tomorrow!
Rory
roryingeorgia@gmail.com
www.teamhealthnet.com