Rory Sutherland during the ToC pre-race press conference.
Photo ©: Jon Devich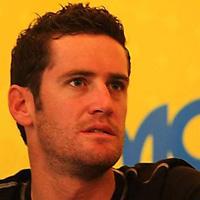 The Rory Sutherland Tour of Georgia diary
Rory Sutherland is back again – the 26 year-old Australian from Canberra is reporting from the 2008 Tour of Georgia for Cyclingnews, following on from his incredibly popular Tour of California diary. The 2004 Australian Under 23 National Champion will keep readers up to date every day on his and Team Health Net's progress. (For more read his 2007 diaries.)
Stage 4 - April 24: Road Atlanta (TTT), 10mi/16.1km
Tradesmen
A good title to help explain the shortness of this diary entry. I agree that we do need tradesmen...but cutting through the Internet cable at the hotel is a big no, no. The press has headed off to some Internet cafe, our PR people are following suit, and I am here typing away on a mobile/cell phone keyboard. Wow, my fingers are going to be done by the end of this.
Rory leads HealthNet-Maxxis up the tough
Photo ©: Jon Devich

So, the team time trial of the tour. Obviously not really HealthNet-Maxxis' specialty, but that doesn't mean you can't give it a go. It was interesting to say the least; 16kilometres around a car racetrack out in Georgia. It was actually a lot of fun. I know the words team time trial and fun don't normally go in the same sentence, but something has to be said about the camaraderie and team building that comes from this event.
All the team, racing together, but without everyone working as one unit, it just doesn't work. This event is no place for heroics, or a strong man complex. So all in all it was a good day on the bike, and another day closer to the frightening climb that is Brasstown Bald.
The Tj section:
"Finally, tomorrow brings the first brownie day during the tour and I am psyched. Old friends of mine, the Myles, have a tradition of bringing containers of brownies to the stage starts. I'm not even sure how it all started, but I will never, ever complain as I've got a sweet tooth that'll put anyone to shame. They've been great to me and my teammates throughout the years and as a small way of thanks I've had little Mark help me sign in to a stage or two. The first time was back in 2004 with Saunier Duval, as a wee lad and now this year I expect him to be taller than Rory and maybe even sport an Aussie accent. Who knows!"
So that's it from my blackberry. I need a keyboard back! On the Mate for Matt thing...we're still without willing participants. I have decided to think about it in the following way: It's like an eBay auction. You think its going badly, then it goes crazy in the last hour.... let us hope this is the same thing. mateformatt@gmail.com
Rory
roryingeorgia@gmail.com
www.teamhealthnet.com