Rory Sutherland (Healthnet)
Photo ©: Jon Devich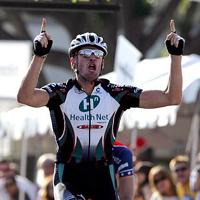 Back with a bang: The Rory Sutherland diary 2008
In his first season on the North American circuit, Rory Sutherland swept up the individual NRC title while helping his Health Net presented by Maxxis squad secure the team prize.
Back for another year in his adopted home of Boulder, Colorado, the Aussie will be looking to add a heap more victories this season - and have a good time doing it. Follow all the ups and downs of Rory and his Health Net team right here on Cyclingnews.
November 26 , 2008
Pre-season camp
Asheville, North Carolina was the chosen location for the "OUCH presented by Maxxis" November team camp. Asheville is a hard place to ride. There does not seem to be too many mountains, but there is a hell of a lot of hills! I am amazed at what just one week of structure can do for you.
I went into the camp unfit. I had just started my training and my legs were not used to hurting. My heart had forgotten what working really was, as had my lungs! I was suffering up each and every climb on that first day, but my body finally changed after six days of climbing, being half wheeled, and pushing myself beyond my limits.
It is strange how you can click into gear in such a short amount of time. Those feelings of progress, momentum and motivation have started to flow back in and the pending season is a little closer and seemingly more possible than week's prior. This camp helped my motivation and told me exactly where I am at in my training.
My first visit to the wind tunnel took place last week. The wind tunnel is a funny thing. I had always wanted to go; yet I was a little apprehensive at the same time. I think this was due to the fact that I knew what they would say... I am not aero. I never have been. I am a concrete block in the wind on a time trial bike. My size and body dimensions don't go hand in hand like a little bullet similar to Levi Leipheimer. Nor is it possible to gain a position similar to an Olano or Boardman in one day. I'm an Indurain. Not that I come anywhere close to the ability of that man, but I am someone who rides more on power than on aerodynamics. So, here we are trying to make it possible.
I am not only an apprehensive person, but also a skeptical one. I am someone who thinks that the dotting of the I's and crossing of the T's should come last. A lot of people who want to race faster and longer seem to go for the easy one percent here and there, forgetting the hard nitty gritty miles on a bike, or lactate burning efforts. The old saying "you have to crawl before you can walk" runs true. I'm going to be busy in the coming months. I have to train my body to become more aerodynamic. Apparently I am going to have to turn myself inside out to cheat the wind, perch on the tip of the saddle, and make my body do something that just isn't normal. The best advice/comment I got about this was, "it's going to hurt like hell, but realistically, that's what a time trial feels like anyway." Gone are the ideas that time trials are meant to feel good or comfortable.
The end of the year is quickly approaching and I have been looking at my 2008 records (this is what you do when you look over your taxes). I seem to have spent 218 days on the road. This meaning that it was either at a hotel, a friends' house out of state, in Australia at my parents' (not really my own bed anymore) or renting a house in another state when it was too damn cold for me at the beginning of the year. Holy crap, that's a lot of time away.
So, when you think this is the most glorious job in the world, think about that. Honestly, I don't know how a lot of riders, including myself, get away with it. Add those numbers to the hours in planes, airports, in cars, on bikes, in limbo... it is amazing that we all survive a season. I think this is a fairly good reason as to why rest is needed.
I am heading back to Australia after eleven months without seeing any family in the USA. Taxing to say the least. I've never been one to suffer from homesickness, but now I am slowly feeling the weight of it on my shoulders. However, at the end of the day, with all the ups and downs, falls and wins, this is what I do. I don't think racing your bike makes you who you are, nor is it the same as going to university, but the lessons learnt day in and day out on a bike have definitely provided an education for me!
Things Learnt During the Month of November
- Man iss not a camel (Australians will get this one)
- Don't play drinking games with Australians....
- I don't seem to ride well and be comfortable on the bike until I've followed guys heavier than me up a mountain, swearing at myself, cursing the world, analyzing my off season and feeling like crap.
- The day after the one stated above was 100% different.
- Facebook opens the door to a lot of things... How can you be 'friends' with someone online that you've never met, be interested in their daily goings on, look at their photos, examine their lives, and yet not want to ever talk or meet them in person?
Rory Sutherland