Rory Sutherland during the ToC pre-race press conference.
Photo ©: Jon Devich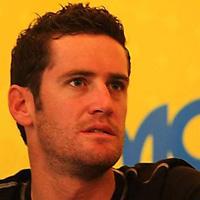 The Rory Sutherland Tour of Georgia diary
Rory Sutherland is back again – the 26 year-old Australian from Canberra is reporting from the 2008 Tour of Georgia for Cyclingnews, following on from his incredibly popular Tour of California diary. The 2004 Australian Under 23 National Champion will keep readers up to date every day on his and Team Health Net's progress. (For more read his 2007 diaries.)
Stage 6, Blairsville - Brasstown Bald 88 miles/ 142 kms
The bald
Back here again. The climbing just doesn't get any easier! The Tour de Georgia has a pretty renowned climb every year. Brasstown Bald is its name, and it's one steep, steep climb! I won't lie; I had a good day today. Sometimes things just fall into place, and sometimes it doesn't. I understand all this, and when you feel good, you need to try and take those opportunities. After all, cycling is 40 percent legs, and 60 percent in your head.
HealthNet-Maxxis' Tim Johnson had some support

Rory Sutherland's still got women chasing his heart

I am not a 'light' freak. I do not switch out specific bolts on the bike to make it lighter. I like things to be as normal as possible, and for someone of my weight/height, an extra gram here and there is nothing for me to be overly concerned about. You either have the legs at the end of the day, or you don't. Simple.
The fans were pretty awesome today. There were so many people up on Brasstown Bald. Everyone was screaming and writing on the roads. It was pretty amazing. There were also a few Rory and Tj supporters, which was the greatest. I have some interesting photos that one supporter chalked on the road. She screamed her heart out at us on the way up the climb.
The Tj Section:
"Five times up that thing and for some reason I'm still hoping to do it again. Brasstown is a whole different animal than all other climbs that we do all year. It's painful, but the circus surrounding it is what allows us riders to turn our grimaces into a smile or two. In the gruppetto, that usually happens when you're getting a push or two.
I'm a hurtin' unit right now and hope that I can pull a little something special out of my legs in Atlanta...wish me luck. I'm going to need it!"
So we're off to Atlanta tomorrow. The tour is nearly over. Another 100 kilometres to go and the Tour de Georgia is a shut down. I am looking forward to going home. It has been a pretty long time since I was back at my apartment in Boulder.
One of the best things about finishing a tour is the lack of stress. Don't get me wrong, with the staff that we have, and the way we have ridden as a team, there hasn't been a whole lot of stress. At the same time, it's always fun to get back home and do some low stress rolling round on the bike. Sleeping in, eating at home…the list goes on. I will be requiring a little extra sleep to get me back and on top of things.
Count down on.
Rory
roryingeorgia@gmail.com
www.teamhealthnet.com
Photography
For a thumbnail gallery of these images, click here
Images by Rory Sutherland