Rory Sutherland during the pre-race press conference.
Photo ©: Jon Devich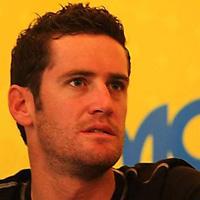 The Rory Sutherland Tour of California diary
Rory Sutherland is back again – the 25 year-old Australian from Canberra is reporting from the 2008 Tour of California for Cyclingnews. The 2004 Australian Under 23 National Champion will keep readers up to date every day on his and Team Health Net's progress as they race down the Golden State as part of the eight-day race. (For more read his 2007 diaries.)
Stage 2, Santa Rosa - Sacramento 116miles/187kms
Cat-eyes are my enemy.
This is my starting statement. Cat-eyes will be the end of me. What is a cat-eye? Those little lumps in the middle of the road that when you drive a car and your headlights hit them, they glow like cats' eyes. Hence the name.... When you're on a bike, with a tiny tyre, and it's raining.....Not good. I have no idea how nobody crashed on them today. It seems like California itself needs excessive amounts of them all over the road. However! If this keeps people from crashing cars, then I guess I/we will deal with them.
So, my little email address/competition that I have is gaining some serious momentum! There are even more sponsors onboard than ever before. Amazing. I am still yet to meet someone at a start or finish who has read my diary, but I am holding onto hope! Officially, I seem to have cracked the 40 people mark. This has surpassed every expectation. I've decided that either 40 people actually read it, or Tim's Mother has made up 40 different email addresses and is attempting to make me feel special. I have had some great emails, very supportive, and from people all around the world. I WILL email everyone back. It's just taking time.
It seems like the most commonly asked question is related to Cipollini. Yes, he is here. What is my opinion of his form/look/clothing/manner etc.? I don't pass judgement. Results speak for themselves, and if you see all the hype, then clearly what he is still continuing to do is answer enough. On his age, who cares? Really, why should your age stop you from doing something? This is pretty relative to everyday life, and also everything you choose to do.
Back to my new sponsors! We have some new swagger to give. Some very generous and classy people have donated some more gear for "The great give-away." Megan, another good friend, has thrown in some Defeet socks from her restaurant www.blackcatburrito.com from Boone, NC. AND the local bike store in Boone has thrown a t-shirt in that package, www.boonebike.com. We're away! All this is also just to prove a point to myself that not everyone is out to make money! There are people everywhere who are willing to give things away in reply to the great support we receive in the Tour of California, and also all the races for the rest of the year.
I am biased. My Aussie quote of the day is actually from my roommate's wife. She however, unfortunately doesn't win a prize, as she is lucky enough already to be married to Tim.... hmmm right. Anyway, here it is: (and from someone who's first language is French, too).
"After vegemite on my toast this morning I put on my sand shoes, got the woofer ready and walked to the beach. After Vitesse told a boxer to cheese off she went to drink some salty ocean water... On the way home she needed a nappy cause she got a bad case of the trots!!"
Translation:
Vegemite = basically burnt yeast spread
Sand Shoes = Sneakers
Woofer = Dog
Vitesse = Tim and Lyne's Dog
Nappy = Diaper
Trots = hmmmm, you figure that one out.
Keep up the emails, competition is still open!
rorysdiaryisboring@gmail.com
Rory www.teamhealthnet.com