Recently on Cyclingnews.com
Rory Sutherland (Healthnet)
Photo ©: Jon Devich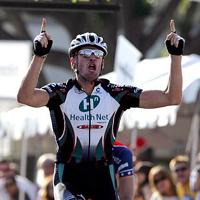 Back with a bang: The Rory Sutherland diary 2007
Talented Australian Rory Sutherland will be tearing up the US domestic circuit this season with Professional Continental squad Health Net presented by Maxxis. With the best part of six years European racing under his belt, look out for the 25 year-old from Canberra to notch up some big victories in '07.
Stay tuned to Cyclingnews for the inside scoop on Rory and his Health Net crew as they match up against ProTour opposition at the Tour de Georgia and beyond...
Smashin' the TT
Tour de Georgia - Stage 4 - April 19: Chickamauga - Lookout Mountain (ITT), 30.4 km
Good old time trials! Well, not exactly good, but that's racing. People seem to have a certain expectation that 'if' you're considered good at Time Trails (through results, or just a generalization of someone's body shape) that you actually enjoy them. Maybe some riders with a shortness of brain cells might actually like them, but I'm afraid I don't! That being said, I may also be short a few brain cells for other reasons. Basically, a time trail hurts, and whether or not you're good at them, that's the way it's always going to be. No one wins them without going through an amazing amount of pain.
Nathan O'Neill (Healthnet) finished third
Photo ©: Jon Devich

Today's was the same, however with one small difference: there was a massive berg in it! And through words from my great teammate (Russel Downning, currently holidaying back in his native Rotherem, United Kingdom) I can explain it: ouch, ouch, and ouch again!
Wrap up: Nathan smashed it and came third, Jeff moved up on general classification and keeps the Mountains jersey and Timbo moves up as well and also holds his Most Aggressive jersey. The boys and I are starting to actually think that he gets this Jersey for the faces he pulls when he's going flat out. It's kind of like a determined/I want to kill you face. Strange from such a good bloke! So, that's the race wrap up! 'Nuff said about that!
I would love to add some quirky little comments on something I saw today, or something that happened, but to be honest, my roomie (Tim Johnson) and I are pretty dead! Tim's currently face down on his bed watching TV and talking to his wife on the phone at the same time. (Tim's married to Lyne Bessette, who I think is maybe the hardest female bike rider around. Anyone who's ridden with her knows this well!) Anyway, Tim's smashed and so am I! I can't really understand it as we've only done like 575 kms in three days, followed by a smash fest of a 30 km leg-burning, lung-caving, heart-racing time trail. Geez, I can whinge!
So that's it for today: not a lot of content and not a whole lot of substance! Hey, guess I'm human after all :)
'Til tomorrow,
Rory
www.teamhealthnet.com