Recently on Cyclingnews.com
Rory Sutherland (Healthnet)
Photo ©: Jon Devich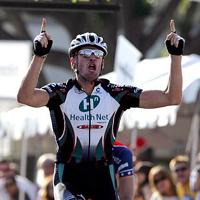 Back with a bang: The Rory Sutherland diary 2007
Talented Australian Rory Sutherland will be tearing up the US domestic circuit this season with Professional Continental squad Health Net presented by Maxxis. With the best part of six years European racing under his belt, look out for the 25 year-old from Canberra to notch up some big victories in '07.
Stay tuned to Cyclingnews for the inside scoop on Rory and his Health Net crew as they match up against ProTour opposition at the Tour de Georgia and beyond...
Cruisin' the USA
My favourite town
Photo ©: Rory Sutherland

Here we are again, in May. Wow, the year's buzzing by so fast! We've gone through the whole 'it's okay that I'm riding crap, its early season' and into 'oh my God, it's May and the first half of the year has already gone by'. This is a pretty good reason why I don't really mind when I get results.
Let's be honest, there's actually only 200 odd riders in the world who are training and holding off their form for the Tour de France! So, with that, I'm happy with the way things are going. After a year off, I thought things might go slowly, but maybe one of the things I've learnt is to take opportunities whenever they arise.
Time out at the supercross, madness!
Photo ©: Rory Sutherland
On to 'perceptions of America'. As you know (or maybe not because you don't read my diaries as they're boring) this is my first year in the big U.S. of A. I admit, it's not really as big and over the top as I first thought it would be. Sure it's a big place, but so is Australia.
There's an amazing amount of variety and diversity, something that I didn't really expect. Given, I haven't seen the whole country, but in the last few weeks I have seen a lot.
After Georgia I was due some 'down time'. Not wanting to totally ruin any type of form I may or may not have been getting, I kept riding, but not doing too much crazy stuff…okay, so that last bit was a lie!
Welcome to Boulder, Colorado.
Photo ©: Rory Sutherland

Last weekend, as an example, Tim (the roommate of roommates) decided to road trip me to Las Vegas. That's right, the glitz and the light of big insane Vegas. Is it everything it's cracked up to be? Hmm, that and more. It's hard to explain… and just maybe it's not such a good thing to indulge you all with too many details. I wouldn't want to break the old saying 'what happens in Vegas stays in Vegas'. Hey, I don't write the rules!
Anyway, we hit the motorbike super cross, an experience definitely not to be missed if you have the opportunity to go! To end the Vegas stories, no alcohol was drunk, we awoke every day at 7 am to for training, and absolutely no fun was had…riiiigggghhhtttt! (Oh, and thanks to Anne and the www.umbrellagirls.com for sorting us out while we were there!)
So to end the entry, what have I learnt here in the last five months in the United States? I no longer seem to be using my usual 'mate' saying to greet people. It's now changed with the culture to 'Buddy' or 'Dude'. A hand shake no longer suffices as a form of greeting or expression of approval. Instead, it's been replaced by the old crowd favorite the 'high five'. So, yes, I'm adapting and changing with the times - who would have thought!
Rory
www.teamhealthnet.com