Recently on Cyclingnews.com
Rory Sutherland (Healthnet)
Photo ©: Jon Devich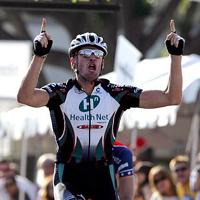 Back with a bang: The Rory Sutherland diary 2007
Talented Australian Rory Sutherland will be tearing up the US domestic circuit this season with Professional Continental squad Health Net presented by Maxxis. With the best part of six years European racing under his belt, look out for the 25 year-old from Canberra to notch up some big victories in '07.
Stay tuned to Cyclingnews for the inside scoop on Rory and his Health Net crew as they match up against ProTour opposition at the Tour de Georgia and beyond...
Tour of Missouri - Stage 5: Jefferson City - St Charles, 204 km
One day to go and another 200+ kilometres under the belt. I might actually have some good form by next week...hmmm, for the off season! That's right, tomorrow afternoon is shutdown time. Season 2007 finito, basta, finished! It has been a fairly long year, starting on the January 2 in Geelong at the Bay Series Criteriums and ending somewhere in the east of Missouri.
Today's racing was another long one. Luckily, it wasn't windy, otherwise it would have been a very, very long, hard day. Today the break went away a little earlier than yesterday, which was good. Our new team superstar got in it again to protect his Mountain Jersey (which he now has 'til the end of the tour) and also adding another 160 odd kilometress to his breakaway tally! Yesterday he was out there for about 150 kilometres, too...have fun with that! Anyway, the break stayed away this time, and Jeff came third. Nice one, Tiger!
So here I am, the last night before the race is over. What am I doing now that the massages, dinner and everything for the day is done? Watching TV! I'm nearly thankful that the wireless network in the hotel isn't working as I seem to just sit and look at brainless crap on the 'net. Now I've moved upwards on the entertainment and educational scale. Yes, I am watching Cops, the show about the police in the USA. It's great...especially this episode titled Bad Girls. Thrilling...really, it is!
Now onto something that seems to be growing out of control, the "Masshole Cup" has become more popular than I could have imagined. Even as far as the live stream of the Missouri stages - See live stream for today circa 14:03 CDT - who would have thought. It has become one of the true, honest and well fought battles of this tour so far. Today it was like watching a race within a race - Tim and Jesse avoiding each other, both trying to get into breaks without the other and just purely putting on a show for me in 75th wheel. Thanks boys.
So the winner of the day is…Jesse. After an ever exciting first hour between the two, they both managed to miss the break...come on boys! The reason for Jesse taking a point back? He was on the front for the best part of 30 kilometres setting it up for a team-mate and all this while he is a little sick. Nice! Standings: TJ 2 - Jesse 1. One stage to go, 129 kilometres of opportunities. We're up for a show people!
So that's the day. Nothing of huge excitement on my side of things. But the idea of finishing tomorrow, going back to Boulder Monday morning and relaxing is getting too close for comfort!
Cheers
Rory