Recently on Cyclingnews.com
Rory Sutherland (Healthnet)
Photo ©: Jon Devich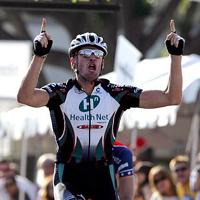 Back with a bang: The Rory Sutherland diary 2007
Talented Australian Rory Sutherland will be tearing up the US domestic circuit this season with Professional Continental squad Health Net presented by Maxxis. With the best part of six years European racing under his belt, look out for the 25 year-old from Canberra to notch up some big victories in '07.
Stay tuned to Cyclingnews for the inside scoop on Rory and his Health Net crew as they match up against ProTour opposition at the Tour de Georgia and beyond...
Tour of Missouri - Stage 3 - September 13: Branson (ITT), 29 km
Rory Sutherland (Health Net-Maxxis) plunges
Photo ©: Kurt Jambretz

I don't think it matters when you do them, how hard you 'choose' to go, but time trials just hurt! I don't know, I just can't take them super easy. I mean today I had the opportunity to do what seems to be known as 'sandbagging,' not on GC, not really at the time trial level of stepping on the podium. But, like I said, I just cant do it!
Anyway, that makes for a very exciting diary.... hmmm. No armadillos running across the road. No one crashing in front of me, no breaks up the road, and no victory salutes. However, the people of Branson/Springfield, Missouri are some cool people. I think the spectators were actually having fun today. Lots of "I love Brad" t-shirts for local boy Brad Huff (there's your plug buddy). Heck, they even cheered for me! And used my name... wow!
You know, in Australia we have four season…
Photo ©: Rory Sutherland

So Time Trial wrap up... Levi won, Nathan came oh so close to him (respect), the boys all rode well, I scraped into the top 10! AND I beat the 2007 Tour de France winner. What a huge accomplishment! I now think that maybe I could have won the Tour this year... right?? ;-)
Onto the Masshole cup between TJ and Jesse. Sorry Jesse, its now 2-0. Sad, very sad. 550 kilometres to catch up over the next few days though, champ.
So like I mentioned yesterday, I have some great quotes from the race caller of race callers. Seriously, this guy will make a race watched by two farmers and a dog into the hype of a technical bunch sprint in the Tour de France. Seriously funny stuff! So Mr. Towle, here is your piece of the pie! The quotes that make me laugh on the start line, or even during the race!
- Yelled with all the gusto that the man has:
The Louder super fans were out in force
Photo ©: Rory Sutherland
"Oh my god... here come the heavy hitters!!" "Welcome to DOWNTOWN PAINSVILLE!!" "This is gonna be on like Donkey Kong." "This is the greatest field ever assembled in the United States." "Find something to hold onto 'cause there's a tornado about to blow into town."
Funny, funny stuff.
Till tomorrow, after 220 long long kilometres!
Rory
www.teamhealthnet.com