Recently on Cyclingnews.com
Rory Sutherland (Healthnet)
Photo ©: Jon Devich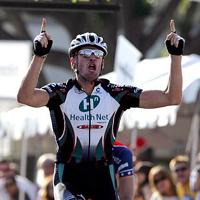 Back with a bang: The Rory Sutherland diary 2007
Talented Australian Rory Sutherland will be tearing up the US domestic circuit this season with Professional Continental squad Health Net presented by Maxxis. With the best part of six years European racing under his belt, look out for the 25 year-old from Canberra to notch up some big victories in '07.
Stay tuned to Cyclingnews for the inside scoop on Rory and his Health Net crew as they match up against ProTour opposition at the Tour de Georgia and beyond...
A strange old day
Tour de Georgia - Stage 3 - April 18: Rome to Chattanooga, TN, 190.2km
Strange old day in this year's AT&T Tour de Georgia. A group of 13 took half an hour out of a pretty lazy bunch. Normally this happens a few times toward the end of the year, so I'm not sure why it happened today. Ah well, we were well represented with my room mate Tim Johnson, and our other hard working Utah resident, Jeff Louder. The boys did an amazing job up front, and were rewarded with the climber's jersey (to Jeff) and the most aggressive rider's jersey (to Tim), yeah... I can't figure out that one either, Timbo, aggressive?? ;-)
There aren't as many super fanatical, flag waving, bell ringing, face painted, road side sprinting people here in Georgia as there were in California, but it's still pretty good. It's nice to see people come out their front door and support the tour as it rolls through town. After racing so many years in Europe, this is something that I haven't seen a lot of. Sure, there are always people at the finishes of races, but rarely along the road side (save for some of the big big races). Maybe it's because this country isn't as over-raced as Europe is. Cycling is something a little foreign, so if people want to see their favorite riders, or just a bunch of lycra-clad guys, then they only have one or two chances a year. Anyway, it's great to see, and also makes the whole experience a better one.
Tim Johnson (Health Net)
Photo ©: Jon Devich

Even though this is basically my diary, Tim has decided to grace the readers with a truly entertaining and intelligent look into "Rory's diary, as seen by Tim 'The Roomie' Johnson":
I look forward to reading Rory's diary just as much as the next guy, which apparently isn't all that much. Now that I've admitted to reading his diaries, that puts me in pretty elite company. I know without a doubt that besides me, he also has my mom and my wife, I also assume that he's got his own mum and dad and his two siblings, too. I've also heard that he may have a few others scattered around various parts of the world. It's hard to tell if there's been any interest from southern girls since his last diary, but I'll keep an eye out during the time trial for him.

I'd like everyone to know that for every detail of American life that he doesn't understand, I've already brought him up to speed on five others. He's constantly asking 'why this?' and 'why that?' Luckily, I have lots of patience for our newest Aussie import and haven't really gone out of my way to mess with him.
Thanks for that amazing input Tim. For the record, it took him, like, half an hour to think about it all. So...
I've been learning my 'southern' this week. Along with all the different food, it's fun to learn the different words that people use here. The most common of course is "Ya'll," and my latest and greatest was hearing Erik and Nick (our awesome wrenches for Team Health Net) being asked by a young waitress casually "want another beer baby?" Still makes me laugh.
Anyway, I'm sure I'll have another entry for ya'll tomorrow! Time trial here we come!
Till tomorrow,
Rory
www.teamhealthnet.com