The A.I.S. Women's Team is proudly sponsored by:












The AIS Women's Team Diary 2006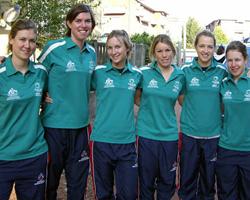 The 2006 AIS women's squad in Italy
Photo: © AIS
Cyclingnews has been pleased to publish a diary contributed by the members of the Australian Institute of Sport's Women's team as they conduct their European campaign. On Monday, July 18, 2005, everything changed. In the light of the tragic event that took the life of Amy Gillett and put her five team-mates in hospital, the AIS women's road cycling programme was suspended.
But this year the AIS women are back. While surviving members of last year's team - Louise Yaxley, Katie Brown and Lorian Graham recover from injuries sustained in the accident last July, another generation of young women will endeavour to make a mark on the international stage.
Alexis Rhodes makes a return to racing following her remarkable recovery from life-threatening injuries sustained in last July's crash, being joined by Amanda Spratt, Hannah Banks, Candice Sullivan, Jenny Macpherson and Sally Cowman as they fly the Aussie flag in Europe.
Also see: Index to 2005 race reports and entries
Tributes to the memory of Amy Gillett from around the world: Parts 1, 2, 3, 4 & 5
Latest entry: Bizarre fashion in Cento by Josie Loane
2006 entries
2005 entries
Castilla y Leon Feminina
GP Wallonnie and Flèche Wallonne - CDM, Belgium, April 17 and 20, 2005
2004 entries
Women's Olympic Road Race, Athens, August 15, 2004
Int. Thüringen-Rundfahrt der Frauen - 2.9.1, Germany, July 20-25, 2004
Giro d'Italia Femminile, Italy, July 2-11, 2004
Tour de L'Aude Feminin, France, May 14-23, 2004
Other 2004 entries
2003 entries
World Road Championships, Hamilton, Ontario, Canada, October 7/12, 2003
Part one - A disappointing day at the elite women's TT by Olivia Gollan
Giro della Romagna Donne - 2.9.1, Italy, September 28, 2003
Giro della Toscana Internazionale Femminile - 2.9.1, Italy, September 16-21, 2003
Trophee d'Or Féminin, France, France, August 27-31, 2003
World track championships, Germany, July 30-August 3, 2003
Giro d'Italia Femminile, Italy, July 4-13, 2003
Part two: The quest for pink - Stages 2-4 by Olivia Gollan
Part one: Pink Balloons - Prologue & stage 1 by Olivia Gollan
Other 2003 entries