The AIS Women's Team Diary 2004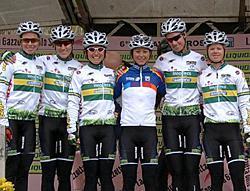 On the podium at Milan San Remo
Photo: © AIS
Welcome to one of our more unusual diaries, with entries from the various members of the Australian Institute of Sport's Women's team as they conduct their European campaign.
In 2003 the AIS team was the top women's squad in the world and has started 2004 with a bang as pocket rocket sprinter Oenone Wood leads the World Cup after two rounds. Follow Wood and team-mates such as Olivia Gollan and Sara Carrigan in their diary, only on Cyclingnews.
More than rookies now
By Olivia Gollan
It has been way too long between entries and I intend to rally the other girls and be much more vigilant about keeping this diary up to date. We have been in Italy for close to two weeks now and the jet lag has lagged so there are no excuses. As you have probably read elsewhere, Oenone is still either winning races or clinging tightly to the world cup leader's jersey. In the world cup she now has a 35 point lead on former Olympic and World Champion, Zoulfia Zabirova after Saturday's Primavera Rosa. Zoulfia charged away up the Cipressa for the second year in a row to win by about 30 seconds from Mirjam Melchers who attacked Oenone at the top of the Poggio and gapped us all down the descent into the finish in San Remo. But our pocket rocket managed to hold onto third by winning the bunch kick - still on fire and loving it.
The AIS Women's team has a few new additions this year and a fairly hectic race schedule in the next month. The biggest change is that our former coach James Victor has moved back to Australia and is now the head coach of cycling at the Queensland Academy of Sport. Former ACT cycling coach, Warren MacDonald has taken over the role. James has been taking the AIS Women to Europe for the past eight years and was a big advocate for Australian women's cycling. He will continue to be National Coach until the Olympics in August. James was one of the largest players in establishing the depth that we now enjoy and I am sure he will continue his involvement in national and international women's racing. So "Wazza", as Warren is affectionately known, has moved to the staff house in Cognento (about 4km from Novellara) and he is certainly proving his worth as a coach, director and manager already. Everything has been running smoothly and with lots of new ideas to throw around we are all confident that he will handle the heat!
We have a slightly new look team this year. Natalie Bates, Oenone and myself are the only full road scholarship holders left from last year. Amy Safe has moved over from the track program and while she will continue to ride a number of track events this year she will be predominantly based in Italy with us. Lorian Graham has come on board as a new scholarship holder and after her Dutch team folded at the start of the year, Sara Carrigan has made a very welcome return to the AIS squad. As well as this we have a number of development riders coming from Australia to spend a few months getting used to the European scene. Naomi Williams will also join us for the Giro and the end of season racing. Olympic Games qualification is at the forefront of everybody's minds and with the time trial situation so tight it will be a pretty tense few months of racing in the early season.
Tomorrow we travel to Spain for the three day Vuelta a Castilla - Leon and third round of the World Cup series. Last year we were a relative group of rookies going into this racing so I for one am feeling a bit more at ease about the whole trip. It rained and rained on us in 2003 so we now have a bit of an aversion to racing in Spain. But from all reports it is much warmer and drier this year! The world cup course is on a different circuit this year because the organisation received so many complaints about the state of the roads last year. Goat tracks pale into insignificance when I remember last years race! We will be defending the jersey to the death this year and aiming to take as many points as possible. A very different goal to just trying to crack the podium last year. I don't really think the weight of the world cup is nearly as heavy as one would expect - but then I am not wearing the jersey!
So a 4am start tomorrow (Tuesday) to travel and then the tour starts in the afternoon on Wednesday. It will be interesting to see how things pan out in the tour - I am sure it will be an indication of who is really serious about the World Cup. Nicole Cook did not start in Italy last weekend so it will be interesting to see if she fronts in Spain. None of us are really sure why she didn't race - lots of stories but none I am going to reiterate. I hope she races soon though because she adds another dimension. Mirjam will be one to watch!
More soon,
Olivia.