The AIS Women's Team Diary 2003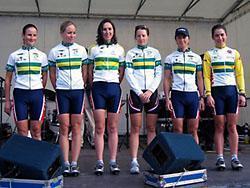 The team at Fleche Wallonne
Photo: © James Victor
Welcome to one of our more unusual diaries, with entries from the various members of the Australian Institute of Sport's Women's team as they conduct their European campaign.
With rising stars such as Oenone Wood and established power riders like Olivia Gollan, the team has been making a strong mark on the European scene this season. Under the management and coaching of James Victor that success looks set to continue for the year.
Giro della Toscana Internazionale Femminile - 2.9.1 Italy, September 16-21, 2003
First lunch, then the cobbled prologue
By Olivia Gollan
Emma James on the cobbles
Photo: © James Victor

Tuesday was a long day at the office but the 2km prologue at the end was all worth it. We wandered through the cobbled streets of Pistoia, ate a great race lunch and showed our gratitude at a Sponsors Presentation. After the hype it was down to business and we started gearing up for a prologue that weaved its way around the main piazza in Pistoia.
Off the start ramp, the course crashed down a cobbled hill and around a tight left hand corner. Straight ahead for 100m before a right that I took at full speed. By this stage I could hear the car close behind and James was on the horn. People lined the streets just threatening to step out in front of me at any moment but the next right hand corner was another one that required guts and I burned through it onto the opposite gutter and sprinted out of it as hard as I could.
Oenone Wood
Photo: © James Victor

The 300m straight that followed flew by and once I was around the next corner I knew I was half way. One more 500m straight that involved dodging all sorts of pot plants and strange fences and then I slipped through the second last corner on to a flying down hill over some more cobbles. The final corner approaching, I braked and changed gears for the last 150m to the finish - about 10 percent gradient and all on cobbles again. Had to find the power legs for this one. Gotta love a prologue - it was so much fun!
I certainly didn't blow the field to pieces but with the pursuiters cough I still have you would think that I did! Katie Mactier had an awesome ride to finish sixth - only two seconds off the win. Italian, Vera Carrara won with French rider, Juliette Vandekerckhove second and world champion Susanne Lungskog in third. All of these three were less than half a second apart! With time bonuses on the stage wins and a likely bunch kick tomorrow it will be interesting.
Stage One: Lugnano - Altopascio 109km
Caught in the finale
There is one climb in this stage that just keeps coming back to haunt me - we went over it in this tour last year and twice in the 2002 Giro as well. Not long - just a steep one km pinch that keeps promising to end and never does. I didn't once get over it in the front group last year so was determined to stay close to the climbers and make sure I was tackling it with everything.
The first 40km of the stage was fast and the level of desperation in the bunch was incredible. We averaged about 46km/h for the first hour and we hit the hill at an unusually high speed. I was on Zabirova's wheel going on to the climb and managed to stay in the top five right to the mountain sprint - thank God! Oenone and Pucinskaite flew past me in the quest for the first mountain points - Pucinskaite just pipping the little Australian.
Once over the climb we had a group of 15 (including Lungskog, Melchers, Cooke, Starhuskaia, Pucinskaite, Oenone and myself) with about 15 seconds on the rest of the peleton. I was encouraging them to swap off and get the gap and for a while it looked like it might blow out. But without a T-Mobile rider, Zabirova or Brandli in the group it was a bit unlikely.
We worked well for about 15km but eventually the bunch caught us as we hit the nine km finishing circuit that we had to race five times. The speed of the race didn't diminish and there were still desperate girls trying to stay on the front to stay out of trouble. Italian champion Alessandra Cappelloto was very aggressive as were the Prato team. Emma and Katie were covering lots of moves and making sure we were involved in anything dangerous.
With eight km to go and German rider, Alexandra Nohles hovering off the front Margaret Hemsley went with a move that was quickly brought back. I countered, got a gap with one other on my wheel and went on with it. Margaret came across to me on aBritish rider, Rachel Heal's wheel and we ended up with a group of five swapping off trying to hold a very minimal gap from the bunch.
We were swallowed up at under two km to go and with one last dig from me it was all over. The sprint was always going to be precarious - a very tight left hander with 200m to go. Acca Due rider, Georgia Bronzini got around the corner in the top three riders and managed to take the win - and the leader's jersey. Oenone was our best placed in 10th and the rest of us stayed out of trouble. GC is still very tight but stage two is going to sort everybody out. Two 10 km climbs with no real flat in the stage - should be a fun day. More soon.
More soon,
Liv