The A.I.S. Women's Team is proudly sponsored by:














The AIS Women's Team Diary 2003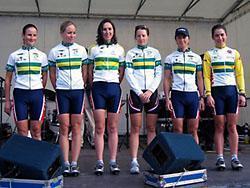 The team at Fleche Wallonne
Photo: © James Victor
Welcome to one of our more unusual diaries, with entries from the various members of the Australian Institute of Sport's Women's team as they conduct their European campaign.
With rising stars such as Oenone Wood and established power riders like Olivia Gollan, the team has been making a strong mark on the European scene this season. Under the management and coaching of James Victor that success looks set to continue for the year.
Latest entry: Part one - A disappointing day at the elite women's TT by Olivia Gollan
2003 entries
World Road Championships, Hamilton, ontario, Canada, October 7/12, 2003
Part one - A disappointing day at the elite women's TT by Olivia Gollan
Giro della Romagna Donne - 2.9.1, Italy, September 28, 2003
Giro della Toscana Internazionale Femminile - 2.9.1, Italy, September 16-21, 2003
Trophee d'Or Féminin, France, France, August 27-31, 2003
World track championships, Germany, July 30-August 3, 2003
Giro d'Italia Femminile, Italy, July 4-13, 2003
Part two: The quest for pink - Stages 2-4 by Olivia Gollan
Part one: Pink Balloons - Prologue & stage 1 by Olivia Gollan
Other 2003 entries