The AIS Women's Team Diary 2003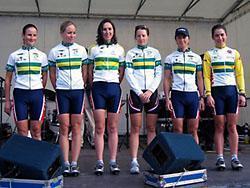 The team at Fleche Wallonne
Photo: © James Victor
Welcome to one of our more unusual diaries, with entries from the various members of the Australian Institute of Sport's Women's team as they conduct their European campaign.
With rising stars such as Oenone Wood and established power riders like Olivia Gollan, the team has been making a strong mark on the European scene this season. Under the management and coaching of James Victor that success looks set to continue for the year.
Memorial Pasquale de Carlo, Forli, Italy, June 1, 2003
My first European podium
By Emily Williams
After some longer than expected traffic jams around Bologna, we arrived in Forli for our 2nd Italian race for the weekend, just in time for our traditional pre-race lunch. Today's race was 22 laps of a 4.3km circuit, which had a bit of everything. It began with a 1.5km climb, which was steeper in the bottom and top sections, flattening out in the middle where the 'Arrivo' line was. This was followed by a fast descent onto a flat stretch, with headwinds, and back to the base of the climb.
The A.I.S. Australian team started six riders, and we were clearly outnumbered by the Italian and Russian professional teams from Velodames Colnago, 2002 Aurora and Road Runner-Guercotti. Early attacks were made on the flat stretch, with the bunch of often being strung in a long line. Velodames and Aurora were the main aggressors, with yesterday's 1st and 2nd placegetters Stahurskaia and Pucinskaite, content to sit-in early. It was an unusually hot day, and my legs were still a little numb from our recent 10 day Tour de l'Aude in France, having me struggling early in today's race.
With 12 laps to go the main bunch had regrouped after numerous 1-off attacks, and the Aussies were really trying to break the group up and establish a break. Around seven laps to go Ravenskova (Velodames-Colnago) put in a super attack, and with her other nine team-mates using most of the road at the front of the bunch, Ravenskova established a big gap quickly. The time went out to two minutes, with a bit of stop/start in the bunch, before a rider from Aurora had a go at bridging the gap with a Velodames rider glued to her back wheel.
Four laps to go, and we were getting instructions to try and shut this break down before the finish, and with Oenone our most powerful uphill finisher a good chance of another result today, the Aussies were on the aggressive again. I attacked on the flat section, trying to get a gap before the start of the climb, and as I started the climb I had a quick look back to discover the bunch not in sight. I had the Aurora and Velodames girls just in front of me, and once I got to them recovered a little, and found our group still two minutes down on the lead, and another one minute back to the group.
That's when Velodames sent Karpenko out of the group with an in-form Sliussareva to bring our small group back quickly. At the bottom of the next climb, I had found some legs again and attacked our small group, before being quickly joined by a fast moving Sliussareva. I could only stay with her for a short time when she countered me, and with less than two laps (8km) to go, there was no time to look behind.
Oenone had taken the initiative to get across to the chasing Russian pair, and only made it to Karpenko, after Sliussareva had already bridged the gap to me.
One lap to go, and Ravenskova was at 1'20"; Sliussareva was 100 metres in front of me, and Oenone and Karpenko about 400 metres behind, with the bunch down to 10 riders another 1'30" further behind.
This was the longest 4km of my young cycling career, and I held Sliussareva for the entire last lap at around 100 to 200 metres. I held onto 3rd place, and my first European podium. A smart move from Oenone saw her get rid of Karpenko and finish only 100 metres behind me for 4th, giving her two great results for the weekend.
The fantastic Australian results today were achieved despite less numbers, and result of hard and smart team racing. Even with some of us still recovering from last week's tour in France, and a couple in their first weekend of racing after a month lay-off, the team is being closely marked by all the strong teams at the major competitions.
The hot weather experienced today will give us a good start to the preparations for the expected conditions in the big Italian tours in Trentino and the Giro in July, where temperatures are expected to climb to over 40 degrees through this summer.
I have one race left next weekend in Toscana, before returning to university studies in Tasmania for the second half of the year, and the memorable experiences and racing I have been part of in the European spring is something I would recommend to anyone who gets the opportunity. Looking forward to one more race and a well earned rest.
Regards,
Emily Williams