The AIS Women's Team Diary 2003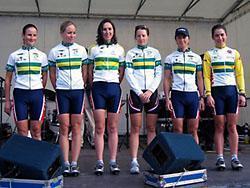 The team at Fleche Wallonne
Photo: © James Victor
Welcome to one of our more unusual diaries, with entries from the various members of the Australian Institute of Sport's Women's team as they conduct their European campaign.
With rising stars such as Oenone Wood and established power riders like Olivia Gollan, the team has been making a strong mark on the European scene this season. Under the management and coaching of James Victor that success looks set to continue for the year.
Trophee d'Or Féminin, France, France, August 27-31, 2003
Trophee d'Or win and World's on the horizon
By Olivia Gollan
Olivia Gollan celebrates
Photo ©: James Victor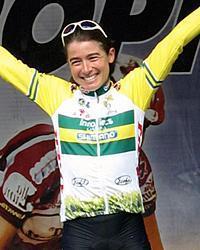 It already seems like an age since Trophee d'Or but it has only been two weeks! I am still recovering from the excitement of winning my second international tour for the year but am packing my bags for yet another race. Oenone Wood and I are off to represent the AIS National Team at Chrono Champenois on Sunday (September 14) so celebrating will definitely have to stop.
Trophee d'Or was not a major goal for me this year as I was looking to still be clocking up the kilometres in preparation for worlds in October. I knew I would still be competitive on GC but didn't really want to be in the box seat. After finding Oenone, Amy Safe and myself in the break on day one I realised that as a team we could win the tour, but to be honest I thought I could aid one of the others to do the job. My legs felt pretty thrashed from an 800km previous week.
The Australians and Kiwis were all over the Euros, winning every stage and eventually claiming three of the five jerseys on offer. Alison Wright was in fantastic form and had it not been for an unfortunate crash in stage two she and I would have been head to head for the jersey on the final day. I took a bit of a detour to avoid the same crash and ended up riding through a paddock, only just scrambling on to the back of the bunch as they crossed the line. Sarah Ulmer was sprinting well and managed to claim three stage wins - nice.
I won't bore you too much detail from the race but it was my team that won Trophee d'Or and apart from the TT, I can't really claim to have worked that hard through the week. Amy Safe, Natalie Bates, Oenone Wood, Emma James and Katie Mactier - what else can I say? Day five was the most nerve-wracking race of my life and without the knowledge that I had the strongest group of girls behind me I think I may have cracked under the strain! Zabirova and Kupfernagel were our major threats and not only did we manage to keep them under control we also managed to keep Oenone in third on GC - nice.
So now we need to keep our heads down until the trip to Canada. After the time trial at the weekend we are heading south to Tuscany for the five-day Tour of Toscana. Every girl who rides a bike will be there looking to impress their national selectors or trying to get that edge that only comes with racing. Last year there were 220 starters - and with roads that are sometimes closed and sometimes not, there is bound to be a bit of carnage. I can't wait for the prologue in the dark and the night crit that goes down totally unlit roads - it all adds to why I love this sport so much. The last stage finishes in the centre of Florence - this will be a definite highlight.
After this the Australian National Team will come back to Novellara to spend two weeks preparing for world's. This time of year is typically wet and cold in Italy but hopefully we won't have to spend too much time on the ergo. I am getting so excited about the prospect of racing another world championship and I know we have a very competitive group of women to line up with. It has been an awesome year for Australian women - we are currently ranked number 1 country in the world, something national coach, James Victor is thrilled with. What we can pull off at world's remains to be seen but let's give it a shot!
More soon,
Liv
AIS coach James Victor gave his assessment of the team's chances at the world's in September 15's news.