The AIS Women's Team Diary 2003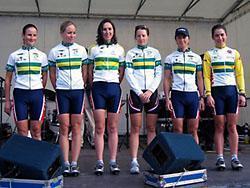 The team at Fleche Wallonne
Photo: © James Victor
Welcome to one of our more unusual diaries, with entries from the various members of the Australian Institute of Sport's Women's team as they conduct their European campaign.
With rising stars such as Oenone Wood and established power riders like Olivia Gollan, the team has been making a strong mark on the European scene this season. Under the management and coaching of James Victor that success looks set to continue for the year.
Giro d'Italia Femminile, Italy, July 4-13, 2003
Part one: Pink Balloons
The Giro has got off to a typically Italian start and we are bracing ourselves for the week and a half to come. We are way down in the south and all of us have our eyes wide open at the difference in lifestyle, scenery and orderliness of this end of the country. Put it all down to experience!
Prologue - July 4: Grumo Nevano ITT, 2.2 km
It's dark out there
Photo: © James Victor

The Prologue was to start at 8.30pm on Friday night and while we sat around in a locked car park waiting for James (our DS) to give us our start times and let us know whether it counted towards overall GC it became obvious that it was going to be a late night. Finally, at 9.12pm James came over the radio and told us that I was to be first Australian off at 9.18pm. Needless to say it was a bit of a rush. Our last rider, Amy Safe, finished at around 11.40pm!
Dutch under 23 rider Bertine Spijkerman took the pink jersey, winning by 4 seconds from Zaniada Starhuskia. Our best finisher was Lorian Graham who finished in the top 15 - great ride considering none of us had time trial bikes or wheels. The course was pretty rough and the dark certainly didn't make it any easier.
Stage 1 - July 5: Grumo Nevano (NA) - Guardia Sanframondi (BN), 119 km
Stage One started at midday yesterday (Saturday) in the same square that the prologue was held in - a town about 40km from Naples called Grumo Nevano. We were heading out to the hills for 2 category 1 climbs. A heap of attacks on the flat early were covered admirably by Natalie Bates before she got caught up in a fall. We didn't really have a great day - with 3 punctures, confusion about feeding and me crashing down a descent it was a bit of carnage! But with a great ride from Lorian Graham again and a clever attack from Emma James towards the end of the stage, Oenone and I were with the front runners as we hit the last climb.
Rasa attacked the bunch with about 15km to go and despite efforts from Lorian to bring her back it was a game of cat and mouse from the GC contenders. No-one committed to chasing and she ended up putting over a minute into all of us.
The 3km climb into the finish was lined with pink balloons - quite cool really and very organised! I didn't think they would ever end and dreamt a bit about the pain they caused me! Edita Puciskaite attacked with 1500m to go and I tried to follow Nicole Brandli across to her before I blew to pieces. Oenone had an awesome last kilometre - charging up to pip Zanaida Starhurskia on the line and finish 6th and first junior. She is now clad in the white jersey and we will be keen to hang on to it! I finished about 10 seconds back in 9th, the rest of the field hard on my tail. We head to the hills again today (Sunday) so we will see what pans out. The twins (Rasa and Jolanta Polikieviciute) are looking strong and Pucinskate and Brandli both showed awesome strength yesterday so it is going to be a competitive week.