The AIS Women's Team Diary 2004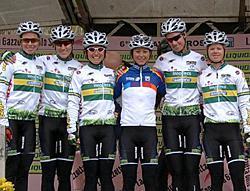 On the podium at Milan San Remo
Photo: © AIS
Welcome to one of our more unusual diaries, with entries from the various members of the Australian Institute of Sport's Women's team as they conduct their European campaign.
In 2003 the AIS team was the top women's squad in the world and has started 2004 with a bang as pocket rocket sprinter Oenone Wood leads the World Cup after two rounds. Follow Wood and team-mates such as Olivia Gollan and Sara Carrigan in their diary, only on Cyclingnews.
Giro d'Italia Femminile, Italy, July 2-11, 2004
Wood wins the day
Stage 1 - July 3: Pordenone - Montereale Valcellina, 106km
By Olivia Gollan
Oenone Wood (Australia)
Photo ©: Nicola Ianuale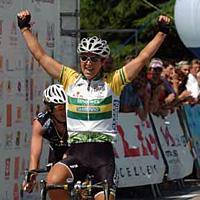 After a fairly sketchy prologue last night in the rain where Diana Ziliute was victorious and took the pink jersey, everyone was relieved to start today's stage in the heat that Italy is famous for at this time of the year.
With four laps of a circuit that included a Cat 3 GPM climb, it wasn't going to be a walk in the park. Most of the top teams are here and the pink jersey is going to be hard won. Melchers, Pucinskaite, Braendli, Polkanova, Ljungskog, Boubnenkova, Zabirova and Luperini - all people who could take the title as year's Giro winner. And this isn't all of them.
But it was Wood's day today. With plenty of sprinters here, she was able to put herself in the right place and take the win - Australia's first Giro stage win for two years. Nice! The race was very fast and the GPMs were contested quite aggressively. The last time through the sprint, Zabirova attacked and looked fairly dangerous but Ljungskog was on top of it and the peloton came back together for a fast run into the finish.
Alison Wright featured strongly in the lead out (Slyusareva is in Ali's team and is a great sprinter) and Acca Due were prominent in their attempt to keep Ziliute in the jersey. Farm Frites also helped keep the pace high for Angela Brodtka. But with Ziliute almost coming down in the last corner and Brodtka not getting a good wheel, Wood was clever enough to find the right line and take the stage.
Looking forward to tomorrow - I will try again for the GPM's... maybe my legs will respond more favourably than they did today.
More soon,
Liv