The AIS Women's Team Diary 2004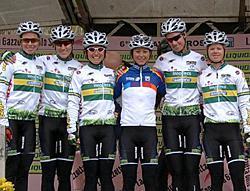 On the podium at Milan San Remo
Photo: © AIS
Welcome to one of our more unusual diaries, with entries from the various members of the Australian Institute of Sport's Women's team as they conduct their European campaign.
In 2003 the AIS team was the top women's squad in the world and has started 2004 with a bang as pocket rocket sprinter Oenone Wood leads the World Cup after two rounds. Follow Wood and team-mates such as Olivia Gollan and Sara Carrigan in their diary, only on Cyclingnews.
Chilled in Spain
By Olivia Gollan
Vuelta Castilla y Leon, Stage 1 - March 24: Valladolid-Valladolid, 78.5 km
Natalie Bates
Photo ©: AIS

Sara Carrigan and Lorian Graham
Photo ©: AIS

Oenone Wood
Photo ©: AIS

I am very confused about Spain - all the tourists brochures and stories about it leave a very large impression about how good the weather is here. I have spent a bit of time in Barcelona and nearly melted but I guess that was in August! I have now spent the two coldest days of my cycling career in Spain. Today was one of them and last year in this same tour was the other - nobody mentions the wind either.
Stage one of the 4th Vuelta Castilla y Leon was an 85km circuit that started and finished in Valladolid. With over 20 teams in the race it made a grand bunch of all the usual suspects. Many of these riders will be using the tour to prepare for the world cup on Sunday but as a UCI Cat one race this tour is always going to be hotly contested. The overall classification will be decided on points not time so the sprints on the road and stage finishes are what are going to decide the race.
Today was as windy as hell and didn't seem to get over about 5 degrees. The first of two cat 3 climbs (Oenone took the points for the KOM and I grovelled to the line to take the third place points) through the middle of the race strung out the bunch and once we hit the cross winds at the base of the descent the field split to pieces. Eventually a select group of 12 got away including Hanka Kupfernagel, Tanja Hennes, Mirjam Melchers, Sussane Lungskog, Anita Valen, Katia Longhin, Arenda Grimberg, Oenone Wood, Olivia Gollan, Kate Bates, Eneritz Iturriaga, Anna Zugno and Stacey Peters. But without a Nurnberger representative, German, New Zealand or Great Britain rider we were going to be chased. We rolled over fairly aggressively initially and the break blew out to nearly and minute and a half. Over the KOM for the second time Eneritz Iturriaga attacked but nothing was going anywhere. I took the points and Oenone was second - putting her in the jersey. NICE.
With 30km to go in the race we regrouped again and started to roll over. I came to the front and surprisingly took the intermediate sprint with out much of a fight from anyone. Oenone was doing the bulk of the work from our end and we had a few half-hearted participants who weren't really prepared to take a turn. Back in the group behind things must have got moving because by the 10km to go mark we only held a 30 second lead. At 5km to go after a few attacks we only had 15 seconds and Kate Bates put in one of the best attacks I have seen. She certainly goes when she decides it is time. But unfortunately nothing was allowed to go and there was so a lot of cat and mouse being played so the group behind with all of the sprinters caught us with about 3km to go. It was a very hectic finish in the cross winds but with Sara and Oenone trying to lead me out I felt fairly confident I could still manage a top five finish. But then a clash of wheels beside me and I was suddenly seeing my life flash before me. Held it up miraculously...
Regina Schleicher took the stage from Georgia Bronzini and Rochelle Gilmore finished third. Tomorrow is a new day in Spain and we all hope it warms up. I think the wind will take its toll again and whilst the climbs aren't enormous you can never discount them. More tomorrow.
Stage 2 - March 25: Toro-Zamora, 104 km
Kate Bates
Photo ©: AIS

Olivia Gollan
Photo ©: AIS

Stage 2 of Vuelta Castilla y Leon has finished with Kate Bates on the same time as leader Anouska Van Der Zee, 17 seconds ahead. After an undulating, windy, cold and aggressive race Kate hit out with 7km to go and took Farm Frites rider, Anouska Van Der Zee with her. With an incredible turn of speed Kate gapped the whole field with sheer power and then the two girls worked together to hold the bunch of world class women off. Kate won the sprint from Van Der Zee and has put herself in a great position to win the tour.
With two cat 3 climbs through the middle of the race today there were a number of small breaks that went over the GPM sprints. Zoulfia Zabirova drove things up the first climb with Luperini on her wheel and this caused havoc! After winning the GPM, I was clear of the field with Luperini and German rider Theresa Senff. This didn't last long though before Judith Arndt joined us and eventually a large group of about 30 riders came back together. Through the undulations it was Spanish champion Eneritz Iturriaga who proved herself again as the aggressor and with an awesome attack she went away and held the field at bay for about 15km. With tour leader, Regina Schleicher in the group, Acca Due kept the tempo moving and she eventually came back. But I am starting to see how classy she is - she definitely has some guts!
Oenone led me up the second GPM with an awesome display of strength to weight - I am so glad she is my team mate! I took the maximum points and now have the GPM jersey sewn up. Winning the tour was the top priority, though, and with 20km to go Oenone and Lorian Graham were very active in keeping things moving. Up the final climb Oenone attacked and Melchers went over the top of her. Then Brandli and I wre chewing the handle bars trying to stay afloat. The group didn't bust up too much and with a bit of cat and mouse we were all together again.
It was still absolutely freezing! I couldn't believe I still had my long fingered gloves on and my fingers were numb! I rode past Joanne Somarriba and asked her what this Spanish weather was all about! She just laughed. Acca Due worked well in the last 15km to keep the attacks to a minimum and Oenone, Sara and Lorian were following moves and helping to keep the pace high. But nothing was going with Kate when she blew past us all. It was an impressive result from someone who doesn't claim to be a roadie! Oenone gapped the field with an awesome lead out for me. I was in front at the last corner but got swamped by the sprinters in the finish to come eighth. My sprint is still leaving a lot to be desired!
We head out for the last stage tomorrow before having a day off on Saturday before the world cup. Try to win the tour tomorrow? Of course!
Til tomorrow,
Liv