The A.I.S. Women's Team is proudly sponsored by:














The AIS Women's Team Diary 2004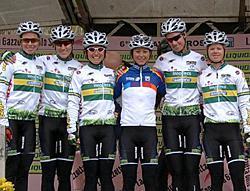 On the podium at Milan San Remo
Photo: © AIS
Welcome to one of our more unusual diaries, with entries from the various members of the Australian Institute of Sport's Women's team as they conduct their European campaign.
In 2003 the AIS team was the top women's squad in the world and has started 2004 with a bang as pocket rocket sprinter Oenone Wood leads the World Cup after two rounds. Follow Wood and team-mates such as Olivia Gollan and Sara Carrigan in their diary, only on Cyclingnews.
Tour de L'Aude Feminin, France, May 14-23, 2004
Stage 8a & 8b: Nurnberger triumphant - team effort of the year
By Olivia Gollan
You could sense the tension in the bunch as we rolled off the start line for today's first stage. A double stage day with the second stage finishing at the top of a nasty hors category climb was playing with everyone's head. But it didn't stop a lot of opportunists trying to establish a break in the first stage. Natalie Bates and Louise Yaxley went with everything they could in the 45km stage and were both unlucky to miss the vital move.
Sara Symington (Great Britain), Andreasen (Sats), Claudia Stumpf (Germany), Corrine Hierckens (Basis) managed to form a decent gap and beat the main field to the line by 30 seconds. It a controversial finish; Andreasen was awarded the stage after a tight photo finish. The Brits are still claiming that the camera was two metres after the line and Sara's throw for the line was the winning move that the camera missed. The British have been getting some great stage results and are riding really well. Good to see.
Olivia Gollan dons the mountains jersey
Photo ©: Sara Carrigan

But it was the afternoon stage that has impressed everyone - the team effort of the year. Nurnberger set a furious pace from the start and kept anyone from trying anything before the climb. With Trixi Worrack and Judith Arndt out of the wind, the rest of the team kept a great tempo and stopped any unnecessary attacks. There had been all sorts of predictions about Edita Pucinskaite, Valentina Polkanova or Susanne Ljungskog taking the jersey today, but a superb display of strength and team work got Trixi and Judith to the line hand-in-hand. Absolutely incredible. T-Mobile lost the jersey but put in a great effort to stay in touch up the long, arduous climb. I took the early GPM points to win the jersey but had a bit of a shocker up the last 3km. Another big day tomorrow - there might be another upset.
More tomorrow,
Liv
Photography
Images by Sara Carrigan