The AIS Women's Team Diary 2004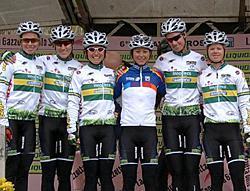 On the podium at Milan San Remo
Photo: © AIS
Welcome to one of our more unusual diaries, with entries from the various members of the Australian Institute of Sport's Women's team as they conduct their European campaign.
In 2003 the AIS team was the top women's squad in the world and has started 2004 with a bang as pocket rocket sprinter Oenone Wood leads the World Cup after two rounds. Follow Wood and team-mates such as Olivia Gollan and Sara Carrigan in their diary, only on Cyclingnews.
Tour de L'Aude Feminin, France, May 14-23, 2004
Stage 3: A tough day, even in the bunch
By Sara Carrigan
The race convoy
Photo ©: Sara Carrigan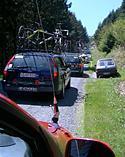 Today's stage saw the first hors categorised climb of the tour, which began at the 8k mark with the KOM sprint at 27k. The bunch fairly well stayed together for most of the climb until the last 2k, which kicked up to 15 percent.
Liv was at the head of the bunch sprinting against two Germans, Trixi Worrack (Nurnberger Versicherung) and Theresa Senff (German National Team), for the KOM points and bonus seconds. Theresa took second place and Liv third while Trixi powered over the line, gapping the bunch and sped off down the other side never to be seen again. It was a rather dangerous, narrow descent with a lot of loose gravel. Two T-Mobile girls slid off the road and into the ditch and unfortunately Stacey Peters was forced to abandon with a broken collarbone. Margaret also had a tumble but was fine to remount her bike and rejoin the race with the help of Natalie and Louise.
After the KOM, there was still 80k to race that was quite blustery and undulating including another Category 3 climb. I don't think anyone expected Trixi to survive solo to the finish, but she soon gained three and a half minutes on the field. T-Mobile and SATS were on the front chasing to pull some back some time but to no avail. It was a tough day even in the bunch and Nat and Louise did a great job in fetching water bottles from the team car up to the front of the bunch.
Coming in to the finish, Liv attacked within the final 2k but was chased down rather quickly. Hanka Kupfernagel (Vlaanderen T Interim) hit out with 600m to go, gapped the field around the last two corners and took second place. In the end, Trixi finished 2'12 ahead of the chasing bunch and is now the overall leader, 2'02 ahead of Deidre Demet-Barry (T-Mobile).
Tomorrow is an easier day with only one category one climb.
Until tomorrow,
Sara