The AIS Women's Team Diary 2004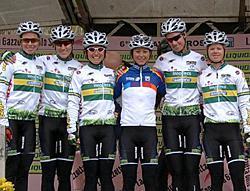 On the podium at Milan San Remo
Photo: © AIS
Welcome to one of our more unusual diaries, with entries from the various members of the Australian Institute of Sport's Women's team as they conduct their European campaign.
In 2003 the AIS team was the top women's squad in the world and has started 2004 with a bang as pocket rocket sprinter Oenone Wood leads the World Cup after two rounds. Follow Wood and team-mates such as Olivia Gollan and Sara Carrigan in their diary, only on Cyclingnews.
Tour de L'Aude Feminin, France, May 14-23, 2004
Stage 9: Ljungskog's day, but Nurnberger a class act
By Olivia Gollan
The big hill day of this tour seems synonymous with rain and cold, so when I woke yesterday to see big black clouds in every direction I wasn't surprised. Couiza to Arques - where in the world is this? I am still not sure, but they are places that will remain etched in my memory.
Nurnberger had a stranglehold on the yellow jersey at the start of the day, but there were still a few players within striking distance. Particularly T-Mobile who had Dee Dee Demet and Kimberly Bruckner in second and third and also Kristin Armstrong not far back. There was also Polkanova and Pucinskaite who hadn't really shown their cards, and of course, last years second place getter, Lyne Bessette, who was clearly disappointed in her performance in the hors cat finish on Friday.
I was determined to hang on to the mountains jersey and hopefully stay with the front group till the finish, but after sprinting for the first four mountains, I ran out of legs up the second-last climb when Bessette launched her third attack of the day. I have a good lead in the points for the jersey now and will hopefully hang on to it until today's last stage.
T-Mobile were aggressive from the top of the first climb - constantly forcing Nurnberger to chase. Tina Liebig and Judith Arndt were dragging Kristin Armstrong back into the fold time and time again. Over the top of the third GPM, Armstrong had about 100m gap and down the descent Judith went across to her and was quickly joined by the world champion, Susanne Ljungskog. These three established a three-minute break at one stage and though Dee Dee, Kimberly Bruckner and Lyne Bessette did their utmost initially to bridge across, the yellow jersey of Trixi Worrack was always hard on their heels.
Lyne Bessette had her team-mate Erinne Willock working extremely hard up the climbs to try and bring the group back, but when the big hitters went at 35km to go, I went backwards along with Erinne and a few others. Lyne told me after the stage that she did her best to bring the break back, but they still had about 40 seconds on her group by the end of the stage.
Susanne Ljungskog won the stage from Kristin Armstrong and Judith Arndt. Trixi holds onto the jersey and Judith is second at only eight seconds back. With three climbs including a Cat 1 it won't be an easy day today, but with Nurnberger keen to defend, I am sure it will be good story to tell at the end. It has been a class act on their part to win this tour and with other strong teams within striking distance of winning, it has been great racing.
One more to go!