The A.I.S. Women's Team is proudly sponsored by:














The AIS Women's Team Diary 2004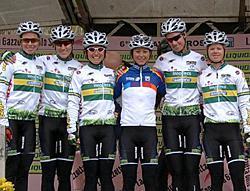 On the podium at Milan San Remo
Photo: © AIS
Welcome to one of our more unusual diaries, with entries from the various members of the Australian Institute of Sport's Women's team as they conduct their European campaign.
In 2003 the AIS team was the top women's squad in the world and has started 2004 with a bang as pocket rocket sprinter Oenone Wood leads the World Cup after two rounds. Follow Wood and team-mates such as Olivia Gollan and Sara Carrigan in their diary, only on Cyclingnews.
Tour de L'Aude Feminin, France, May 14-23, 2004
Stages 1-2: Lunch, followed by a hors categorie climb
By Olivia Gollan
It is 10.30am on the morning of day three and we are patiently waiting for the 11am race lunch which will be followed by the first hors categorie climb of the tour! Today's stage is going to be a rude awakening for me after a two week holiday in Australia, but with the last two kilometres of this climb at seven percent, it might be the same for everyone!
Stage 1 - May 14: Gruissan - Gruissan, 95km
Stage one on Friday was a 95km road race from Gruissan to Gruissan. I would estimate that the winds were around the 100km/hr mark but, that could be a slight exaggeration! Our team of Lorian Graham, Louise Yaxley, Natalie Bates, Sara Carrigan, Margaret Hemsley and myself were fairly confident that the bunch would finish together and were expecting Petra Rossner and her Nurnberger Team would be keen for the victory to steal the jersey. The crosswinds made the race eventful; down an unexpected descent, Hanka Kupfernagal did what she does best and took a small group away at about the 50km mark. Including Trixi Worrack (Nurnberger) and Lyne Bessette (Canada), it looked pretty dangerous. Sara and I both attempted to bridge across but were shut down by Judith Arndt. However, with several teams not represented it eventually came back together.
The crosswinds played havoc with the bunch and there wasn't much reprieve from the wind anywhere but several teams tried to make the last 10 kilometres aggressive. With 5km to go, Judith Arndt and team-mates Tina Liebig and Trixi Worrack tried to keep the pace high for Petra but the headwind was incredible and it felt like we were going nowhere despite their efforts. Under the 1km to go banner came the first crash and then 500m later another, leaving seven riders to sprint for the finish. Lorian was trying to help me into a good spot when Petra crashed in front of me. Luckily I avoided the tarmac and Lorian managed to hold onto the front group and finish seventh.
But it was the bulldog Alison Wright (Nobili Guerciotti) who held them all off and took the stage! Awesome result and a great job to keep herself out of trouble and take the yellow jersey.
Sara Carrigan on the way to a podium finish
Photo ©: Olivia Gollan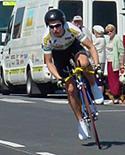 Stage 2 - May 15: Port La Nouvelle - Port La Nouvelle ITT, 5.7km
Strangely enough, day two saw us looking at a 6km prologue. After the carnage of the final kilometre on Friday, everyone in the front group started on the same time for the prologue, barring the stage placers with time bonuses. It was a fairly straightforward course with about 3km of headwind to start and then a dash into the finish with the tailwind. Deidre Demet-Barry whipped us all with an awesome 7'22. She was followed closely by her team-mate, Kristin Armstrong who clocked 7'23. Carrigan claimed third with an awesome ride and all the big hitters were close on her heels.
So Demet carries the yellow into Stage 3 and her team-mate lies in second place. Great result for the T-Mobile squad. It will be interesting to see how they defend over the big climb today, especially since there is still 80km to go after the top...
Photography
Images by Olivia Gollan